"Glutamine, or L-glutamine, is an amino acid derived from another amino acid, glutamic acid. There is no daily requirement for glutamine as the body can make its own glutamine. High-protein foods such as meat, fish, beans, and dairy products are excellent sources of glutamine.
Severe stresses may result in a temporary glutamine deficiency.
Glutamine plays a role in the health of the immune system, digestive tract, and muscle cells, as well as other bodily functions. It appears to serve as a fuel for the cells that line the intestines (it serves as a primary energy source for the mucosal cells which line the intestinal tract.)
Because stress on the intestinal cells (such as chronic inflammatory bowel disease) can increase the need for glutamine as the body replaces the cells lining the intestinal tract, glutamine is often recommended for pets with acute and chronic bowel disorders including inflammatory bowel disease. Heavy exercise, infection, surgery, and trauma can deplete the body's glutamine reserves, particularly in muscle cells.
Inflammatory bowel disease may result from food hypersensitivity or allergy (leaky gut syndrome) Preliminary evidence suggests that glutamine supplements might reduce leakage through the intestinal walls.
Glutamine, being one of the body's amino acids, is thought to be a safe supplement when taken at recommended dosages. Because many anti-epilepsy drugs work by blocking glutamate stimulation in the brain, high dosages of glutamine may overwhelm these drugs and pose a risk to pets with epilepsy. If your pet is taking anti-seizure medications, glutamine should only be used under veterinary supervision."
http://www.petcarenaturally.com/handouts/glutamine.pdf
Excerpt 2:
"L-Glutamine is an amino acid, which has been found to be helpful in supporting muscle tissue. It can be used in cases involving gastric issues, such as colitis, IBD, IBS and other problems that cause bowel irritation and inflammation to help heal the digestive tract. It can also help dogs who are suffering from muscle atrophy (as from arthritis, muscular dystrophy and other muscle wasting conditions) to help slow down this process.
Lastly, it is helpful for dogs with cancer, in aiding to help the immune system and to help with muscle tone.
Recommendation
Give daily in these amounts:
500 mg per 30 pounds of body weight
Ingredients
L-Glutamine powder is human grade and one teaspoon contains 5000 mgs.
http://b-naturals.com/product_info.php? ... b68fd337aa
Thanks, Kiwani. Sophie's vet also had her taking colostrum for a while, but I never could find any literature on it's efficacy beyond weaning puppies. Do you have any feelings about it, yay or nay?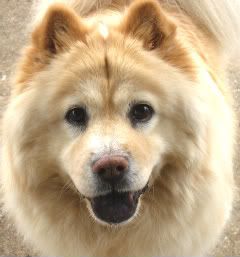 Sandy
Owned by Sophie
Re: "but I never could find any literature on it's efficacy beyond weaning puppies."
It's probably closest to whey protein concentrate, since both contain some glutamine and immune boosting factors. There's a great deal of info on whey protein in the archives as well.