Moderator: chowadmin
Rank 1

Posts: 300
Joined: Fri Sep 05, 2008 5:58 am
Location: Parrish, FL
For those of you who don't follow the other site (which I have been primarily using - this one is blocked via my work computer), on August 29, we adopted a male chow for McKenzie. Since bringing him home, he's been itching like crazy. We've been back and forth to the vet. He's been on a course of steroids, then we switched his food from blue buffalo lamb and rice due to the idea of food allergies. The rest of his story is below:

Keeta has been on 100% of his new food (Natural Balance LID Duck and Potato) since 10/27 (he transitioned over 5 days from blue buffalo). His itching got MUCH better for about 10-14 days after he got home from the vet last time (when he got the cortisol injection). A week ago, the itching started getting really bad again. He's back staying up all night itching and developed a hot spot on his foot (sometime in the last 12 hours). Luckily, his 3 week check up at the vet's was today. The vet said we're doing everything right, giving him the right food and nothing else in case of the food allergy, washing him in prescription shampoo every few weeks and making sure he's completely dried, trying to distract him when he does itch, etc.

The vet put him on cephalexin (antibiotic for the hot spot - also for humans) and chlorpheniramine (allergy medication that's actually an OTC med also for humans) and said that if these don't work to get rid of the hot spot and the itching in conjunction with the new food, he thinks something else is going on. He wants to check him again in 2 more weeks and if things aren't better, do bloodwork.

I mentioned wondering if flea prevention could be a culprit and he started explaining about it but then got interrupted and we both forgot about it again. I'm going to call back tomorrow about it I think.

I tried searching and I know I can use a purchased spray for the hot spot in conjunction with the antibiotics but I'd rather use a home remedy than a store bought one. Does anyone have a home remedy that isn't easily licked off? Someone mentioned that JudyFox had one but I can't seem to find it.

Can anyone else come up with any more ideas on what could be wrong with him?

His day consists of:
Breakfast (Natural Balance Limited Ingredients Diet Duck and Potato 1 cup, 1000mg fish oil capsule, and purified cold water - from PUR filter in fridge) at 6:30am every day
Morning walk to go potty at 7am (yard isn't fenced so we leash him and walk him on sidewalk and in some grass)
Then he normally sleeps while we're working during the day (most of the house is ceramic tile but the living room does have an area rug that he hardly ever but occassionally will lay on)
Long afternoon walk around 5pm, mostly in the grass so he does his business
Give him room temperature purified water when we get back inside at 5:30
Dinner (same as breakfast minus the fish oil) around 6:30pm
Brushing sometime during the evening while he relaxes more
Nightly walk, same as morning walk, around 10pm
Then he normally sleeps. He starts out in our bedroom which is carpeted but moves to tile at some point. During the early morning hours, his itching gets ridiculous and he itches constantly, normally from 3 or 4am until we get up. Then he does it occassionally in between eating and walking until we leave for work.
I don't know how much itching he does during the day because I'm not there but from what my sister told me on days that she was home with him, he doesn't itch during the day nearly as much as at night.

He also loves water and will come running from anywhere in the house when he hears water (sink, toilet, shower, or hears the fridge open - he always thinks we're getting him more water from the pitcher). He also likes to lick the door of the fridge and freezer and will keep drinking until you stop giving him water. He'll also lick the condensation from our drinks if they're within his reach. We limit his water intake so that it's within guidelines but he's still thirsty all the time. Then when he goes to the bathroom, you can slightly see his colon (I think it's his colon, when he goes, a little red flesh from inside his bum comes out).

He's very happy, energetic, and now with the new food, has a great appetite yet in addition to the itching and thirst, he keeps loosing weight. When he came home in August, he weighed 54lbs, 3 weeks ago, he was 50, now he's 48. He eats at least 2 cups of food per day (he gets his kibble as treats due to the possible allergy and since losing weight, I've been giving him heaping cups of food). I know you're supposed to be able to feel their ribs a little but you can feel almost every rib and his whole spine. If I didn't know better, I'd think he wasn't eating.

He got a dose of advantix (from the red box, up to 55lbs) and a dose of brown (50 lbs+) heartgard on 10/25.

I tried to provide any and all information that might help jolt an idea or two. I need as many ideas as possible because I'm at the point where he stays up all night itching and I'm up most of the night trying to distract him from itching then I can hardly complete my tasks at work because I'm so tired.

Please post with ANY ideas, questions, or recommendations. They are greatly appreciated!
chow315
i hope it gets better soon.have you tried beenadryl for allergies? my girl has such a thick coat i give her a pill comfortis 1 a month for fleas it great. have you thought of a sulfur compound? when i got my baby she had a mange on her ears. my natural health store made up a sulfur cream it was very effective. just another thought this may be of the wall, with your dog being so thirsty hs it been checked for diabetes?
Here's a link to the thread where Judy mentioned the treatment for the hot spot:
http://forum.chowchow.org/viewtopic.php ... spot#p3076
I would consider trying another brand of food if the itching has not decreased.
As for the water intake - what does the vet say? It does seem excessive.
With his weight loss, increased water intake, and his problem when doing #2 - there is something much more than hot spots going on. I would get a 2nd vet opinion.
I'm sure it's pretty frustrating not knowing how to fix his problems but hang in there.
Karen, Kohana, Takoda, and our Chow Angels Nahkohe and Shiloh
I'm sorry for your chow...
I am surprised he's left without water for the 10 hours he's alone each day. I've always heard that water should be available at all time for a dog. Have you thought he drinks so much when you give him water because he cannot drink at all when he's by himself and he's so thirsty?
Yes anti-flea products can make your chow itchy. Coco scratch for 3 weeks after I put liquid Frontline on her skin neck.
It is winter now, do you still need to use an anti-flea treatment on him? If yes, try to look at natural anti flea treatments but with the cold, fleas should die until next spring.
I understand you cannot sleep at night, I would put a cone on your chow's head (like this one
http://2.bp.blogspot.com/_DGmjKsBO0aE/S ... banner.jpg
). With it, he won't be abble to chew on his paws and butt. If he still scratches with his rear legs, put socks on them. If he looses the socks, there are special socks made for dogs, those don't fall (
http://www.accessoires-chiens.com/uploa ... 952010.jpg
).
If he only scratches at night after he slept on your carpet for a while, he could be allergic to the carpet material. Have you tried to leave him on the tile floor only?
Have you treated your home against fleas? Even if it is cold outside, fleas can live in your home, especially where your chow sleeps (carpet), they could jump on him to bite him at night and live peacefully on the carpet during the day. If your chow is allergic to flea bite, that can make him scratch badly. Anti flea treatments for dogs kill the flea once it has bitten only. I would try a spray for the home against fleas on your carpet and see if there is an improvement.
What are the ingredients in your dog food?
Good luck!
Elodie
please help feed animals in shelters for free, click daily on the yellow button
http://clicanimaux.com/
I can totally relate to the anguish of an itchy dog. My pup itched from the first day we brought him home. He is now controlled and comfortable. We thought it was fleas or the flea medicine, but changing did not help. Plus, I never saw any evidence of fleas.

First let me say that the thirst issue would bother me. How much does he drink total in a day? My chows always drank a ton of water. It always surprised me how much they would drink, especially this puppy. However, I leave a large bowl of water out at all times. Some days I have to refill it during the day, most days it just needs refilling in the morning. He also has a bowl available outside.

Increased thirst, urination and weight loss are signs of diabetes, so I would definitely get some blood work done. Also, keep in mind that steroids can increase thirst and hunger.

Deuce is on a prescription diet. We add salmon to his food, and he initially took benadryl 2 times a day. He also gets a little yogurt every day. We had to bathe him 2 x weekly for a few weeks to get him under control. Now that every thing has kicked in, he rarely needs the benadryl. His shampoo is oatmeal and aloe.
Rank 1

Posts: 300
Joined: Fri Sep 05, 2008 5:58 am
Location: Parrish, FL
Thank you all for your suggestions. I'm going to try to answer everything all at once but remind me if I forgot to answer something!

No bloodwork has been done yet, we'll be doing it in 2 weeks. We've had him for 12 weeks and the rescue that we got him from I don't believe did any.

His food from their website:
INGREDIENT LISTING
Potatoes, Duck, Potato Protein, Canola Oil (preserved with natural mixed tocopherols), Potato Fiber, Natural Flavor, Dicalcium Phosphate, Calcium Carbonate, Sodium Chloride, Salmon Oil, Flaxseed, Potassium Chloride, Choline Chloride, Taurine, Natural Mixed Tocopherols, L-Carnitine, Yucca Schidigera Extract, Vitamin E Supplement, Iron Proteinate, Zinc Proteinate, Copper Proteinate, Ferrous Sulfate, Zinc Sulfate, Copper Sulfate, Potassium Iodide, Thiamine Mononitrate (Vitamin B-1), Manganese Proteinate, Manganous Oxide, Ascorbic Acid, Vitamin A Supplement, Biotin, Calcium Pantothenate, Manganese Sulfate, Sodium Selenite, Pyridoxine Hydrochloride (Vitamin B-6), Vitamin B-12 Supplement, Riboflavin (Vitamin B-2), Vitamin D-3 Supplement, Folic Acid.

GUARANTEED ANALYSIS
Crude Protein 21.0% minimum
Crude Fat 10.0% minimum
Crude Fiber 3.0% maximum
Moisture 10.0% maximum
Calcium 1.0% minimum
Phosphorus 0.9% minimum
Omega-3 Fatty Acids 0.5% minimum
Docosahexaenoic Acid (DHA) 0.01% minimum
Omega-6 Fatty Acids 3.0% minimum

He probably drinks about 4 cups of water a day. The reason that we can't leave any food or water down is that Keeta and McKenzie are both very protective of their eating areas and it's much easier to control their diets and know who's eating what if we don't leave it down. I guess him not being able to drink all day might cause some anxiety about water but he was like this before no one was home with him all day. When we first got him, my sister and fiance were off from school so they were home with him all day for 2 weeks and he constantly wanted to drink. The rescue confirmed his drinking a ton too. When we first met him, he had so much water in him that he tinkled 5 times outside and then still tinkled 7 times inside the pet store where they were doing the adoptions.

We live in Florida with a pond right behind our house so flea prevention is required year round, not to mention the weather has been in the high 70's and 80's with just a couple cooler days mixed in, even though we're already coming up on Thanksgiving. Neither chow is even getting a winter coat yet. Last year McKenzie's winter coat didn't start coming in until December and stood around until April I think. The average monthly temperatures have still been 80-84, AC is still being used everywhere here.

I'll have him checked for diabetes when we go back to the vet. The vet thought it was food allergies with a chance of colitis but said the food allergy would be more likely. He doesn't want us to change any of what we're doing, including the food, so he can determine how well the allergy pill works for him. If it does work, it's probably an environmental allergy (we use Nature's Source cleaners in the house but nothing on the rugs) to grass or pollen or something like that. If it doesn't work, colitis or diabetes are probably at the top of the list.

His shampoo is an antifungal and antimicrobial.

I've questioned using comfortis since the liquid treatments repel off his skin anyway but I've heard that it's bad to give comfortis along with ivermectin. Something about they could react and cause blindness and other things.

The allergy pill did seem to work really well last night. I think Keeta and I got the best night's sleep last night in a LONG time. He's supposed to take 1 every 12 hours. It kicked in pretty quickly and worked really well for 10-11 hours, he slept very soundly. After that, hours 10-12, he itched 4 or 5 times. The medicine should make him drowsy but not nearly like benadryl which we have used before. That helped the itching a lot but he wasn't himself. All he did was sleep and wake up to go outside or eat. Keeta is a very active chow, probably the most active I've ever seen so to see him that drowsy and out of character wasn't an option. With the allergy pill, it made him a little drowsy but he was still able to get excited and play, and run around like himself. He's a big goofball if you ask me. He's always trotting around the house after everyone with this big goofy smile. He likes to "try" and get your clothes if they swing back and forth while you walk but won't actually bite them or even get them wet. He loves to lean into you when you finally stop walking. He's only just taken his second dose this morning but it seems to work much better than benadryl for him.
I hope Keeta gets relief soon, I know how it is with a dog scratching constantly. Ours would keep us up at night too chewing on his paws too.

Rank 0

Posts: 6
Joined: Tue Sep 22, 2009 10:31 am
Location: Encinitas, CA
I am having the same issues with my 5 month old. Its drastically worse in the morning. He is constantly scratching. Its becomming a nightmare. I feel so bad for him. I have changed foods bathed it different soaps. I have washed his bedding in hypo allergenic. Vet says flea allergy but there are no fleas. He is on Confortis, Sentinal and Benadryl. I hope you figure it out.
How is Keeta doing?
Karen, Kohana, Takoda, and our Chow Angels Nahkohe and Shiloh
Yes how is Keeta doing - any improvement?
I wish I had some answers.
Mia
Rank 0

Posts: 11
Joined: Sun Mar 02, 2008 2:00 pm
Location: Tucson, AZ
Hi my chow chow is seemingly suffering from seasonal allergies. We went thru this last spring as well and the vet gave us an antihistamine which isn't doing ANYTHING this year. I have resorted to giving her benadryl and it does not seem to be working either. In fact, I came home tonight and she has scratched above her eyes until she is bleeding. I don't know what to do. She is chewing on her paws constantly and rubbing up against the furniture for relief. The hair around her eyes and on her paws and legs is falling out. What has worked for you all?

Amy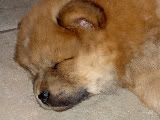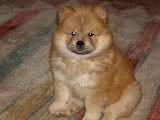 Hello, my chow chow seems to be going through this exact same thing. I know this post is from 2009 but I'm hoping you see this and let me know if you got any answers back then. Our Chow is on the exact same diet and was also given the same medication by our vet. It seemed to help a little bit but his hot spots flare up out of nowhere. His blood work came back clean, as of right now they're saying allergies but I'm thinking it's something else.
Thank you for your time.