Moderator: chowadmin
I want Emma to see other Chows in the Mass/RI area. We are south of Boston and about 30 to 45 minutes from the Cape, Boston, Providence, etc.

Anyone planning a walk or get-together?
Where in Mass are you Clockman? you can pm if you would like, Im around your area and have been looking for other chows to get in touch with. Ihave a almost 9 month old chow named Harry. What about you?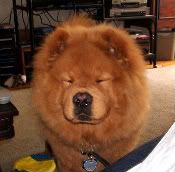 you cant see me right? because you know my eyes are closed right?
CT here!
If anyone's still interested, I'm in NH and can plan to make a trip to Boston or nearby...?

Alika
My Chow Chow is smarter than your honor student.
Rank 0

Posts: 23
Joined: Sat Jul 18, 2009 12:25 pm
Location: Southern NH (manchester)
Max victoria and i are in southern NH but victoria lives in RI the 3 of us would LOVE to meet other chows i have yet to find any up here!
Sorry, refreshing this post in case anyone is out there!
Rank 3

Posts: 1708
Joined: Sat Nov 05, 2011 6:48 am
Location: Mansfield, MA USA
Not sure if you are still monitoring Clockman, but we are in Mansfield...our new Chow is 12 weeks old and is very social, would look forward to an outing. Rory is used to car travel, so reasonable distance is OK. We are looking toward AKC shows, so he needs as much interaction as possible.