Moderator: chowadmin
Rank 0

Posts: 6
Joined: Wed Nov 03, 2010 5:46 am
I have recently bought an 8 week chow puppy called Farmer.

I have been told by the breeder to feed himon greyahound protein 28% food. He is huigh energy and also a little agressive, ie biting me etc etc. Couldthis be due to the food do you think?

I have tried everything else such as, eeek loudly, clapping, clicker, no, ignoring, etc etc etc. I am now getting really upset by it all and could do with some sound advise. Hope somebody can help?

Regards

Farmers Ma
---
Hello Farmer's Ma
Out of curiosity, what is "greyahound protein". Is that a brand name of food? a type of food?
I've never heard of that before.
Your puppy should do well on any high quality ( grainless) puppy food.
You can look up brands at
http://www.dogfoodanalysis.com
Going to that site generally informs people who to rate a commercial dog food and helps them understand what are good ingredients versus bad ingredients.
Best of luck
---
I can't find any actual ingredient list for the food. In the US, racing greyhounds are fed a notoriously poor diet, so I'd certainly not feed a food designed for them. Not sure how it is elsewhere though.
I assume you're not in the US, so I know some of the commonly mentioned brands of food aren't available elsewhere. If you post a location, perhaps someone has better knowledge of what brands are available close to you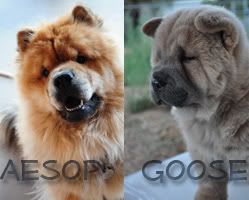 ---
Grab, greyhound racing is a US venue, so I'm sure the person is in the USA

I did manage to find the food online, and I totally agree with you, it's a low quality food.
While it it high in protein, it's essentially all from poor protein sources, actually they don't even list the ingredients on the website, so that's a good reason to stay away from it to begin with. Poor Greyhounds. I truly wish they would outlaw that sport.
---
Rank 0

Posts: 6
Joined: Wed Nov 03, 2010 5:46 am
Hey guys
I am in the UK, and this food is sourced from Ireland from what i can tell. I am weaninng him off it now. Although the problem still persists.

Thanks.
---
Replied under separate cover!
NEVER Support Back Yard Breeders & Puppy Mills
Contact Your local Chow Chow Association to find your Breeder of Merit!
Better Yet ! Adopt!
---