Moderator: chowadmin
Hi. I would like to know how to properly brush a chow chow and what kind of brushes to use... I've heard pin, rake, and combs, but all? or some? Also, in what order to use them to properly brush my chow to make her nice and fluffy

Thanks a lot, guys!
---
Rank 3

Posts: 2091
Joined: Sun Oct 28, 2007 2:36 pm
I use a comb for Holden's butt and behind his ears. I use a pin brush and a rake comb for the rest of his body.

I brush Holden against the hair grain first and then with the hair grain. My biggest problem area with him is his mane.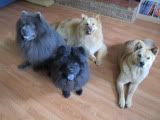 ---
i stopped using a pin brush where the pins are in rubber ,, too weak.. i use a cheap hair style brush , also big plastic styling combs i stole from wifey , a rake , a medium grey hound comb , a black diamond comb ,
don't forget the nose comb !! ,, a tiny little stainless comb . some times i use a stainless flea comb as a nose comb , he likes getting his nose and the top of his head combed the best....
http://www.southernchowchowclub.org/pdf/grooming.pdf
http://www.chowwelfare.com/cciw/groom.htm
---