Moderator: chowadmin
Help! My chow pees uncontrollably. She literally pees all over the house. I want to get started on training, but I don't know how exactly. We just recently brought her home 4 days ago so I'm wondering if its good to start this early or maybe a little later. She's behaved most of the time. My only problem is her peeing habit. Help!
---
If you only got her 4 days ago probably giving her the whole house to roam free is your problem. She isn't too young to train ,Nikki was trained by 9 wks at the breeders house to go out side, and my other chow ( 12 wks)was a rescue in the pound who had a little cage to live in and still was potty trained when we got her home,but they warned me restrict her to a small area preferably the kitchen and she needs to go out to the same area to potty so she gets use to that area for elimination! When she goes praise her and even give a small treat. She can't hold her bladder long at this age and she needs to go pee after waking up, playing, eating or drinking, and take her often at first she is really training you! Crates work out very nice if you can't be home to watch her or if you need to go out some where. But remember just like a toddler ( who by the way doesn't figure it out potty training as fast as a doggie) be patient and accidents might happen but make sure they are cleaned up immediately and with a good dog urine cleaner so they don't keep smelling where they went in the house. And take her out immediately to where she should go! But it's really getting to learn your dogs signs that she has to pee! Some will get wiggly and cry some dont do much at all! BUt if you keep taking her Out ever couple of hours even if she doesn't pee she will get it pretty soon Chows are the easiest breed to potty train I think ! telling her what to do when you take her out too and lots of good puppy good puppy when she goes! if you still have issues I'd mention it to the Vet. they could tell if she has a UTI or something else making her pee too much! sounds more like she has too many places to just wander off and pee and not be seen! puppy's need constant watching for a while especially only 4 days! Hope this helps

---
Thank you so much! We noticed there's a pattern on where she most likely pees. But then again, she still exploring new areas of the house so I can't determine any peeing pattern yet. I've been meaning to train her with positive reinforcement, but I don't know which puppy treat may be good for her. Any suggestions?
---
Rank 3

Posts: 1708
Joined: Sat Nov 05, 2011 6:48 am
Location: Mansfield, MA USA
I agree. Even if you dont want to do crate training, at 3 months she needs to be confined to at least 1 room during down times. I would recommend a room close to the exit door. She should be in that room if she is to be left alone for any period of time. Hopefully, that room can be a kitchen or similar area where she can also eat her meals.

Set up a schedule. If you are away at work, etc, restrict her to that room using baby gates. Feed her in that room and then allow about 10 minutes or so, then take her out for her business. After a successful trip outside, allow free reign. At her age, figure about 2 hours before it's #1 time again. Take her for a walk, and if she is good, continue to allow the free reign. As she grows up, you can extend the time range (about a 1/2 hour per month). If you are going to be away for anything longer than the math equation allows, confine her to the same room she eats in. Any mistakes, and she doesnt get to roam the house. Even with a mistake, take her out as soon as you get back home.
---
baby gates work nicely in training I actually keep one in the house in the kitchen ( it has a door you can keep open unless you need to close it)for when those PEOPLE come over that are afraid of dogs! You can let your pup explore, but you must make sure you watch her and usually after they have just gone potty is the best time to let them run around and explore, after exploring take her out again, new scents even in your house can also make them excited and they can go again. I have a pretty large kitchen with oriental rugs that I temporarily rolled up and used throw rugs for traction so my kitchen was always where I started them out! Easy clean up on hard floors if needed. if you see she is going to the same spot in the house try to stop her from that area for now, sounds like she might be smelling her spot in the house! that is why I said about getting a good pet cleaner. Pet stores have cleaners available. Even if you just block doorways to the room she is peeing in for a while till she gets use to out doors it might help! My nephew didnt realize when he bought his house that a dog must have lived there before that peed on the carpet and his dog all of a sudden started peeing in the house ! When he ripped up the rug he saw many stains from the previous owners dog!Once the rug was gone his dog stopped! Amazing what they can sniff out!!!
Treats can be anything from a Puppie biscuit to training treats even a piece of their kibble if they really like their food!
my concern about UTI was from your statement about uncontrolled peeing!
I am home most of the days , but the crate was handy for puppy training and to insure safety when I was gone. But it's not for everyone that's for sure some dogs hate a crate but I have been lucky in training them to actually enjoy going in their crates even just to sleep during the day ,the door is left open and they come and go as they like! My golden doesn't go in it half as much as my chows did but then again Goldens want to be your second skin and chows like some down time to themselves usually. ( me too some times Id like a crate!) LOL

---
I'm trying to confine her so that she's trained to do her thing in one area. But she whines so much when we place her inside a room with the doors closed. She even goes ballistic when we let her inside her crate for a bit. She's already peed in all places of the house, so in terms of cleaning up with a pet cleaner to get rid of the scent that's a lot of work for me LOL. Our previous dog was never this crazy when it comes to peeing! I'm a bit frustrated but I love my chow so I'm gonna do whatever it takes to train her well. Thank you so much for your advices! I'll be sure to keep them in mind.
---
Iam confused are you wanting her to go inside your house? and not many dogs like a closed door ,with the baby gates they can still see you and don't feel so isolated. when I put mine in the kitchen I was usually in the kitchen too when I went in the living room they went too. maybe your house doesn't allow that Iam not sure? Most puppies like to be near you but you just need to watch them and take them out to the grass area you want them to start going .

---
Rank 0

Posts: 4
Joined: Sat Nov 30, 2013 11:17 pm
Along with the great information you get from this forum you should probably also look into to investing in a good dog training course/book online, from a bookstore or better yet for free from your local library.
---
Rank 3

Posts: 1708
Joined: Sat Nov 05, 2011 6:48 am
Location: Mansfield, MA USA
Very unusual to have difficulty potty training a chow, particularly a female. They are a very clean dog and will not want to soil their homes...so my first thought is she needs definition on her spaces.

I know it's a point of contention, but crate training really should be considered. 90% percent of the time (ok the % is a generalization) if she is crated she will view that as her home. She will not have an accident in the crate and then have to lie in it. She will learn not to soil her crate as long as she gets to go outside immediately after being let out. Yes, she will whimper and claw at the floor when restricted to the crate...at first. Toss a treat or chew in there to get her comfortable and distracted. Throw a toy in there. She will relax. Have some patience and tolerance if she doesnt like it at first. It's normal, and you are not hurting her. It's not a bad thing to get her used to anyway...if she needs to go to the vet for an overnight, to the groomers, or on an airplane, she will need to be crated.

Don't succumb to the whining...yes it can be difficult, but you know she is not in peril. Allowing her to whimper for a bit actually builds independence. If she whines, then pees however, that should be a signal to take her out. Read her signals and reactions.

Check with the breeder to see what training they did with her. If they used puppy pads, she may be looking for those. If so, you may need to revert to finishing her with that method. Consitency could be an issue.
---
@Chowpups We want her inside of course. But I noticed she doesn't like being locked inside a room even with people inside. I am training her to make my room her own area of rest as well. But when I start to close the doors she begins to whine and comes to me as if asking me to open the door again.

@Rory's Dad yes I am finding difficulty training her because she likes having things her way. On a good note, I'm seeing a pattern in her pooping habits. She's actually coming to me now when she wants to do her business, so that she I can take her outside and she can get through with it. She also tends to go back to one spot in the house to pee. Although she remains inconsistent with this, we'll work with her on it. She also has this tendency to jump on my bed to wake me up in the morning for her early morning potty.
---
Ours were peeing everywhere also but after 2 months we practiced him to pee in a specific place where we put sands in it. Everytime he feels like peeing, he sniff and sniff until he reaches that area.
---
Rank 3

Posts: 1708
Joined: Sat Nov 05, 2011 6:48 am
Location: Mansfield, MA USA
That is the problem with any sort of indoor training. You can never get rid of the scent. Regardless of the flooring surface or the cleaning product, your Chow will still be able to acquire the scent of the urine in that spot. Male dogs can be more difficult as they also want to 'mark' ownership of certain (all) areas.

You need to work on rewarding behavior that is acceptable...when the pup heads outside to pee, etc reward her for doing it where you want. A great big hug, a sincere atta girl, or a food/treat reward. Positive reward for the proper spots, nothing ever negative for an error. I wouldnt try to utilize any in between steps if she is having any difficulty learning. Avoid puppy pads or temporary spots within the house.

It will take effort on your part, and a time commitment. Get her outside on a regular schedule and teach her the appropriate spaces to get everything done. Use whatever motivation you find works best when she is successful. It wont take that long.
---
It was already mentioned above but I'll repeat again based on my experience.
You're giving your puppy too much room to start with. He can't decide what's outside and what's not.
If you don't want to crate him - get a playpen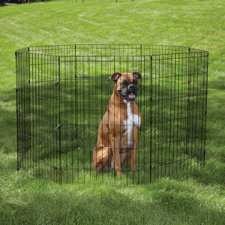 Inside of it setup his bed, food and left over space put "pee pads". Chow Chows won't pee where they sleep/eat. Though try to use pads only for emergencies and try to catch the moments he want to "go" and take him outside. Then with time you can expand the play pen area , start taking him outside. and once he starts asking "to go" outside you can remove the playpen.
It worked great for me. I got my pup at 8 weeks and we only had one accident when I took too long to take him out though he was crying asking to go out.
You can see how I had this whole thing setup here:
http://www.youtube.com/watch?v=nbEYkz9dczo
---
Rank 0

Posts: 1
Joined: Fri Aug 29, 2014 10:37 pm
Dogs love to be free. So, please avoid keeping them in the cage. Secondly, she is too new for your house now let her some time while train her even to pee outside the house. Now lets say an off chance, when she pees again so for that case try to make a natural solution of water, hydro peroxide and vinegar to clear that out. Learn more about the solution
here
.
Look since you already bought her you have to adjust for few days until she gets habit of peeing outside.!
I know its bit old thread but, I got it while searching on net. SO thought just to help others.
---
---
Who is online
Users browsing this forum: No registered users and 1 guest