Moderator: chowadmin
Rank 0

Posts: 2
Joined: Tue Aug 28, 2012 1:53 pm
I lost my best friend this last Saturday. His name was BooBoo and he was 7.
He fought Valley Fever but lost the battle.
Here is a picture of my babies below. BooBoo is the male on the left and Lulu is the female on the right she is now 6.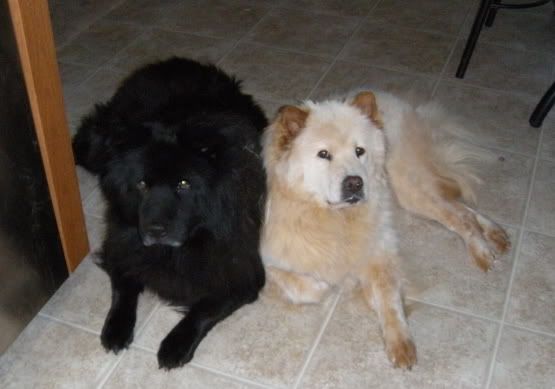 ---
Rank 3

Posts: 1062
Joined: Sat Nov 12, 2005 5:46 pm
Awww...I am so sorry. He was beautiful and so is your other baby. Run Free BooBoo.
---
So very sorry to hear of your loss of BooBoo.

He was a handsome fellow. I'm sending you my deepest heartfelt sympathy.
He may gone from you physically but he'll always hold a special place in your heart and in the memory box in your mind plus his spirit will always be near you. When you are feeling really down give Lulu a big hug and hold her close.
He is now free of pain and zooming around on the other side of the Rainbow Bridge. Take some comfort in knowing that when your time comes and you leave this earth he will be waiting for you at the Rainbow Bridge.

You're in my thoughts and prayers
Sending you a big, comforting hug
Pam
Last edited by
reddog
on Thu Aug 30, 2012 8:55 am, edited 1 time in total.
---
Rank 1

Posts: 282
Joined: Sat Feb 24, 2007 7:51 am
Location: fishers, in
I'm so sorry about BooBoo, he was such a handsome boy! Most all of us have been where you are now, and there's nothing that we can say that will help ease the pain, but just know that you are in our thoughts and prayers. BooBoo is now happy and pain-free and waiting to see you again...
---
Sorry for your loss, BooBoo has joined the other Chows and is now running free.
---
I'm sorry for your loss of BooBoo, we all know how hard it is to say goodbye to our babies. Take care.
---
---
Return to "Memorials and Prayers"
Who is online
Users browsing this forum: No registered users and 0 guests