Moderator: chowadmin
my partner and I are deciding if to buy this Chow Chow and interested in the color he will become.

in this photo he is under 8 weeks old...

could you please describe or send pictures of what you would expect...

[img] [/img]
Attachments

puppy
puppy11.jpg.jpg (78.84 KiB) Viewed 2673 times
---
It's really hard to tell from the picture - could be red or could be cinnimon.
Mia
---
Although the coat looks cinnamon, I seem to remember that the black muzzle is a trait for reds. So a red? Correct me if anyone thinks it's one of my senior moments, memory wise.
---
There are so many variants to cinnamon color and red. If you look at Nikki in the avatar and then, down below her color pretty much stayed the same. But some of them in the litter were masked and looking like yours but seemed to have a shade lighter than Nikki grown up.. I'd say cinnamon, too.

---
I guess red!

Thank you Elodie!
---
Rank 3

Posts: 3123
Joined: Tue Oct 03, 2006 7:28 am
Location: McDonough, GA
Contact:
I'm gonna guess outside of the box, but the pup almost looks blue to me. But it could just be that the pic is dark...
Jess
R.I.P. Cinder~1992-1994, Tippsy~9/00-4/11, Jasper~10/08-10/14, Todd~2/11-7/15
Dixie: mix Rebel: mix
---
Rank 1

Posts: 123
Joined: Wed Oct 07, 2009 5:13 pm
I'm not sure but if I were to guess I would say blue because his nails are dark, but you can see some red in his face

---
Rank 1

Posts: 179
Joined: Mon Mar 16, 2009 10:30 am
Location: Michigan
I think this will be a red Chow Chow.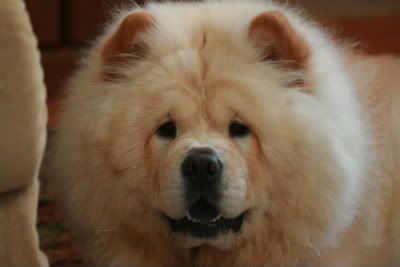 ***** Lobis Cunami *****
---
This is Bramble when she was a few weeks old before we got her and to me they look very similar colour.
Attachments

chowling.jpg (29.6 KiB) Viewed 2504 times

CIMG2364.jpg (86.71 KiB) Viewed 2503 times
---
Rank 3

Posts: 3658
Joined: Thu Mar 03, 2005 7:03 am
Location: North Chesterfield, (Right outside Richmond) Virginia
Contact:
Cinnamon or Light red I think.
Victory, Darkwind, (our angel), Firesong, and Dreamdancer

Thank you SweetPea!
---
This pup looks like Lychee when she was small and Lychee is a fawn (cinnamon). Apollo on the other hand is a red and his fur wasn't that grey...it was more red.
---
Rank 0

Posts: 45
Joined: Thu Oct 22, 2009 6:21 pm
OH MY GOSH!!! HE's SOOOOO CUTE!!!!!!! WHO CARES!!! HURRY BUY THAT PUPPY!!!!!!!!!!!


---
LUV_a_CHOW_PUP wrote:OH MY GOSH!!! HE's SOOOOO CUTE!!!!!!! WHO CARES!!! HURRY BUY THAT PUPPY!!!!!!!!!!!
LOL!
sirchow - I'm amazed by the color change some chows go through! Thanks for sharing!
---
---
Return to "Chow Chow Photo Gallery"
Who is online
Users browsing this forum: No registered users and 6 guests