Moderator: chowadmin
The girls will be two today.They'll be spoiled rotten,but they won't notice ,we spoil them every day.
There will be cake,and stuffed animals to rip to bits,and maybe we'll let them catch a squirrel!(just kidding)
After two days of people visiting because of Christmas,they're so pooped they'll most likely sleep through the whole thing!
---
Happy Happy Birfday you two lovely Georgia Peaches!!

Chloe (left) Shuggy (right)
---
It seems like you just brought them home! Now they are 2. Beautiful shot of them both looking to the left. It shows the true scale of their size; sometimes they look like they are bigger than they really are.
http://vimeo.com/12895512
---
Aw....Happy Birthday C and C!

Chutters and Mia would like some birfday cake - could you send some this a way?
Mia
---
Rank 3

Posts: 2091
Joined: Sun Oct 28, 2007 2:36 pm
Happy birthday girls!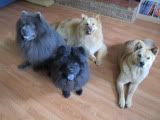 ---
Happy B-lated Birthday Girls!!!

SweetPea Rocks!!
---
I hope you had a wonderful birthday pretty girls!!

Elodie
please help feed animals in shelters for free, click daily on the yellow button
http://clicanimaux.com/
---
Happy belated birthday, you two beautiful girls!
CoraP.
Remember this, and also be persuaded of its truth - the future is not in the hands of fate, but in ourselves.
Jules Jusserand
---
Rank 3

Posts: 4304
Joined: Sat Feb 03, 2007 10:20 pm
Location: New Orleans,La.
WOW Has it been 2 yrs ALREADY??? Can't believe it....seems like yesterday when they were just lil' bitty Chowlings. HAPPY BIRTHDAY GIRLS



Thanks Sweetpea!
---