Moderator: chowadmin
Hello Sojourner Sean and everyone!
I thought you might like an update on the wonderful chow boy that you rescued from the kill shelter in Rome, GA back in January. It's been a while since I've been on here, but I wanted you to know that we are doing fine. Our last discussion was about what to name him. It was between Roman and Dexter, and for a while we called him Roman Dexter Dog. I liked Roman in honor of where we found him, but my husband preferred Dexter because of biblical connotations about Romans. Well, because my husband is here with him all day, Dexter is what stuck. So Dexter is a happy, healthy, and cheerful fellow who has been welcomed by our four other dogs as part of the family.
Thanks again to Sean for rushing up to Rome on Sunday night and meeting us halfway in Macon.
You might remember this scene in the Winn Dixie parking lot in Macon where Sean made the hand-off to us.
Three days later after the full treatment at the vet - 59 pounds:
Best buddies:
He's grown! Now weighs 75 pounds!!
What a puffball! A fine fellow, a wooly bully, a gentleman, and a scholar I'd say:
Really, he has the most wonderful personality. He dances for bones in such a playful way. He frolics with the other dogs. He loves being a house dog in the summer when it's hot, and now that it's cooling off he wants to stay outside more. He gets to do what ever he wants. The only thing is that he still hates that leash in no uncertain terms. It just sends him into a panic. We tried to train him for a while, but it was so traumatic for him that we decided he can have his way. If he needs to go somewhere in the car, we just pick him up an carry him.
My husband and I are so happy to have Dexter as part of our family. He is a joy.
Sam & Tom
---
Thank you for the update. I was curious how he'd fared, though I was sure he would be fine, as you put off a good vibe. It's nice to see he has flourished!
http://vimeo.com/12895512
---
Rank 3

Posts: 2091
Joined: Sun Oct 28, 2007 2:36 pm
He looks beautiful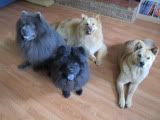 ---
Rank 2

Posts: 772
Joined: Thu Sep 21, 2006 6:05 am
Location: Metro Atlanta GA
Glad to hear that you guys are doing well. I was just thinking of you guys the other day and wondered how it all turned out. But I thought you were going to name him "Cracker"?, lol. Either way I am glad that he is healthy again and part of a happy family. He looks awesome btw, very nice coat!
---
What a beautiful boy Dexter has become! You have given him a wonderful home.
CoraP.
Remember this, and also be persuaded of its truth - the future is not in the hands of fate, but in ourselves.
Jules Jusserand
---
thank you for the update.I remember his story.
you have done a wonderful job taking such good care of Dexter.he is absolutley beautiful.
wishing you all the best

Kito Feb 4, 2006 - July 1,2007
Kai Mar.15 2007 - Aug. 26,2010
And when my time comes I will not go alone for my Chows will be there to say "Welcome Home".
---