Moderator: chowadmin
Rank 3

Posts: 2091
Joined: Sun Oct 28, 2007 2:36 pm
While your birthday is not until Monday, I wanted to make sure that I posted your birthday wishes early. Happy Birthday my little boy!





(At his party today)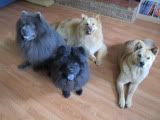 ---
Awwww Happy Birfday Holden! You look so handsome in your hat!!

Chloe (left) Shuggy (right)
---
Aww Holden you look so cute in your hat!!! Happy 5th birthday big boy!!

SweetPea Rocks!!
---
HAPPY BIRTHDAY
HOLDEN!
5 YEARS OLD, WHAT A BIG CHOW CHOW YOU ARE!!

HUGS,
COCO
Elodie
please help feed animals in shelters for free, click daily on the yellow button
http://clicanimaux.com/
---
Rank 1

Posts: 282
Joined: Mon Nov 05, 2007 8:53 pm
Location: Stirling North South Australia
Happy Belated Birthday Holden, what a big boy your are and so cute in your party hat.
In Loving memory of Catbalou, Teisha, Tiara & Quoncha. .
---
Happy belated birthday, Holden!

---
Happy Birthday, handsome Holden!
CoraP.
Remember this, and also be persuaded of its truth - the future is not in the hands of fate, but in ourselves.
Jules Jusserand
---
Happy belated birthday Holden. Hope you had a good day and got spoilt rotten!
Thanks so much Sweetpea, you're a star!
---
Rank 3

Posts: 4304
Joined: Sat Feb 03, 2007 10:20 pm
Location: New Orleans,La.
HAPPY 5TH BIRTHDAY SWEET HOLDEN~~~Love your hat!!!

Thanks Sweetpea!
---