Moderator: chowadmin
I gave Chance his first bath at our house as he has been romping in the mud. He was less than thrilled, but it wasn't too bad for a first. The dryer was a completely different experience. He will let me towel dry him to my heart's content, seems to enjoy the full body rub-down. But we was all over the place when the air hit him.

What is the best method of introducing a young puppy to the forced air drying? Is there a good way to ease them into this or do you just put them on the grooming table and insist? I want to keep the experience as upbeat as possible.

Thanks in advance for any tips...
CH Dreamland's Intrepid Spirit ~ Chance
Dreamland's Dancing in the Storm ~ Raine
Dreamland's Calling All Angels ~ Skye
---
Rank 2

Posts: 860
Joined: Thu Dec 16, 2010 4:44 pm
This is what we did with Ursa when she was a puppy. At supper time, we would take the hair dryer and put it on the floor several feet away from her bowl and turn it on low. We would then feed her. As she got used to it, we would move it closer. It took about two weeks for her to get used to it.
---
Simba learned the blow dryer in a similar way. I had it out first but switched off and later running while we were doing the towel drying. He got used to it slowly, I avoided forcing him to take the blow dryer but every time he showered I insisted that it was around then that it was on and finally I gradually used it longer and longer.
He never he really likes being blow dried and I have to control the temperature reaching his skin by using my own hand as a measure. But for a treat or two he let me finish the job. He only gives me the frustrated looks and grunting noise, sounds like " if you wouldn't have wet my fur in the first place, you would not need that noisy thing to dry me again". or " how much longer do you really need, I like being wet"

Best regards
Pinoy51
---
Great tips! I suppose in a way it is like getting them accustomed to the sound of the vacuum cleaner. Thanks for your help.
CH Dreamland's Intrepid Spirit ~ Chance
Dreamland's Dancing in the Storm ~ Raine
Dreamland's Calling All Angels ~ Skye
---
Rank 1

Posts: 141
Joined: Mon Dec 05, 2011 12:28 pm
Location: Melrose, Massachusetts, USA
I learned by my 2nd hair-dryer as unfortunately , Clover and I need to share... Ha... She would tolerate the orgnl hair dryer, but only for so long... Apparently, the new dryer, it has a diffuser attachment, she lets me dry her even with the setting on high, I think bcse it has an even distro. of air & it's not blowing on her directly.
Hope you've had a solution by know though

---
When you go to your first show visit the vendors there and buy a nice blower with variable speeds. Start on a lower speed and as he gets use to it you'll be able to turn it up. You'll never regret buy one plus you can use it to blow all the fur off your clothes afterward.
---
Rank 0

Posts: 13
Joined: Wed May 14, 2014 11:10 am
Hi there,

From my experience:
Sukie was more scared of the noise than the dryer itself.
So I was able to dry her using a low-noise wet-dry vacuum output for a while.

For her bath time now she gets a thorough towel dry and brush. Less fussing and fighting that way.

Good Luck.
Sukie's Daddy
---
Rank 3

Posts: 1708
Joined: Sat Nov 05, 2011 6:48 am
Location: Mansfield, MA USA
Driers specifically designed for pet use are much quieter than other general purpose machines.

I use a 4HP, 219 CFM drier. With the lengthy hose, we sometimes use it for blow stuff across the floor and make it interesting for the dogs (and YES, I have used it effectively as a leaf blower in the yard).

Even with all that air moving, it can take 3+ hours to completely dry our Chows. High velocity with lower heat levels leave the coat perfect without irritating the skin.
---
Now that we have 2 chows I decided to upgrade our dryer. It just took too long to dry them with the old one and if you don't dry them completely there is a risk of hotspots. Plus the new one blows loose undercoat out into the air like a cloud. Which really saves on comb/brushing time. I bathed Spartacus last weekend and was completely dry in less than 45 minutes vs 3 hours with the old one. I found the more powerful dryers had 2 motors either separate or combined together.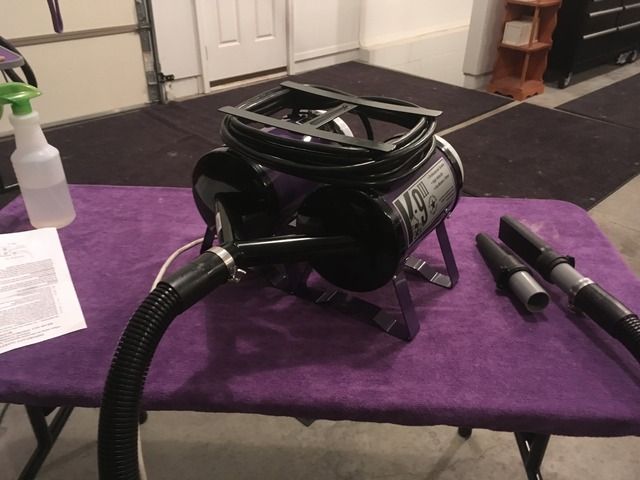 612
---
Rank 0

Posts: 17
Joined: Thu Jan 19, 2017 1:07 pm
I think it works when you start when they are young. otherwise it seems to be a lot of trouble for me and my dog. Honestly have no idea why it cant stand it. It's always tough getting him dry. Would love to get more tips as well.
---
---
Return to "Community Discussions"
Who is online
Users browsing this forum: No registered users and 7 guests