Moderator: chowadmin
I have had mostly great teachers as far as I can recall.
Maybe that just indicates my age,
Good luck in your new path.
---
Jonathan,

I wish you well in law school. Lots and lots of work.

I did it years ago, but never really practiced.

Did I say, lots and lots of work???? LOL!!
Mia
---
Johnathon, Congratulations! It's always nice to be working towards something you want to do. I myself am in school right now, working towards my degree in Counseling. It's nice to be learning! Good Luck!

Thanks so much sweetpea!!!
---
Rank 3

Posts: 4304
Joined: Sat Feb 03, 2007 10:20 pm
Location: New Orleans,La.
Thats wonderful!!! CONGRATULATIONS!!! I somehow think a teacher as a student may be just what the doctor ordered


Thanks Sweetpea!
---
I think that most people that go to law school end up using their education for other things and don't necessarily practice.

The reason for that is, in order to build a name for yourself, you need to do the 90 hour a week grunt work for about 10 years in a firm before you can gain enough experience to go out and hang a shingle or carry causes.

By the time that you have finished that interning - you have lost your idealism.

Sorry, I don't mean to be a downer.

In actuality, as an older student (and I just mean that you aren't a 22 year old, LOL!) you may be able to glean a lot more and retain your idealism. At an older age, you have experienced that loss of idealism and have been able to understand how to work with and around the bureaucracy and stumbling blocks.

I hope it is a wonderful experience for you and we could certainly use a lawyer with your common sense and integrity. (No joke intended there.)

Congratulations!!!!
Mia
---
Rank 3

Posts: 3658
Joined: Thu Mar 03, 2005 7:03 am
Location: North Chesterfield, (Right outside Richmond) Virginia
jonathanfsu1 wrote:
One can never take away your education..No matter what age you obtain it!

Jonathan.
That is quite true and is one of the reasons I went back five years or so ago myself, the first few years I only went half time, but this last year and the next two I'm going full time. Working on a BA in English and Creative Writing, (yeah I'm nuts and have a douple major) doing pretty well with a 3.36 GPA if I do say so myself. Working full time and going to school full time is a challenge but very worth while I feel.
So congrats on going back Jonathan and good luck!
PS I'm also convinced that attending school after age 45 or so, wards off many kinds of dementia as it forces your brain to get much needed exercise, When I took Geology and Lingustics I could swear I FELT new synapsis being created.

I'm sure college alegbra will do the samething...
Victory, Darkwind, (our angel), Firesong, and Dreamdancer

Thank you SweetPea!
---
Guest
Jonaassful being a lawyer? now that is funny, he can represent himself in court..
---
Rank 3

Posts: 2091
Joined: Sun Oct 28, 2007 2:36 pm
Victory wrote:

Working full time and going to school full time is a challenge

I agree. I took 15 credit hours (5 classes) this Spring semester. I have no time for anything anymore... Two more semesters of going full time and I will be done, though. I'm constantly looking at the light at the end of the tunnel.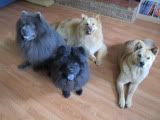 ---
I'm doing 17 credit hours this semester to finish up my classroom stuff. All I have left after this is my internships. I'm like Chow Chow Mama, I have no time for anything else right now. Here it is 12:30 on a Saturday night and I've just spent all this time sorting through all my homework, all these assignments I have and trying to get things finished before I get to school Monday morning in time to get more. Tomorrow morning I will get up and continue on with tons of homework, proofread what I've finished to make sure I have no errors, go through everything again to make sure I don't forget anything and somewhere in there, study for a test I have on Monday. EXHAUSTING! I don't know what I was thinking when I decided I could handle that many credit hours in a semester. Just anxious to finish I guess.

Its great that your going back to school. I have a lot of people my age and older in my classes. I see several people on campus who are in their 50's and 60s. Whether you use your degree or not, its just one more thing to be proud of about yourself.

---
Rank 0

Posts: 71
Joined: Thu Jan 10, 2008 5:50 am
Location: Western Massachusetts
Working full time and going to school full time is a challenge but very worth while I feel.
Been there, done that and had to squeeze in the required practicum and internship as well. Sleep became highly overrated.

In the end it turned out to be one of the best things I've done.
Congratulations and good luck!


Chloe says "Yes it is all about me."
---