Moderator: chowadmin
Lily has a new 'area', because she kept violating my emerging flowers. She is farther back now, and very near the bunnies and brush. I have to keep untwisting her from small trees, but sometimes she amazes me at how adept she is at untwisting herself.
Not just for Border Collies, ya know!
Here I come!
I'm a little twisted here, mum...
What do you mean it's not a good place for me...it's where the bunnies are!
http://vimeo.com/12895512
---
---
---
---
---
I vaccuumed the leaves out of one of Lily's favorite beds today and hit about 5 different 'hidden surprises' from our Miss Lily. Thank goodness I didn't find anything recent...I have yet to clean the crap that blew in from winter where Lily is, but it's supposed to be 70 tomorrow, so I'll put it on my to do list. Thank goodness Lily doesn't bother with any of it.


She does chase them, but she has yet to develop a talent for catching. She has a strong chase instinct and will go after anything I throw. She also likes to chase her ball and brings it back to me, but only in the house. Outside, she loses interest in balls quickly. Pip trained her on the art of fetch when we first got Lily, and how to properly chose and chew the perfect stick! Even now, all I have to do to get Lily to come running is wave a stick near the ground. I know, not Chow activities...we'll give Pip all the credit!
http://vimeo.com/12895512
---
Beautiful pictures of Lily. Koda plays cath with tennis balls... I can't believe that. I figured chows would think that was dignified enough. LOL And it sure wasn't anything he learned from Sam. LOL Sometimes that boy truly surprises me at the things he will do. LOL
Nancy and Tai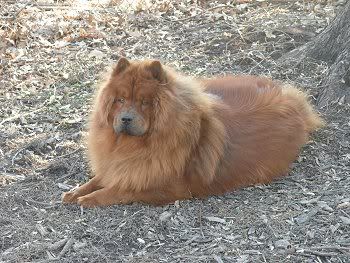 ---
Great pictures of glamourpuss Lily!

Never could get Sophie to do the fetch thing properly. Soph used to bury immediately any rawhide chewies I would throw for her and then retrieve them months later after they had achieved an acceptable level of decomposition. Ew.
I don't buy them anymore, but every once in a while she'll still manage to unearth an old one to gross me out with.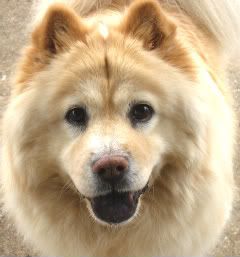 Sandy
Owned by Sophie
---
---
Moderator

Posts: 4594
Joined: Fri May 19, 2006 10:01 am
Location: Ingleside, Illinois
Contact:
I know this is somewhat of an old post, but I must say your pictures are amazing. Steel loves to play with the frizbee and he is the first dog I have ever had to bring back the "ball" to me. I didnt even have to teach him that, he just does it. And... he does catch the ball in the air.
Which reminds me of our first chow, she wouldn't catch balls out of the air... but BIRDS she would. They would swoop down into the yard and she would jump and catch them in the air. I had several birds on the back stoop. (I teased my husband she was part retriever)

---