Moderator: chowadmin
Rank 0

Posts: 13
Joined: Mon May 21, 2018 4:33 pm
Hey y'all. I have a 12 week (I think) chow mix named Sebastian who has been trying to be very dominant lately. I know how to discipline a dog, but I still want some more recommendations. What would you suggest for disciplining a chow?

Sent from my SM-G950U using Tapatalk
---
BasTheBlackMouthChow wrote:Hey y'all. I have a 12 week (I think) chow mix named Sebastian who has been trying to be very dominant lately. I know how to discipline a dog, but I still want some more recommendations. What would you suggest for disciplining a chow?

Sent from my SM-G950U using Tapatalk
It's like any other dominant dog , just don't let him do whatever it wants and be very Straightforward when you gave an order.
Every day keep the dog in line while it's still a puppy don't let it bark/bite you, put your hand in it's plate and see how the dog react
Let him know that you are the master, after that it will be pretty easy to discipline it
Sent from my MIX using Tapatalk
---
Positive reinforcement and positive training methods. No hitting, yelling, rolling, or other such nonsense. Build love and trust, not fear and dominance. There are plenty of positive training references on this site. Use the search function.
Chloe (left) Shuggy (right)
---
Rank 0

Posts: 13
Joined: Mon May 21, 2018 4:33 pm
Thank you! I didn't know some of this stuff. I'll make sure to put it to good use!

Sent from my SM-G950U using Tapatalk
---
Hi there,
When I just got my chow, she was extremely dominant and didnt let anyone,except me touching her.
Almost every weekend, I bring her to pet friendly shops until she reaches 4 months, she had her puppy class ( socialization).
I kept bringing her to shops and dog park and now she is the most lovable dog.
At the dog park, she would go to every human and asked for scractches and cuddles.
At the shops, she lets anyone touching and kissing her.
She is 6 months now and she started her obeisance course last month and she is listening to all commands

Thank you.
Sherry
---
Max, Ritz, Shelly & Hunter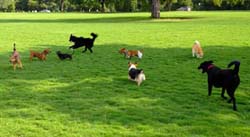 ---