Moderator: chowadmin
Hi Everyone,
I have now had my chow, Storm, for 16 days. She is 9 weeks, 2 days old - it was requested that we pick her up earlier than scheduled, we were not thrilled about this but it was insisted. I hope I am not the only one who has felt completely overwhelmed after bringing their new chow home. She has an incredible amount of energy and rarely naps (this week, it's been about 2 half hour naps a day only!). We take her out about 3 times a day for an hour, and about 4-6 times for 10-15 minutes and have playtime inside. Currently her and our cat do not get along. She seems to have the normal issue of biting/mouthing - I am hoping that this will stop soon, I've been trying methods on here to no avail yet, but am hoping that this is because she's still quite young. I have her signed up to start a puppy class at PetSmart March 6th. It sounds like many of you have had wonderful experiences, currently mine is quite stressful, I hope to turn it around and enjoy it like the members on here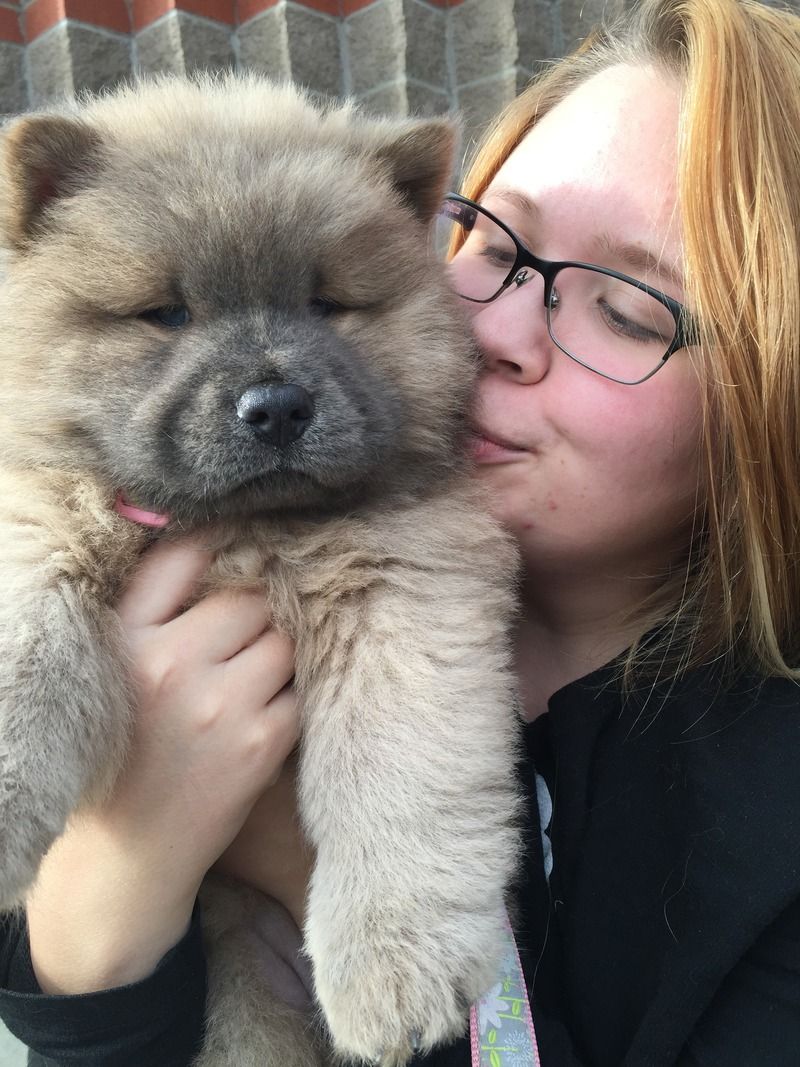 ---
Rank 3

Posts: 1708
Joined: Sat Nov 05, 2011 6:48 am
Location: Mansfield, MA USA
Welcome to the forum, and congrats on your new puppy.

Fortunately, you didn't bring her home earlier than she was ready, but I understand if you weren't quite there yet. 8 weeks is a normal age to send puppies on their way.

Yep, they have a lot of energy at that age. Naps are short lived and they rejuvenate pretty quickly. Training at that age can really be hit or miss, so you want to find other ways to expel all that energy and wear them out. That walking/out schedule should get it done, but you may tire before she does. That will pass.

I have no experience with introducing a chow pup to a cat, so I won't attempt to give advice on that. Maybe others will chime in, but I think she will get used to the situation in time. Chows really have a good sense of boundaries if they are enforced in a consistent manner, so aim for that.

All pups will nip. Its really an exercise of the teeth growth rather than a breed thing. Teach her what is suitable. At her age I would try a frozen waffle or an empty soda/water bottle. Whenever she starts to bite at something unacceptable replace it with one of those or a proper pet toy.

Pet classes at the box store are a great resource. Keep in mind though, they are really teaching you. The social aspect of getting your Chow to play with other pups is fantastic, and shouldn't stop with the class, but they are teaching you the methods to get your dog to behave the way you want.

Relax a bit and enjoy having a pup. They sense stress and can react to it. It should be a fun time. Sure, her behavior is not going to be perfect at this age, but you aren't seeing the end result yet. Get her used to being around other dogs and people. Let her know that you are in charge. Reward her for proper behavior. Don't try to bully her. Don't punish her for mistakes, redirect and reward when she gets it.
---
Welcome! She is gorgeous!

Good luck. Although we have two chows they both came to us around the age of two so I am a bit envious that you have a puppy. Nothing cuter than a chow puppy!
---
---
Return to "New Chow Chow Owners"
Who is online
Users browsing this forum: No registered users and 1 guest