Moderator: chowadmin
Rank 2

Posts: 801
Joined: Fri Mar 30, 2007 3:26 pm
Location: Holland Michigan
Contact:
Now with the busyness of the holidays over, I have a chance to update you on Kacee. Her name is now Katie! Since she responded well to her former name, we thought we would give her a name that to her sounded the same but one that we preferred as well. Katie is a treasure and I thank you for letting us adopt her. She is so well behaved and she and Minifur coexist amicably enough.....Minifur still feels she has to give Katie a slight growl now and then. They did have a few feuds where I had to pull them away from each other. One incident was when Katie was feeling frisky and wanted to play, but Minifur being old and not wanting such activity started a fight with Katie. The other two times were food related.....again Minifur was the instigator, so I keep a close eye on them whenever I feel a conflict could break out. The first five days Katie was here, Minifur's growls wouldn't let Katie in the bedroom at night to join us, but then Minifur finally conceded and Katie has been sleeping on the floor at my side of the bed ever since. Katie loves to go for walks and when she is outside in the backyard, it's hard to bring her in most times....we call her to come in, but being a chow, of course she has to think about it and then and only then will she decide to come in.....just like her housemate Minifur! On Katie's first visit to the vet it was discovered she had a yeast infection in her ears, so she got ear medicine for that as well as eye drops for weepy eyes. I took her in again about a week later as her appetite was diminished, she was vomiting a bit and had diarria and still having very bad gas. Our vet's diagnosis was that with the stress of her life being disrupted as well as the richness of the Wellness food we were continuing to feed her, it was causing her gastrointestinal upset.....so we changed her diet to a sensitive stomach kibble and a milder canned food.....she's been fine ever since. Her hair is thick and beautiful.....she looks so 'punk' with that reddish auburn tail of hers. She is such a sweetie pie.....oooh so cute and in many ways the perfect dog. I feel blessed to have her as a member of our menagerie.

Thank you again and again,

Kathleen Krey
---
Rank 3

Posts: 2091
Joined: Sun Oct 28, 2007 2:36 pm

Yay Kacee/Katie!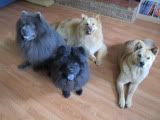 ---
A very happy story. I love to hear them. When we first got Molly from the rescue, Dusty also had some troubles getting used to a new friend. He is such a laid back, friendly guy, I was kind of surprised that there were any issues. But, of course, he was there first, and he had to learn to share. Now they play and have lots of fun. There are rarely any problems. Thanks for the update!
CoraP.
Remember this, and also be persuaded of its truth - the future is not in the hands of fate, but in ourselves.
Jules Jusserand
---
Rank 1

Posts: 133
Joined: Thu Dec 27, 2007 6:01 pm
Location: Buffalo, NY
It's good to hear that it's starting to work out. In about a week I'll be getting my rescue and I'm sure there will be an adjustment period for all.
Sandi
STAR YOUR FOREVER IN MY HEART
3/20/93 - 2/1/07
---
---
Return to "Rescued Chow Chow Stories"
Who is online
Users browsing this forum: No registered users and 1 guest