Moderator: chowadmin
As I write this today, it's 7 months since our Tinker went on ahead of us. My heart STILL gets ripped open in pain EVERY time I remember him. What a tremendous loss.
But.......
The Man upstairs had a plan. My wife Michelle found a chow online who had a special need. Oakland SPCA (They are so awesome) said on their website that "Zen" needed a "special" home with people who knew chows and wouldn't leave Zen alone because he had separation anxiety problems.
Poor Zen had been in the shelter for just over 4 months. The only blessing he had was a trainer name Sara. She took special care with Zen. She was his angel! Truely.
I wondered why he was there so long. He's gorgeous, well behaved, smart and a little gentleman. I can only figure that God was getting Michelle and I ready for Zen. After a trial adoption of a month (SPCA mandate) we adopted Zen to his "forever" home with us last Saturday.
Sunday we took Zen to Chowfest 2007 in San Francisco. He was welcomed by all. Zen has started to really come out of his shell and has begun to realize he's here with us forever. He's a good boy and a true blessing. Our house is a home again if you can understand that. In just the past 2 or 3 weeks this poor neglected chow has been to the beach, the lake, the dog park, he runs with my wife every morning, he went to Monterey and Santana Row. He's going camping in a few weeks too. He goes to work with one of us each day and has not been left alone.
Zen has some pretty big paws to fill but The Man upstairs will take care of everything.
Thank you God for Zen and Sara at the Oakland SPCA!
Zen's forever papa
Andy
In most loving memory of TINKER
12-4-1991 -- 12-21-2006
Our son, friend and teacher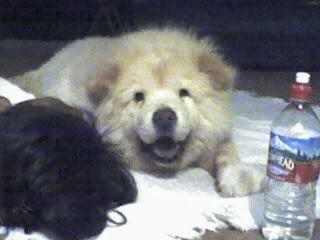 ---
Andy,

I am so happy that Zen has found a forever home, I can already hear the love you have for him in your posts

David
---
---
Andy,

Thank you so much for giving Zen a wonderful home and giving him lots of love. That is wonderful news. I had been watching Zen on the SPCA website but couldn't adopt him because of my little bully (although there can't be anyone more friendlier) at home (Chowder). I'm thankful he has a home.

Thank you!
Chowder's mama
---
---
Return to "Rescued Chow Chow Stories"
Who is online
Users browsing this forum: No registered users and 1 guest