Moderator: chowadmin
Here is the first picture of our new addition, Jewels. We drove 5 hours yesterday to Dayton, WA to pick her up. She is a shy but very sweet 18 month old red purebred. She is beginning to adjust and so is Rocco.
---
Wow, Jewels is beautiful! I am so glad she has a great home with you! She and Rocco will have lots of fun together!
CoraP.
Remember this, and also be persuaded of its truth - the future is not in the hands of fate, but in ourselves.
Jules Jusserand
---
What a perfect name!!! She's a beautiful girl!! We'd love to see more pics of Jewels and Rocco in the photo gallery.
---
Wow - she is just beautiful!
Mia
---
Rank 1

Posts: 300
Joined: Fri Sep 05, 2008 5:58 am
Location: Parrish, FL
She's gorgeous and I'm sure she'll love being pampered in her new home!
---
Any advice on bringing a rescue home and getting them comfortable would be greatly appreciated.

Jewels is very shy. We are doing our best to leave her alone and let her come to us. She loves walks but getting the harness on & off her frightens her. I think we are doing all the right things but we have never had a rescue before.

Thanks,
Allison
---
Rank 3

Posts: 2091
Joined: Sun Oct 28, 2007 2:36 pm
You might try putting that question in the General forum. My only suggestion is just keep giving her space and let her do things in her own time. I've not had an adult rescue so I can only imagine how frustrating it is to not just go up and love on her and give her all of the attention she deserves.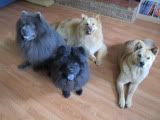 ---
Rank 1

Posts: 300
Joined: Fri Sep 05, 2008 5:58 am
Location: Parrish, FL
Well what seemed to work with McKenzie was I noticed that she loved walks and she never pulls on the leash so I just left the leash on her around the house and everything the first couple of days. I'd pick it up and bring her out every few hours the first few days because I noticed she really enjoyed walking and she didn't mind walking alongside me. I also talked to her a lot even though she was on the other side of the room. It took her about 3 days of this before she was comfortable letting us put the leash on and taking it off. She let us pet her at the shelter but she was more reserved at home. When I would walk by her and she'd wag her tail, I'd give her a quick pat on her side, making sure that my hand never went over her head. It's been two and a half weeks now and now she runs up to us when we come home and tries to hide behind us when she gets scared (she gets spooked easily so we're trying to snap her out of that). But at least she finds comfort in us now. I was a bit worried about her being in a shelter for 6 months before we got her and maybe it was just her mellow personality, but it really hasn't been too hard yet. Although she did all of a sudden get a spurt of stubbornness Monday, luckily it's only in the early morning that she's doing that so far. I did notice that speaking to her in a firm tone does not work, when she hears it, she sits down and sticks her head up as if to say "I don't care what you're saying and I'm ignoring you." But when I speak to her in a high pitched happy tone, she does just about whatever I want, most of the time. Now that I just did it, I can say, don't worry about it too much even though I'm sure you will anyway, I know I did!

PS: If you haven't heard about McKenzie's story, she was brought in by animal services along with a puppy. She was at a no kill humane society for 6 months. Was adopted and after 2 weeks, was brought back for being vicious. Then we adopted her and the only time she's snapped is when little dogs jump on her and paw at her face. Although, she did show her teeth to a dog last night at training that was trying to jump up at me. I guess she's starting to get protective of me? And the dog that she snapped at, is now totally scared of her. He walks as far away from her as the leash will let him but he continues to jump on all the other dogs.
---
Thanks for all the stories and advice.
We had a small breakthrough last night. She actually came to me while I was petting Rocco, as if she was like "hey I want some too!" She let me pet her for a while and then she did the same thing with my husband. He found her favorite scratch spot so she let him pet her and scratch her for like 15 min.
She also keeps her tail up now most of the time, unless you a walking behind her. We try to avoid walking directly at her or behind her.
The only thing that we are very worried about is her intent to get out ... the door or out of the yard. If she sees the door open she runs towards it so we are extremely careful.
Jewels' Background:
Jewels was at the veterinary clinic/shelter for 2 weeks had eye surgery, and escaped. She was on her own for a few months then they finally trapped her we picked her up about 3 weeks later. We have only had her 5 days.
Being trapped would have any dog not trusting humans, so we totally don't blame her. But when you look at her your heart just breaks and you want her to know that she is safe now and loved.
With the right amount of patience she will be an amazing chow.

---
Jewels is a beautiful girl.you are wonderful for rescuing her.
I wish you many happy and healthy years together

Kito Feb 4, 2006 - July 1,2007
Kai Mar.15 2007 - Aug. 26,2010
And when my time comes I will not go alone for my Chows will be there to say "Welcome Home".
---
She is such a pretty girl!

I wish you a wonderful life with this little girl.
---
I was finally able to hug Jewels yesterday. She actually put her paw on my leg while I was petting her to let me know I was doing a good job! And just in time cause I found some sort of mass in her spay incision. She is going to the Vet today. I hope this doesn't ruin our progress, but her health comes first.
---
So we heard from the Vet. Jewels has had a very bad spay. She is now going to need corrective surgery; she has an infection and a fever (104). The bill is going to be $775. We are so upset. The Vet's office in Dayton told us that she was healthy and ready to go. Our Vet said he would be embarrassed if one of his spay surgeries ever looked like hers does.

We are not sure how we are going to scrape up the money. Her adoption fee plus the gas (to pick her up - 5 hour drive) and now this Vet bill, adds up to over $1000.

The nerve of the Vet Clinic in Dayton… Her vet bills there were almost $800! And they wanted to Kick her out!

Thanks for letting me vent.
---
I'm sorry that poor Jewels got an infection

I hope your vet can help her feel better soon.
I think rescues do as much as they can but their funds are limited.Jewels is so lucky you came and got her when you did.
now she has a loving family and a Mom who will take good care of her.
I'll be thinking of her so please keep us posted.
Kito Feb 4, 2006 - July 1,2007
Kai Mar.15 2007 - Aug. 26,2010
And when my time comes I will not go alone for my Chows will be there to say "Welcome Home".
---
---
Return to "Rescued Chow Chow Stories"
Who is online
Users browsing this forum: No registered users and 1 guest