Moderator: chowadmin
Do any of you clip the hair around your males private part? Shuggy has alot of hair on his tummy and it's long and well when he pee's some of the hair gets wet and then it attracts dirt and well I'm not going to bathe him everyday so i wondered about clipping the hair. I can just imagine trying to get him to keep still while I do it

but wondered if anyone else has a similar issue. Kody did not have this amount of hair on his tummy and around all his private parts! You have to literally dig through hair to find the parts that will be clipped off...lol! Almost brushed them off!

Chloe (left) Shuggy (right)
---
Laura,

I've done this with puppies until their adult coat comes in. By then, they generally take care of it themselves.
Judith-Ann
Sengé Chows, VIC (Australia)
---
If you do decide to trim the fur near the genitals, don't ever trim the long fur at the tip of the sheath - that fur helps to wick the urine away from the sheath
---
Thanks Kiwani...I wasn't going to but I had him groomed a couple of times and the groomer wanted to do that! I didn't let her of course but she should know better! The hair I am talking of clipping is actually belly hair but I'll just let him be and get after him with a warm washcloth every night I guess.
Chloe (left) Shuggy (right)
---
Rank 3

Posts: 1010
Joined: Fri Feb 17, 2006 8:04 am
Location: Alaska
I don't have boy dogs anymore, but the girls can have similar problems with urine collecting in the hair. I trim around both anus and vulva on all three chows. Kylee tends toward vulvar infections/irritation unless I keep her trimmed.

What may work better for you than a washcloth is just a box of baby wipes (or the flushable cottonelle type wipes). I started using them a few years ago and it's just so handy to be able to wipe and throw it away. I use them in the spring/summer to wipe off their dirty feet, too. They're also great if you need to do a quick wipe around the mouth or even clean the ear leather.

People with children probably use baby wipes for everything, but for me it was an "ah HA!" moment when I first thought of using them .. *L*

Melanie and the gang in Alaska
---
Rank 3

Posts: 2091
Joined: Sun Oct 28, 2007 2:36 pm
I have trimmed Holden down there with scissors (he is such a good boy and lets me do almost anything!)

I also brush him down around that area.

Tucker used to get a long thick growth of hair at the very end of his tally and I used to cut it with scissors because it would get so gross. He hated being groomed in any way, shape, or form, so I had to do it quickly while he was standing and I only got one shot at doing it.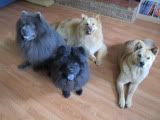 ---
Rank 0

Posts: 51
Joined: Wed Sep 12, 2007 6:25 pm
My Cinders came down with a UTI, vet said she probably got it by laying around on the damp grass and laying on the damp ground when she digs a hole and lays in it. The vet trimed all her hair away from her "private parts" to let "air" get around the area. I also use baby wipes on her bottom. The vet gave me "cipro" for her UTI, which is what MY doctor has given me for UTI's. I plan on keeping her nice and "trimmed" down there so we won't have anymore problems.
Susan Gambini
---