Moderator: chowadmin
Rank 0

Posts: 35
Joined: Fri Jan 18, 2008 9:19 pm
Location: Houston, Texas
I rescued a red chow almost a year ago. She was calmly walking down one of the busiest highways in Houston. I thought I would get her healthy and spayed and then find her a good home however this little one stole my heart and is here to stay. My question is I have a appt to have her shaved into a lion cut on Monday because she is shedding enough to make a whole new dog

. Would this be harmful? If so, is there anything else I could do? Also what kind of grooming tools should I be using? The brush that I have is good for a few strokes before I have to stop and take the fur out ( very time consuming!). Also how often should she be brushed?
Thanks
Kathleen
---
Rank 3

Posts: 1580
Joined: Mon Sep 24, 2007 12:26 am
Location: Rockford, IL
IMO, don't have her shaved. Chows have very sensitive skin and shaving can cause horrible irritation, in addition to leaving her vulnerable to sunburn. And to cold if that is applicable whereever you are located.

She should ideally be brushed daily. You need a rake to get out all the dead fur when she is blowing coat. (When she is shedding enough to knit a whole other dog).

I use a rake, a pin brush, and a metal comb on mine. I don't do any trimming but about every six weeks they go to the groomer and he baths, brushes, trims fur on feet, a little on the britches, and cuts their nails.
Jerilyn

Banner courtesy of the amazing Sweetpea.
Until there are none, adopt one!
http://www.dogster.com/dogs/631376
http://www.dogster.com/dogs/650868
---
Rank 3

Posts: 2091
Joined: Sun Oct 28, 2007 2:36 pm
I agree not to have her shaved.

I did that to my two and it took Tucker forever to grow his fur back. I took him to the vet and he said that he thought Tucker's skin was traumatized. He had missing patches of fur for quite a while. And on top of that, both boys felt like brillo pads for the longest time after it started growing out.

It was definitely a learning experience and I will never do it again!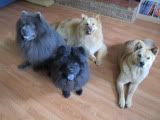 ---
---
a lot of times if you shave it, the hair grows back really rough (or so I have read on some other posts, also they shaved a part of Buddha when they had to sedate him ,and it took FOREVER to come back!). We take Buddha to the groomer. They have a blow dryer (for dogs) that blows all the hair out, and of course, Buddha won't let me brush him, so it's just easier to pay someone to do it.


Thanks so much sweetpea!!!
---