Moderator: chowadmin
Hugo's been having bad breath,any good treats that aren't very dangerous(choke) that can clear his bad breath?
Chow Chow named Hugo!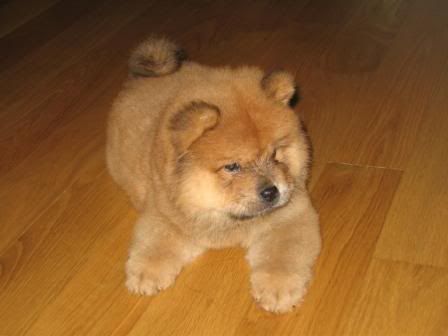 ---
---
---
My husband gives Zoe a couple of Greenies every morning. I am not sure what is in them, however they are shaped like little green dog bones and are for breath and teeth. Fortunately she likes them. Wolfie, who could really benefit from them, doesn't like them!
---
i like to use Meaty bone brand dog buscits and nutro natural choice Dental dry kibble , the nutro has cranberries in it , it might help , it might not....
---
Rank 1

Posts: 161
Joined: Sun Sep 30, 2007 6:53 pm
Location: Austin, TX
Chlorophyll is an internal deodorizer and is probably the cheapest and safest thing. It might be hard to find in Asia, though.

I also like to let Pudding chew on unbleached cotton rope toys. She loves playing tug of war and fetch with them, and they clean her teeth really well too. When they get yucky, I wash them or throw them away. You could probably make the toys yourself by shredding old clothing and twisting and tying the pieces together.
---
Rank 0

Posts: 8
Joined: Thu Jan 17, 2008 9:31 am
Location: Georgia
I have Greenies Smart Bicuits, and that is great for Ringo, who didn't really have too offensive of breath, just "doggie" breath, but Sandy, nothing can help her. The dogs really like this biscuit, it smells like chicken, it's the one they really respond well to.

I tried getting the them used to us brushing their teeth when they were puppies, but nothing could get them to open their mouths for the tooth brush, and Sandy would bite and growl, Ringo would hide.

I like the idea of the cotton rope. I think I'll try that one. Sandy's breath is terrible.
---
For those of you feeding Greenies to your Chows, please consider finding something different.

There have been large numbers of reports of Greenies causing esophageal and bowel obstructions in their dogs and there have been a number of class action suits brought against the manufacturers, who have been forced to change the formulation.

Don't know the latest, but I personally would avoid anything that wasn't a raw meaty bone...
Judith-Ann
Sengé Chows, VIC (Australia)
---