Moderator: chowadmin
I am fighting with large
mats
that form behind Apollo ears. What all you all done to help this problem. Any suggestion would help. They are pretty big
mats
. I bathe him one too two times a month.
Thank You,
Zues62
---
Rank 3

Posts: 2091
Joined: Sun Oct 28, 2007 2:36 pm
When Holden gets them behind his ears, I comb them out. If Apollo won't let you comb them out, which can take a while depending on the size, you should use trimmers and shave them as low as possible. Then try to brush or comb out what is left.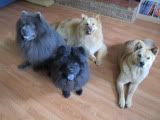 ---
Rank 3

Posts: 3030
Joined: Tue Oct 31, 2006 8:20 am
Location: Toronto, Canada
With my first chow I had to brush behind her ears once a week, she hated to be fussed with. I'd leave her alone, she was happy when I didn't touch her. You can try to untangle them, grab at each end, and gently pull the mat apart. Some you may have to cut. Better to brush once or twice a week.

Bathing may not do much good, it's more important to keep brushing. You don't want tangles on her pantaloons, they're rally hard to untangle, or cut.

There is lots of info in the grooming section
Last edited by
sit_by_the_beach
on Sun Jan 06, 2008 10:01 pm, edited 1 time in total.
---
Rank 1

Posts: 375
Joined: Mon May 21, 2007 9:44 am
Contact:
I cut them as much as they would let me... you can try brushing the rest out but they will grow out and then you can just trim more until there's none left.
Brush him as much as you can, while he's sleeping or occupied with something if he's resistant.

I'm not sure if bathing him so often is good for his skin/fur. It dries them out. I don't bathe mine unless they're REALLY dirty and smelly which is about 3 times a year. I brush them every other day, twice a day if they're shedding.
---
I would love to know the answer to this riddle. Butters has constant matts behind the ears. I have cut them out many times and no amount of brushings has ever kept them away. I have used doggy conditioner and still can't keep them away!!

SweetPea Rocks!!
---
yes,
I agree that the brushing is more important than the baths.you can dry out a chows skin and end up with more problems.I brush them 3 times a week and 3-4 baths a year.
if the
mats
are bad just cut them out and keep brushing him and see if that helps.
Kito Feb 4, 2006 - July 1,2007
Kai Mar.15 2007 - Aug. 26,2010
And when my time comes I will not go alone for my Chows will be there to say "Welcome Home".
---
try spraying Afro-Sheen (the oily spray) onto the mat and the comb.
Gently work in the afro-sheen with your fingers going
in the outward direction. Use a detangling tool
(a razor on a handle for splitting) begin at the outside
end of the mat and work your way back toward the body.
If this won't get it, then the matting is beyond help and would be best to cut it out. **You could substitute olive oil for the afro sheen, however it is harder to wash out.
Mats
of that magnitude develope only when the coat has been insufficiently brushed. Keep the coat brushed and
mats
will not develope.
Mats
occur more so in dried out hair, so I'm assuming that you don't use conditioner or if you do, then the product may be substandard.
If you are bathing your chowkid as often as you say, then the coat and skin will be too dry, setting the stage for more matting, and itching. I would follow Jacqui's advice, more brushing and fewer baths.
Good luck
**Photo by Sweet Pea.
She has a photogenic memory...really!
---
Whenever Wolfie gets
mats
anywhere, I will usually just cut them out. It saves a lot of time, and as he is so hairy, you can't tell the difference anyhow.
But yes, behind the ears is a particularly bad place for them, although I am not sure why. I have also noticed that the hair there is different from the rest of his body -- real smooth and silky -- strange!!!!
---
My female chow gets
mats
behind the ears too. I think it's a problem with most chows. I try to take a comb or brush everyday if only to brush their heads and behind those ears.
Yes, the hair is soft there and I notice that the matting seems to come from scratching their ears.
Sydney
---
Re: "although I am not sure why. I have also noticed that the hair there is different from the rest of his body -- real smooth and silky -- strange!!!!"
It's a finer fur for better insulation of the ears. That type of fur is also more easily damaged by UV rays. A "color intensifying" shampoo or conditioner would seal and *polish* the frayed outer covering of the hair shaft. That lessens matting because the hairs then glide against each other rather than grab onto frayed hair cuticles.
We've discussed this type of grooming product before, if you care to search the archives. There's a show dog line of such products mentioned, and also a widely distributed dog grooming brand that also work well, but they don't replace regular brushing of this area.
---