Moderator: chowadmin
My new chow puppy that is 9 months old is now all of the sudden scratching, biting, and digging till she is bald on the butt, stomach and now some on the back. I found one flea from head to toes and bathed her in flea shampoo but still not working. I bathed her yesterday in oatmeal shampoo for dogs and still not working. What to do other than the obvious taking her to the vet. I am sad to say, can't afford it right here at christmas time and all. Not saying that I don't love her she is very important to me. PLEASE HELP.
---
Rank 3

Posts: 2091
Joined: Sun Oct 28, 2007 2:36 pm
Hmm... well of course the first thing that comes to mind is a trip to the vet...

My sister's Yorkie is allergic to fleas. This might be a possiblity with your Chowling. How long has the itching been going on? And how often have you given her a bath?

One other possiblity could be allergies in general. What do you feed her?

Do you have a regular vet that you could call and ask what you could do temporarily? My vet lets me call him and ask him questions over the phone before I take Holden in.

You might be able to try Benadryl to see if that helps with the itchiness. I would check with your vet to see what dosage to give your puppy, though. I know how much Holden can take, but he is 4 years old and 50 pounds...

Let us know how things go.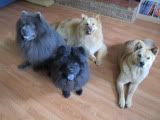 ---
Before you start the meds and vet, what are you feeding him?
---
It sounds like it could be food allergies. Most often this shows up as hot spots. What are you feeding your Chowling?
Check out:
http://www.chowchow.org/forum/viewtopic.php?t=4084
It's extremely important that you feed your Chowling a high quality food. It might cost a little more than the cheaper brands but you will save alot in vet bills.
Use the search function to look up hot spots and/or food allegies. There should be some goods posts in the food & diet forum.
Karen, Kohana, Takoda, and our Chow Angels Nahkohe and Shiloh
---
Rank 2

Posts: 696
Joined: Mon Oct 08, 2007 7:26 pm
Location: Rossville, Georgia
Speaking from non-chow-but-skin-issues-that-sound-similar-to-yours-experience...I would definetly check the food issue. With bel we changed his food, starting spraying his hind end with anti itch spray that had the bitter apple stuff, something for soothing, and something for healing all in one. I also started putting cortisone on his really bad areas and lotion on the ones where it was just skin that looked like it was dry from exposure and being chewed on. He looks much better now and since we've changed his food he barely chews on himself...we also had to de flea him.
Thank you so much sweetpea you are wonderful!!!
---
Rank 0

Posts: 9
Joined: Fri Mar 16, 2007 4:26 am
Location: Massachusetts
Contact:
Chynagirl had the same problem with her butt and hind legs. I used H202, triple antibiotic cream, and hydrocortisone cream. she healed in a couple of weeks. My vet said that is very usual with Chows. btw doea any one have problems with your chows eyes?

Chyngirlsmom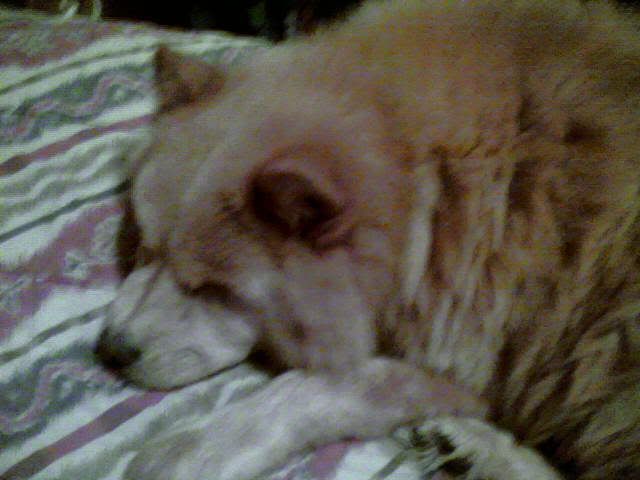 [IMG]
---