Moderator: chowadmin
Rank 0

Posts: 1
Joined: Thu Oct 11, 2007 3:12 pm
Alright, as much as I hate to admit it, we shaved our chow! I didn't know, please forgive me, but I need help. We decided to shave him because he needed surgery on his front paw pads and would be in too much pain for grooming during his recovery. He looked great when the hair was short and he acted like a puppy, he wasn't shaved all the way to the skin to protect him from sun, but it was really short. It is now growing in like a steel-wool brillo pad. Any advice would be so appreciated.
---
Rank 3

Posts: 1946
Joined: Wed Dec 13, 2006 6:03 pm
The guard hairs are suppose to be stiff and bristly, most likely that is what you are talking about. Once they grow back and get some length to them they won't feel so stiff. Some Chows undercoat is very stiff and thick also. That will teach you to cut the fur off!

Sam

Keeper of the furry things...Master of the kibble....Scooper of the poo!
---
The tips of the hair shafts have frayed due to the blade, and have lost their keratin layer. I would suggest what's called a 'color-intensifying' shampoo which seals and polishes the shafts, and leaves a much smoother feel to frayed ends. There are also polishing conditioners.
---
---
Rank 1

Posts: 377
Joined: Sat Sep 15, 2007 3:26 pm
Location: Northern MI
Contact:
Hopefully it grows back correctly. Being a double coated breed, when shaved the body sometimes overproduces the undercoat to insulate the body.

Sounds like that isn't what's happening now, but if it does, there is no fixing it. The damage is done and the coat is shocked. It may not happen this time, but I wouldn't recommend doing it again or the hair may not grow back right.

Just a reminder.... only use dog shampoos, unless directed by your vet! Their PH is different from ours and people shampoo can be very irritating!
Thanks SweetPea!
---
Legend had surgery on both legs..a few years apart. For the surgery they shaved him, to the skin obviously, from ankle to above the hip. If I remember correctly, the undercoat and guard hairs did not grow at the same rate. However, eventually (in both cases) the coat came back fine. Currently you can't tell he ever had anything clipped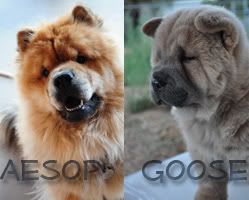 ---
Our "Baby" has had surgery on both legs, and yes, they shaved her to the skin. Although it takes a long time for the hair to grow back (I hate the Ugg boot look), it does eventually grow back. She goes through a lamb stage, but then it all comes back in. Since she is a mix, we can get away with clipping her in the summer, as we live on a beach and it helps us keep her clean and happy. She never liked being groomed - still doesn't!
---