Moderator: chowadmin
At least that's what I call them. Emma is just over a year old and now that the warm weather is coming, she is shedding like I've never seen! I use a metal comb and go over her daily and each time I end up a pile the size of a puppy! How's everyone else's shedding going?
---
Rank 3

Posts: 1062
Joined: Sat Nov 12, 2005 5:46 pm
Boogie is shedding a ton! I have been brushing him a lot but whenever anyone touches him or walks by and makes a slight breeze and huge puffs come off of him. I vacuumed and no less than ten minutes later the carpet is a mess (Boogie is black and the carpet is light tan so it looks really bad.) He was riding in the car and my daughter rolled the window down for just a second and there was fur flying all over the car! Teddie (my red one) is shedding a little but hasn't started fully blowing his coat yet. I think it is because he sleeps outside at night (his choice, not mine.) Poor Fozzie (my foster with coat problems) doesn't have any undercoat as he just started growing fur although he has been loosing some of the outer coat that he has.
---
Rank 0

Posts: 34
Joined: Wed Oct 24, 2007 11:44 am
Location: Pennsylvania
Contact:
The same thing is going on with Sebrah. I actually called the vet the other day because I thought something was wrong with the way her fur was coming out and her biting at her skin. I knew they shed a lot but this is so much. Everyday handful after handful will come out. I could probably brush her all day and more fur will still come out.
Sebrah&Angel
---
The girls started shedding like crazy after they were spayed.At a point I thought they were just getting their summer coat,it was nice and shiny but much thinner.In the last couple of weeks they each grew a thicker coat than they ever had????If this is their summer coat I'm curious to see what their winter coat will be like!!!
---
I was about to post that I had another puppy when I saw this--LOL. CC gets brushed daily and I could make another entire puppy with the hair I am getting. She is only 15 weeks and her outer layer of fur looks great--just losing all that undercoat. Glad she is doing it early as is gets HOT here in Mississippi
---
Rank 1

Posts: 201
Joined: Wed Nov 21, 2007 2:57 pm
Location: The Woodlands, TX
Ziggy has been shedding/blowing his puppy coat for the past couple of weeks, hubby brushed him before his bath and only a small handful came off. Yet when he was in the tube oh boy the fur was a flying and he left behind aleast a couple of puppies. I was covered with his black fuzz!

But it's nice cause his adult coat is beginning to come in and it is so shiney and soft, just hope it grows and that he will not always look like a black lab with a chow face! LOL
Betty, Ziggy's Mom
Ginger Bears Mom ~ In Loving Memory, 8.5.93 - 11.16.07

"Life is about not knowing, having to change, taking the moment and making the best of it, without knowing what's going to happen next."
---
Zues has blown his puppy coat also, and right befor a dog show of all times LOL He has hardley any hair on his back but the new hair comng in is fire engine red ! Hope he fills back out before the next show !
thanks sweetpea
---
Rank 3

Posts: 4304
Joined: Sat Feb 03, 2007 10:20 pm
Location: New Orleans,La.
Kearra & Kyra have finished blowin' their coats FINALLY and I could have stuffed a new comforter....who needs down lol
Desi, Kearra also has the most beautiful coat she has EVER had....but poor Kyra....I guess because I spayed her as she was blowin' her coat, her coat looks terrible (that would be what she has left of a coat)......my daughter said"MOM its looks like you are showin' favortism"


Thanks Sweetpea!
---
FUNNY i was just gonna post about this very topic. i have been spending about 40 minutes a day on each chowkid brushing them, and the hair is non stop. biggie more so, than luna, probably cause its a combination of puppy coat-winter coat. i forgot how bad it can get.lol.i know it makes them feel alot better, though. at least there skin can breathe better.
as much work as it is, i wouldnt change a thing with my two. i loves em sooooo much!!!!!!!
besides, my arms are gettin a workout at the same time.
anyone can own a dog, it takes someone special to own a chow.
---
Alf is a never ending shedding puppy at the moment. I'm sure this has been going on for at least 3months now & surely it must end soon.... please, my shoulders hurt



Thank you Elodie!
---
Emma's still shedding (three months and counting!!!) My grey and black carpet runner in the kitchen is beige daily!! Her torso is pretty much done, but her ruff is now coming out in clumps as is her butt. She's not very happy when she sees the comb come out these days; I've tried to be gentle, but sometimes I can tell I went too hard (no yips). Now, her head is getting ready, I think (her forehead looks taller to me...

; this oughta be fun!!)
Her "summer" coat is nice and soft, but much thinner now than when she had a double coat. She's my pretty little poopie-doops!!
---
Tai has been shedding ever since I got him. It's always undercoat. I'm sure he's getting his summer coat and it's beautiful and shiney. But the undercoat is never ending. I do quick brush overs during the week and get plenty of fur, but then on the weekend, we sit and brush for an hour or 2. Tai is so good. He just sits there and lets me brush (except the insides of his back legs... that's still somewhat of a battle.) When we do the long grooming session like that, I could fill up a garbage sack. The fur flies everywhere. I never have seen "clumps" of fur yet.
Cy & Tai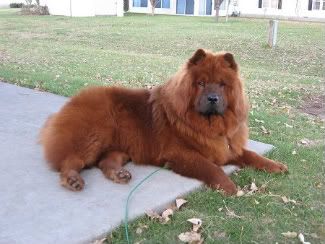 All this and you wanted a Shih Tzu too?
---