Moderator: chowadmin
Rank 3

Posts: 4327
Joined: Tue Mar 21, 2006 7:47 am
Location: Maryland
Is it just me or are chows just the softest coated breed out there?

I mean everytime I run my fingers through Special's coat, it's just so soft. The top of his head has the silkiest feel, and then his sides and his chest where his little legs come up. Is that what you all find too?
I have yet to find any other dog who I've petted who has a coat like this. At the dog shows, the chows I pet are not this soft either. I think that's because of the way they're groomed up for the show.
I guess I'm just curious if you all melt into your chows hair the way I do?

I could hug that little boy all day!

Think I'll go do that now...


This photo arrangement is the wonderful work of Sweetpea
---
Rank 3

Posts: 4304
Joined: Sat Feb 03, 2007 10:20 pm
Location: New Orleans,La.
---
---
Behind the ears and their belly's! Nanook is the best, he will sit there all day long and let me rub around his ears and his belly. Jade tries to hide when she sees me attacking the boy because she knows she's next.

I have tried to walk by with out smothering them but i just can't do it. Nothing beats chow chow fur!

---
Yes, their fur is the best! Luckilt Molly will sit for quite awhile and want to be petted. Of course I oblige! I love to pet her and could do it all day!
CoraP.
Remember this, and also be persuaded of its truth - the future is not in the hands of fate, but in ourselves.
Jules Jusserand
---
---
Rank 3

Posts: 1580
Joined: Mon Sep 24, 2007 12:26 am
Location: Rockford, IL
It wonderful, isn't it? Teddy seems to be growing mostly undercoat is as soft as can be. I could pet him all day and I think he would let me, too.
Jerilyn

Banner courtesy of the amazing Sweetpea.
Until there are none, adopt one!
http://www.dogster.com/dogs/631376
http://www.dogster.com/dogs/650868
---
Rank 3

Posts: 2091
Joined: Sun Oct 28, 2007 2:36 pm
My brother's fiancee would disagree with you. She was telling my mom the other day that she doesn't like Holden's hair because "It feels like a brillo pad". When my mom said no it doesn't! it feels like cotton!, she then said "well then that must be why I don't like him. I don't like cotton."




What exactly does she think her clothes are made of?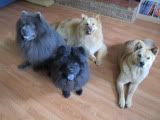 ---