Moderator: chowadmin
I posted a topic earlier kind of concerning this, but this is a little different. I had noticed that Buddha seems to love eating hair (his hair specifically...especially when I brush him and he's shedding). Well, now I have found small (like dime size, if that big) hairballs on the floor. I figure this is to be expected if he's eating hair, but I'm just concerned as to whether this will effect his health?

Thanks so much sweetpea!!!
---
---
Rank 3

Posts: 4304
Joined: Sat Feb 03, 2007 10:20 pm
Location: New Orleans,La.
Too Funny....I read this thread and couldn't think of what to say


Now I'm confused....


You saw little dime size balls of hair on the floor?? Have you ever seen a cat cough up a hair ball??


It isn't a hair ball actually but vomit with a big clump of hair in it


If your seeing lil' dime sized hair on the floor could it have fallen off your Chow??

My two both will eat the fur that I rake out so I have to watch them both as I try and groom or they will have a mouth full.....don't think it hurts them but if they get a hair ball I'll let you know


Have seen tons of lil' dime sized hair balls on the floor but I'm possitive the fell off my Chows LOL!!

Thanks Sweetpea!
---
That funny...actually, I know they were in his mouth because they were wet. I actually haven't seen a cat hack up a hairball, so I dont't actually know what a hairball is supposed to look like. I just assumed he was coughing them up, as he has been coughing a bit lately.

Thanks so much sweetpea!!!
---
Oh Vickster, I know you must have a cat because I do, and your description was perfect. Yuck!

Mia will pick up her hair sometimes if I am not careful and then spit it out, that may be what you are thinking of when you say chow-hairballs. She doesn't swallow it, she just picks it up, probably chews it a bit and then drops it out.

As opposed to a cat hairball which includes a lovely yellow vomit, just to help it keep shape. Yeeech.
Mia
---
Rank 3

Posts: 4304
Joined: Sat Feb 03, 2007 10:20 pm
Location: New Orleans,La.
Mia, I used to have cats, all my life actually, always had one or two....my last one was a black persian....with gold eyes...her name was Jazz...had her for many years.

Most all were persians, so I have seen my fair share of hairballs LOL!!!
My 2 girls will get a mouth full of hair and spit it back out leaving wet hair....or actually eat it if I don't catch them. I usually am grooming someone at the time....but the description of a hairball isn't as tidy as it sounds so if it isn't accompanied with some other stuff usually its just their strange habit of eating the stuff which I don't really understand but ALOT of em do it, they had a thread about that, if given the chance

weirdo's


Maybe they think its fiber LOL!!!

Thanks Sweetpea!
---
Rank 3

Posts: 1062
Joined: Sat Nov 12, 2005 5:46 pm
Mine lick they carpet where there is fur. They also lick the fur off of where ever the cat has been. They will chew the hair for a while but I don't think thy swallow it. Instead they try to spit it out when they are done which sometimes it gets stuck on their tongues so they hack.
---
That's funny, mine accidentally gets one hair in her mouth and does all those weird peanut butter on the roof of her mouth facial contortions trying to get it out. Won't eat or drink if there's a hair in her dish, either. Takes all kinds.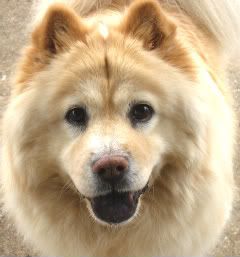 Sandy
Owned by Sophie
---
haha this is so funny, rylee will do anything to grab the hair i brush out of her, but as soon as she has it in her mouth she obviously realises it isnt as wonderful to eat as she thought, but time and time again she will do this. its never had any bad effects and i dont imagin it ever will as dogs lick themselves and must get some hair in their mouth from this haha. we also find lil rolled up balls of her hair but they are not from her mouth. theyre just from off her body, especially around her crate which is where she sleeps at night


new chow mum to a beautiful furgirl.. hooked 4eva
---