Moderator: chowadmin
Moderator

Posts: 7575
Joined: Tue Oct 25, 2005 3:49 am
Location: Muskegon, Michigan
Contact:
We have some health issues at our house. Pip has become incontinent, and I took a sample to the vet. The vet receptionist told me, no check-up, no diagnosis. Well crap. I have no job. I am pinching pennies, and they won't even do a check on a urine sample to rule things out. Pip is 13 and she is moving very slow lately. Her incontinence is likely due to one of 3 things. A UTI, dementia, or a tumor blockage. Diabetes could also cause frequent urination, but it is in the secondary list. They were helpful telling me I could do an office visit, and at least I would know what is wrong...lol. Of course, I would need to borrow money I have no way to payback so they can tell me my dog is old and she has an infection. More if they have to do a catch.

In the meantime, Lily is fighting hotspots. She was wet under her harness after the beach is my suspicion. I have been home treating. I was winning on the front, and did not notice another on her rear leg. Suddenly, she is a walking hotspot. UGH! I had to go to the vet with Lil. Oh look, says the vet, gunk in her ear, too. Goes hand in hand with the hotspots, she says. Gives me beaucoup meds...including a big bottle of antibiotics. Just the kind PIP would need. She also tells me, the antibiotic may not agree with Lily, and to call if it disagrees, and she will try a different one. Hmmm...

I was giving Pip ACV, and she only had 2 doses previous to Lily's trip in. Already today on the ACV, Pip has been accident free. I have given her one dose of the antibiotic, and will be calling the vet on Monday and tell her the pills met some demise, and I needed another perscription. It pisses me off to no end that I have had to resort to lying and self-diagnosis because they refuse to compromise their 'policy' for a dog they have been seeing for 13 years. Instead of running a $20 test and giving me $20 of antibiotics, they try and get me for an additional $70 I have already explained I do not have. Bastards. Both my girls are feeling much better today.
http://vimeo.com/12895512
---
Is there a St Francis of Assisi in your area? They might have some lower cost options.
Glad to hear the girls are feeling better.
Karen, Kohana, Takoda, and our Chow Angels Nahkohe and Shiloh
---
Sorry to hear about your dog health problems (and money problems). we've had a couple of those as well.

i'm currently unemployed as well so every little dog cost adds up. Of course I love my dogs and want to give them the best but that isn't always monetarily feasible.

Also, last year, my sister's dog Tsunami tore a ligament in her back leg which was a 3,000 dollar surgery. Money that no one had. We tried to get one of those pet emergency loans, but because my entire family is involved with real estate, the market crashed, and everyone's credit did too, we couldn't qualify. We tried taking out 4 loans from 4 different family members so they were smaller amounts, it still didn't. We tried advances from work (I had a job then), my sister's house was going into foreclosure. But everytime we were faced with the deciscion we couldn't just give her up. We couldn't let her walk around HURTING. Yet try as we might, we couldn't scrape the money together. We talked to the vets explaining our circumstances and they sort of cut us a deal. If we could make a down payment then the rest could be payed in monthly installments. we pooled JUST enough to afford the down.

It's so sad when our beloved dog's health hinges on how much money we have. But we're in a hard time fiscally and there isn't a lot we can do about it. So I understand your pain, frustration, worry, and saddness about dog health, vet bills, and scraping by.

I wish you luck with all of the healing that needs to happen and know that mine (and Penelope's) best wishes are with you.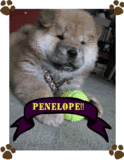 ---
Moderator

Posts: 7575
Joined: Tue Oct 25, 2005 3:49 am
Location: Muskegon, Michigan
Contact:
Lily and Pip are both on the mend. Pip has been taking antibiotics and with only one accident since Friday, has been well. Lily's skin is looking healthy again, and her itching is way down. Both are getting wise to my drug hiding ways. I am going to start looking for a vet that will work with me regardless of money. I have been at the same vet practice since 1988. Believe it that when I leave, they will know the full scope of my disappointment.
http://vimeo.com/12895512
---
Rank 1

Posts: 300
Joined: Fri Sep 05, 2008 5:58 am
Location: Parrish, FL
McKenzie's vet does some volunteer work for local rescues and says that as long as his family has food on their tables, he'll work with anyone to help the animals. That's the sort of vet that everyone needs to be!

He offers 0% installment plans for everyone with a bill over $100 I think. As long as you pay at least $5/mo, he'll continue to treat. He crosses off the costs that the computer spits out and lowers those for surgeries and prep all the time.

When McKenzie needed her eye done, he took the lowest estimate we could find and knocked off another $100 then noticed her other eye was just starting to flip so he lasered that one and never added it to the bill.

Good luck finding a great vet. I will NEVER leave this office unless it gets sold when he retires. You could ask local rescues for vet recommendations. If the vet works with the rescue, they'd probably work with you.
---
---
Return to "Health Discussions"
Who is online
Users browsing this forum: No registered users and 3 guests