Moderator: chowadmin
Moderator

Posts: 2705
Joined: Wed Mar 02, 2005 9:37 am
Location: SF Peninsula
Anyone's chow's body reject their probiotics?

Tiggy's supplements arrived yesterday. I wanted to start him on the probiotics first. He ate breakfast and I waited an hour to give him his first capsule. First time baby boy has had to take in something orally that wasn't food and he's really easy to give pills/capsules/medicine to. So that's a real plus. Anyways, an hour later I was about to leave the house when I noticed an odd pile in the living room. As I approached it, it was his breakfast. He threw it all up. Fast forward to bedtime tonight. I gave him his second capsule. Two hours later he starts reverse sneezing! He's still reverse sneezing. I'm thinking he might be having an allergic reaction to the probiotic. I've read online there are very little side effects on this supplement. So I thought I'd ask if anyone experierenced this the first go-round with their chows.
---
Lou,
my boy Tiko could not take probiotics.he had IBD and he too was not able to tolerate them.
maybe you could wait a few days and try again to make sure its the probiotics that hes having a reaction to.

Kito Feb 4, 2006 - July 1,2007
Kai Mar.15 2007 - Aug. 26,2010
And when my time comes I will not go alone for my Chows will be there to say "Welcome Home".
---
Awww, poor Tigger..... I've read on this site that some chows would paw its face after taking probiotics but not throw up..... If you suspect the probiotic capsules or pills to be the cause, stop it. Either chuck them away, or you can try it on your other furry ones to see if it was Tigger or the drug. You can start Tigger on plain yogurt or another brand of probiotics-human grade so you can finish it up if he doesn't. If you are going for a capsule route, it might be an idea to start at low dose, 1/2 a capsule or whatever and gradually increase the intake. I rotate btw yogurt and probiotic capsules depending on where I shop. I get the capsules from Rainbow or WholeFoods, but I don't go to those shops on a regular basis, Trader Joe's being my main grocer. TJ's now carry their own brand European style organic full fat yogurt after dropping Strauss, in a red container which resembles Strauss'. LEO get's about 2TSP every meal and I can have some for breakfast, too.
---
Ditto, try the active culture yogurt first. If he's ok with that, it may be the inert ingredients in the capsules that he's reacting to.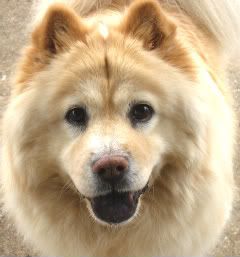 Sandy
Owned by Sophie
---