Moderator: chowadmin
I'm beginning to think that Annie at least partially blind. Obviously the entropian has everything to do with it, but the vet said that he didn't see anything wrong w/ her eyes, except for the entropian and that the entropian wasn't so bad that it would cause her to go blind, it is just a discomfort.
She doesn't do anything that is necessarily "obvious", but it's more of a suspicion that I get from the way she interacts w/ us an Buddha and, well..she does constantly run into the sliding door, and I am not sure if it's due to her running in and out so fast and not paying attention, or if she just can't see the door?

Thanks so much sweetpea!!!
---
We thought a chow we were fostering was partially blind, but it turns out she was just extremely farsighted. She could see a squirrel clear across an acre wide field, but she had to nudge around with her nose to find her food dish. Maybe that's Annie's problem, too.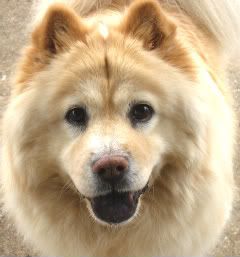 Sandy
Owned by Sophie
---
Kathryn,wait until Annie has her eye surgery and then see how she does.
there are so many eye problems that chows can have.my Chyna has PPM.that is webbing inside the eyes and I think her vision is not too great because of this.
glocoma is also a possiblity but maybe its just the entropian that her problem.
wishing her a quick recovery with her surgery.take care

Kito Feb 4, 2006 - July 1,2007
Kai Mar.15 2007 - Aug. 26,2010
And when my time comes I will not go alone for my Chows will be there to say "Welcome Home".
---
A co-worker told me about a male Chow he once had that always ran into doorways too. Maybe it's a depth perception thing. Hopefully the entropion surgery will remedy it like Jacqui said.
---
Does Annie do anything like this?
Pardon BB's sad appearance here. This is the day we picked her up from the owner, she's much cuter now.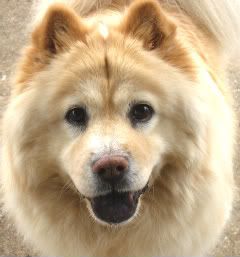 Sandy
Owned by Sophie
---