Moderator: chowadmin
My 11 week old chow/samoyed doesnt sleep on the carpet, he prefers to sleep on the travertine hard floor because its cooler, i assume.

I live in San Diego, which is a pretty moderate temperatures ... but is it a good idea for him to sleep on something soft or is it ok for him to be sleeping on the hard floors?

Is there any good recommended bed/pad's that he can sleep on that he would like ... seems like the carpet might be too warm for him??
---
A lot of us bought beds and blankets for our chows, but many don't use them.
My Coco has a dog bed and blankets, but she prefers sleeping on the marble in front of the fire place (we don't use the fire place) because it's cool. Even if it's a hard floor, it looks perfectly fine for her! I put the dog bed and the blankets away. Think about it before investing a lot of money in a fancy dog bed for him, he might never use it.

Elodie
please help feed animals in shelters for free, click daily on the yellow button
http://clicanimaux.com/
---
Rank 3

Posts: 2091
Joined: Sun Oct 28, 2007 2:36 pm
Mine sleep on the floors. I have a bed down that they don't lay on and the only time it gets used is on occasion when Hannah is playing with her toys.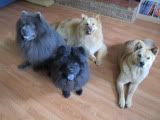 ---
I agree.I have bought many beds over the years and no one uses them.they like the floor and in the winter Chyna likes the couch
Kito Feb 4, 2006 - July 1,2007
Kai Mar.15 2007 - Aug. 26,2010
And when my time comes I will not go alone for my Chows will be there to say "Welcome Home".
---
Mine are the oddballs. They like beds. We have some downstairs that they like to enjoy their snacks on and others upstairs that they use on occasion. I found a papasan cushion on craigslist for $20...they like it because it's big and I keep fleece blankets on it. They like to scrunch up the blankets then do the madatory three turns before they flop down. I bought one of those beds that you fill with water to keep them cool. Ping really liked it, that's where she slept every night. I fostered a young puppy (Lucky) for about a week and he used it as a teething toy, so it sprung tiny leaks. I tried to patch it, but it ended up in the trash. So if you have a chewer in the house, don't buy the cooler bed. I know one wouldn't last with Tod in the house now so Ping has a little blanket pad for her bed.
---
Pekoe has two beds and only use's them maybe twice a year when its cold other then that its hardwood floors or concrete. Onyx has a bed, blanket and crate with a blanket, same thing, hardwood floors but mostly concrete.

Hmm, i'm not use to this two chow story stuff.
---
Rank 3

Posts: 2091
Joined: Sun Oct 28, 2007 2:36 pm
Jeff&Peks wrote:
Hmm, i'm not use to this two chow story stuff.
It's starting to grow on ya, isn't it Jeff??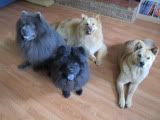 ---
Shug sleeps on the brick fireplace or right on top of the ac vent. Chloe is always on the hardwoods unless she is on the couch with us (panting away).
Chloe (left) Shuggy (right)
---
so i guess chow's tend to like the cool hard floors

is there any health concerns though?

i found a $17 bed from Costco that i might pickup, if he doesnt like it oh wells ... but at least give him an option
---
Yes, a cheap bed just to try out wouldn't be a bad idea. I haven't heard of any health concerns. When Bear got old, I got him one of those nice, supportive foam beds because he had the stiff joints and limped a little. He seemed to enjoy it.
CoraP.
Remember this, and also be persuaded of its truth - the future is not in the hands of fate, but in ourselves.
Jules Jusserand
---
I bought a Coolaroo bed for a chow I'll be bringing home soon. I questioned whether a dog would use it--it's basically a slightly elevated cot--but the reviews are overwhelmingly positive. I live in a climate known for hot, humid summers and I'm hoping this bed will make him more comfortable during warmer weather.
---
---
Return to "Health Discussions"
Who is online
Users browsing this forum: Google Adsense [Bot] and 4 guests