Moderator: chowadmin
Yeah I know its a bit gross but here goes, how often should a puppy go poopy? I know the quality of food can be a huge factor with toilet needs, we are in the process of changing Rio's food from Royal Canin Junior to James Wellbeloved (fish and rice) I have read around the internet and there is a huge variation on times

Currently he is down to 2 poopies a day and he is fed 3 times a day with a little puppy milk in between meals. Just wondered if you guys and gals had noticed different poopy patterns depending on food fed

Just for reference below is the ingredients list for James Wellbeloved;
Composition: rice, ocean white fish meal, ground whole barley, pea protein, olive oil, whole linseed, fish stock, peas, fish oil, alfalfa meal, natural seaweed, sodium chloride, chicory extract, potassium chloride, calcium carbonate, yucca extract
---
Rank 2

Posts: 552
Joined: Sun Feb 13, 2011 4:05 pm
I don't know about poopies, but I changed lily from james wellbeloved to Arden grange because 1. It made her fart like nothing I have ever smelled before, all the time!!! And 2. I discovered that they do laboratory animal testing and 3. It basically has the same ingredients as pedigree.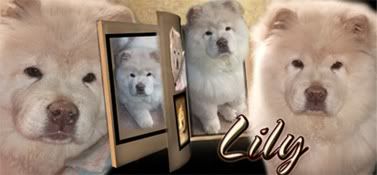 Pretty little lily

. Thank you sweetpea for the wonderful banner
---
Hi! It ain't gross to talk about a basic bodily function. Our pups ain't stuffed toys so they do poop. Some even eat their own poop or their neighbor's poop if given the opportunity. You might say "Ugh! gross!" more.
Your Rio's pooping is normal at 2xaday
and the difference in her/his pooping time will also depend on how often and amount of food you are giving him. If you give same amount same time and same anything with the new brand, there you will see in your puppy's poop the difference in formulation which food is better.
A stool(or poop) is desired to be small in size and adequately compact that is easily scoopable without much of it adhering to the floor surface. If the poop is wet and something like porridge, your pup's stomach havent digested it well. Also the smell of poop should be not too obnoxious. Soon you'll learn to distinguish A healthy 'poop' from a poop that is reeking bad and slimy. Signs of tummy problems.
A good formulation is a food that you feed in relatively small quantity and produce a 'nice' looking compact poop. Its from the hill's science diet that I have learned the difference between quality dog food and budget dogfood where you have to feed more to meet your pup's energy requirement = more pooP!

There was a time that fish leftovers (heads tails fins bones) are grounded and sold as cat food only while the beef poultry and swine left overs (sawdust, bones, even hairs, etc) are sold in dOgfoods. You dont see wild dogs such as Dingoes or African wild dogs fishing for food all the time dont we? But it's a big market out there and marketers have invented all sorts of marketing ploy to make us believe fish is better over meat for the dogs. That's my personal view. Although I am quite tempted to test how a fish diet will make a difference in my dog's overall health in say 8 years when they are senior.
I am also amused to note that they found rice (our staple food in asia) hypoallergenic than wheat and corn (staples in other countries).
Oh this is long rambling already. Sorry.
---
Hi Becki, where are you from? I had a look at pedigree (UK) and the ingredients list is completely different from JWB, there were rumours of animal testing quite some time ago, around the same time Iams (Procter&Gamble) were being investigated. Cam Atis I kinda went with the fish based food as we also feed him a meat puppy wet food mixed in, I thought the fish may benefit his skin and coat. Yeah I know dogs don't fish (though that image is hilarious) but they also don't take the time to dry their food into itty bitty biscuits, I guess its all about convenience feeding and you can only feed what is aound unless you take your dog hunting everyday, but I am digressing! Thanks for your replies, I like to hear other peoples opinions.
---
OMG!!!! How much of a female dog do I sound in my last post, hope I didn't offend anyone with my response, Sorry if I did, my hubby says I can be quite abrupt at times, so sincere apologies if I sounded a tad off-hand.
---
Julie poops about 3x a day. Ever since she was a puppy she pooped and peed a lot. The vet said she is healthy and she continues to gain weight. At almost seven months she weighs almost 40lbs.
---
---
Return to "Nutrition, Diets and Food"
Who is online
Users browsing this forum: No registered users and 2 guests