Moderator: chowadmin
Hi,

I have a beautiful 11 year old black chow chow her name is Kala. She has always have trouble with her skin, it itches and she has gotten red spots on her hips that have to be medicated like three times in her life. We recently moved to Pittsburgh from Mexico and her skin is really really really dry. She is black and I can see little white tiny flakes on her coat it is really bad. Although I am currently spraying her food with a salmon oil that I bought at PetCo. I want to change the food I give her and cannot decide which one I should buy. I have a friend who has a terra nova with a great coat and she recommended I buy Orijen the six fish kind. I have also looked at the Eukanuba skin care and coat one. Any suggestions?

Thanks!
Andrea and Kala
---
I'm feeding Cocoa the Taste of The Wild Pacific stream and she is doing really well on it, before I switched she was also extremely itchy and was getting hot spots. Orijen is a good quality food but it tends to be too high protein for most chows, particularly since she is a senior.
---
Rank 2

Posts: 552
Joined: Sun Feb 13, 2011 4:05 pm
If she is 11 ,and has never had problems before, then I would put it down to old age... dogs tend to get drier skin as they age... my Nan had a flatcoat retriever who used to get similar issues as she got older. Just feed her a high quality, senior dog food. Hope this helps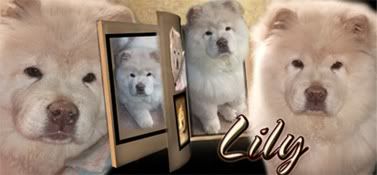 Pretty little lily

. Thank you sweetpea for the wonderful banner
---
I used Purina One for over 10 years without any problems. But as time went on I could afford what I thought was a better quality food. The research I did for my 'kids' said that the biggest cause of allergies in chow chows was corn gluten & wheat gluten (which are basically fillers). I switched to purina selects because it doesnt have any of the glutens. When Lady (14) had stomach trouble the vet suggested Prescription EN (it had maximum nutrients for minimum amount of food cause she wouldnt eat much & it was easily digested). Your vet would know if prescription has a skin/allergy formula.
---
Rank 3

Posts: 3658
Joined: Thu Mar 03, 2005 7:03 am
Location: North Chesterfield, (Right outside Richmond) Virginia
Contact:
Andrea wrote:Hi,

I have a beautiful 11 year old black chow chow her name is Kala. She has always have trouble with her skin, it itches and she has gotten red spots on her hips that have to be medicated like three times in her life. We recently moved to Pittsburgh from Mexico and her skin is really really really dry. She is black and I can see little white tiny flakes on her coat it is really bad. Although I am currently spraying her food with a salmon oil that I bought at PetCo. I want to change the food I give her and cannot decide which one I should buy. I have a friend who has a terra nova with a great coat and she recommended I buy Orijen the six fish kind. I have also looked at the Eukanuba skin care and coat one. Any suggestions?

Thanks!
Andrea and Kala
I feed my two Merrick's Wilderness Blend, (sometimes they get Cowboy Cookout instead, sane company) With Firesong who is almost 11 I've noticed that in the last couple of years I need to add some supplements to her food to prevent dry skin, (I have to watch my own in the winter too) I add Solid Gold's Seameal pwder and Omega 3 oils, (it has fish oils, flax seed oil and other vegetable oils) Also you might want to brush her a bit more, even if she's not shedding. Brushing stimulates the skin and redistrbutes the oils there, this will help too. I've had to do it with Firesong or she gets so itchy in certain places that she digs at herself, which she never did when she was younger.
The air in the winter in the colder parts of the country, inside and outside is much dryer and requires a bit of adjustment for pets and people too. People often change soaps and use more lotions in the winter.
Victory, Darkwind, (our angel), Firesong, and Dreamdancer

Thank you SweetPea!
---
---
Return to "Nutrition, Diets and Food"
Who is online
Users browsing this forum: No registered users and 2 guests