Moderator: chowadmin
Hello...
Does anyone know the best thing to feed your chow??? I use Royal Canin German Shepard at the moment. Thanks Louise

---
I recommend you to give grains from barley, rolled oats, millet, quinoa, and brown rice. Avoid corn, cornmeal, soy and wheat. These are difficult for dogs to digest and can cause allergies.
---
Thank you where do I buy this from??? only problems is I don't think jed likes rice?? will give it a try though. Louise

---
Go for Exceed..Same formula as Eukaneuba(Sp?)..However, at a reduced price..It is $30 for a 44 pound bag. The first ingredient is either chicken or lamb...Our chows love it! Great quality and at a great price..This can only be found at Sam's...We have been on this food for at least 3 yrs. Their coats are beautiful and very active..
---
Rank 2

Posts: 552
Joined: Sun Feb 13, 2011 4:05 pm
I feed my lily James wellbeloved which is a good quality food at a much cheaper price than royal Kanin and eukanuba and most expensive foods. It's very good and lily loves it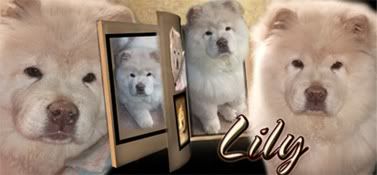 Pretty little lily

. Thank you sweetpea for the wonderful banner
---
Thank for that I have changed jed over to James wellbeloved only problem now is I've had another pup and he wants to eat her food and she wants to eat his!!! I have split them up when its dinner time for them but their not eating as much as they should be!

---
---
Return to "Nutrition, Diets and Food"
Who is online
Users browsing this forum: No registered users and 2 guests