Moderator: chowadmin
Rank 0

Posts: 10
Joined: Mon Nov 22, 2010 7:51 pm
Hello all! I'm very sorry for not being able to introduced myself before making this post! I don't have a lot of time tonight so I wanted to ask this question first!

Yesterday I got a 14wk old chow puppy rather unexpectedly, will go into that later, and it wasn't under the circumstances that I would normally get a dog. The oppertunity was there though and I just couldn't say no to this little guy. I've been waiting to have a chow chow puppy of my own for 6 years now (rescued and worked with chows and mixes in the past) and I think this was just ment to be. Anyway, I was unable to find out what food this puppy was eating before I got him. So he is on my dog's food right now, "Chicken Soup for the Dog Lover's Soul" it is holistic and doesn't contain corn. Of course I know his system is going to get all messed up from the change, and I'm unsure what to do next. I was actually planning on changing my dogs at the end of this bag but I hadn't decided what to feed next. So here are my questions:

Should I call the person I got him from again and see if I can get answers about his previous diet and if so, would it even help to put him back on it now?
Should chow puppies be put on a puppy food or does that make them grow to much to fast (for joints ect)?
Should I let his system get used to this food and then ease him into the new food he will be on?
Or, should I just change the food again now since he's only been on this for one day and let all the system upset take place and then calm down without having to change again. . .?

I have done a lot of research of dog food in the past, I've fed Taste of the Wild and my other boys ( two terriers) like it a lot but it is going to be a little to pricy for me now that I'm adding another dog to the family, so I still want a good quality dog food but need it to be a little less expensive then TOTW...thats why I went to Chicken Soup but I don't like it for various reasons.

Thanks so much for taking the time to read this, the pup is doing very well besides this problem, he is having loose stool now but is drinking a lot of water so he is staying hydrated. Haven't named him yet : )

~Daniele
---
Rank 0

Posts: 10
Joined: Mon Nov 22, 2010 7:51 pm
No replies? I am going into town tomorrow and will be at petsmart looking at the dog food so I was hopeing I could get some advice. Any and all us welcome!
---
Sorry you didn't get any feedback before your trip into town.
You should read this thread:
http://forum.chowchow.org/viewtopic.php ... 62#p159462
You want to make sure you give your Chowling puppy food. Of course, you need to stay away from the corn fillers, etc.
What did you end up buying?
Hope you have time to post pictures.
Karen, Kohana, Takoda, and our Chow Angels Nahkohe and Shiloh
---
Rank 0

Posts: 10
Joined: Mon Nov 22, 2010 7:51 pm
Thanks for replying! I'm actually going to the store today, thank you for that link. I read over most of it and I think I'm going to get him Nutro Max puppy and put my other dogs on Nutro Max Lamb & Rice. I used to feed Nutro a few years back but switched because of their use of tomoato pomace and synthetic vitamin K. However, it seems like there are a lot of people on this board who are having success with it and my dogs never had a problem with it. It is in a good price range for me so I thought I will feed it as long as everyone is doing well. If my chow pup developes an allergy or something later on then I will change food accordingly. Of course I'm always still open for more advice : )

I will be making an intro thread soon with pics of the pup, who we have named General Chow (or "The General") hehe.

~Daniele
---
I only feed a puppy food for the first 4 or 5 months. Then they go onto an all life stages food.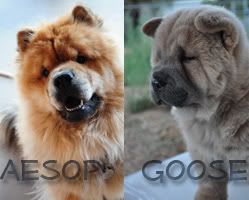 ---