Moderator: chowadmin
Rank 0

Posts: 1
Joined: Mon Jul 19, 2010 7:09 am
Hi there, I just got a chow puppy yesterday. He is wonderful in every sense. I am wondering what brand puppy food would be ideal for him. I do not care about how much it is just that it will be the best thing for his health and coat. I have another dog, she is a great dane and she eats holistic select which ive always heard wonderful things about and she has improved a massive amount since we have switched her to that but I also heard that chows cannot have high protien. So what number is "high"? Please help
---
Rank 0

Posts: 43
Joined: Thu May 20, 2010 8:41 am
Location: Overland Park in the Great State of KANSAS
I'd like detailed info also, please. My baby boy is 11 weeks and weighs 19.3 pounds. Right now I'm feeding Solid Gold puppy. I thought about Nature's Select, see other post, but there are so many to choose from and they all say their the best. I've always had issues with hot spots and itching. I try to get something with meat and no corn but I want what's best for my baby.
---
Aesop ate Solid Gold Wolf Cub and did great. We started Goose on it and, while she did have good digestion, she apparently requires lower calcium and phosphorous levels in her food as she had some odd blood test results. (Note: this is a "her" issue, not a "food" issue...the food has perfectly acceptable calcium and phosphorous levels

)So, she's eating Castor and Pollux Natural Ultramix. She thinks the food is fantastic and is very excited about mealtimes. Good digestion, she's gaining weight appropriately and her coat and skin is staying lovely.
I'm sure as she grows we won't have to be as picky about her food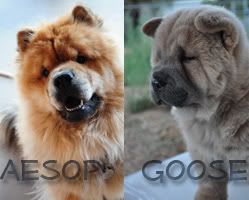 ---