Moderator: chowadmin
In the just over 2 year's of Loha's existence eating expensive Earththblend and then Blue Buffalo chicken-based food he suffered increasingly frequent bouts of very runny stool and periodic vomiting. I just abruptly (no slow "blend-in") switched him to inexpensive beef-based Purina Beneful "Playful Life" and all is well. Solid poop, no throwing up. Not sure what the lesson to be learned is BUT I will feed my boy whatever does not make him sick whether it is expensive or not!

Loha's Dad
---
I had a similar thing happen to Penelope! Because it was a highly graded and seemingly good dog food, very reccomended to me by various dog owners, high star rating at dog analysis websites I fed her Solid Gold Wolf cub bison food. I was a little wary just because it was bison. But it seemed like it would be a good choice, it was a little over my budget, but not so much I couldn't do it.

She started throwing up a lot, almost every day, and her poo became MUCH LARGER. The vomitting, was what mostly concerned me. So I switched to the chicken blue buffalo, which is much cheaper than the solid gold (but still a bit expensive as you pointed out.) and the vomitting stopped completely!

So even though a food SEEMS like it will be really good nutrition wise, it isn't always the best choice for a dog. And I agree with you! I'll feed her whatever doesn't make her sick as my first priority! Fancy food or otherwise.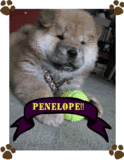 ---
I just want to report that Loha continues to experience a complete lack of diarrhea and/or vomitting with his new food. I couldn't be happier about it!!!

Loha's Dad
---