Moderator: chowadmin
Rank 3

Posts: 1155
Joined: Sun Jun 25, 2006 2:31 pm
Location: Perkiomenville, PA
I'd like to try Leela on wolf king, Solid gold, but I don't want to buy 15 pounds to start out with. And shipping is twice as much as the 4 lb bag. Anyone know of free shipping for a trial?
Twelve Paws UP!!
Sharon Rose
---
If you are able to pick it up I think Petco will order a small bag in for you (4lb). You can call and ask? I tried to get samples but the stores said they don't get them from Wolf King.. I use the Bison/ocean fish one?? Hope this helps..

---
Rank 0

Posts: 33
Joined: Tue Jun 23, 2009 12:39 pm
Location: Ashburn, VA
My Petco carries the 4lbs bags of both Wolf King and Hundenflocken, along with some of their other lines.

I bought the small bag of Hundenflocken to make sure Honey would eat it first as well, I was back the following week to buy the 33lbs bag since she seemed to like it a lot.
~Jason and Grace
and Honey, our Chow Chow
---
Well I know the expense seems alot but if you have a chow with a food problem and its making them itch or lose their fur sometimes you're willing to try anything.. I had one chow that had no problems on the regular priced good dog food but this one I gave her the same as my other chow and she had skin problems and itching so we have been through alot of brands and Wolf King has been working for 3 month or so , I just haven't found a brand cheaper that agrees with her skin .. and I don't like switching and taking the chance of skin problems again.

---
Oftentimes people don't take into account that the so called expensive brands are cheaper in the long run, as you usually feed quite a bit less of a premium diet than a food laden with fillers.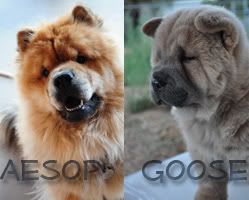 ---
have you tried to find a distributor that can give you samples?
When I wanted to sample the Happy Dog Food, I called the company and they sent me 2 bags to sample. The bags would have cost me $15 each at the pet store.
Karen, Kohana, Takoda, and our Chow Angels Nahkohe and Shiloh
---
Rank 3

Posts: 1155
Joined: Sun Jun 25, 2006 2:31 pm
Location: Perkiomenville, PA
great idea to call and ask for samples! I'm in!
Twelve Paws UP!!
Sharon Rose
---
---
Return to "Nutrition, Diets and Food"
Who is online
Users browsing this forum: No registered users and 2 guests