Moderator: chowadmin
Hello everyone!

I've been browsing the best of food, nutrition, and diets specifically the "what brands are you feeding your chows" or whatever th eactual title is and I have a few questions!

Everyone seems to be talking about chow allergies, is it common for a chow to be so sensitive? How do I know if my chow is having an allergic reaction to something?

I also have a question about... for a lack of a better way to say it, bowel movements. What's perfect or desirable BM? When I first got Penelope I was feeding California Natural and her feces were all relatively... small. They were small and kind of mushy looking. Not DIARHEA per se, just a bit wet looking. I switched to large breed puppy royal canin and her poo has gotten significantly larger. She goes #2 twice as often a day and they're larger drier more formed looking poos. I don't think I know which is better? Or if they were both bad and i'm striving for some sort of inbetween. What could also be affecting that is age. Her first week here she was only 9 weeks and settling into a new place settling into new food. Now she's a giant 12ish weeks. She also has a bit of roundworms, I went to the vet today with a stool sample, they checked it out. I'm supposed to deworm her in the next day or two (we wanted to wait to make sure there were no adverse reactions to the vaccinations she just got as well).

Penelope also seems to be a really chow-y eater. Like my sister's chow tsunami she isn't the sort of dog that will devour everything and anythign simply because it's edible. Lately I've been having to coax her to eat her food more, which is fine, because I was planning on a food brand change anyways. She's take 4 or 5 kibble, walk a handful of steps, spit it out, and then chew them one by one. This process repeats itself over and over. If I shake the bowl a handful of times she'll come back and eat some more. Usually I leave the bowl out for an hour or two and if i'm lucky she's eaten the cup I've given. Is this just a sign that she hates her food and the switch i'm planning is even more needed? Or is this simply chow sort of behavior that I'll learn to love? Should I free-feed her throughout the day to help this? Or continue on my 3 times a day puppy schedule?

And now, to the final set of questions: Food brands. I was suggest (by lou and chika, thanks for the advice) to Solid Gold Wolf cub. But I have 2 hesitations that I was hoping someone could address.

First off, it's made of bison meat. They're buffalos! Tatankas! I grew up secretly convinced that if I had a spirit animal it would definately be a buffalo! They're just these incredible, grand, majestic, and all around awesome creatures. I feel just... *wrong* feeding my DOG of all things buffalo! I haven't seen any solid gold large breed puppy beef or lamb or chicken substitutes.

Secondly, I've looked at a bunch of dog food analysis and review sites, and it only gets 4 stars out of 6. I don't mind shelling out a little extra cash for a better dog food but I want to know that I'm REALLY getting my moneys worth. Is the food I'm getting really the best for the price? Or is there a slightly better food for just a dollar or two more per lb.? Should I not bother with the general dog food reviewers because they don't know the chow and its specific needs? Would Solid gold be the best choice of balancing nutritional value vs. economic value? I've also looked into AvoDerm but they don't seemingly have a large breed puppy formula. Has anyone else used this on their puppies and had little to no growth or joint problems? Price wise I hope to stay under the 15 dollar mark for the smaller (4 lb) bag while providing my chowster the best possible nutrients for a better adult life.

I know everytime I post I have SO many detailed questions but I really do appreciate (and so does penelope!) any suggestions. I'm occassionally slow to respond cause our internet out in the boonies isn't completely reliable. I've just spend the last two weeks sans computer!

Thanks again!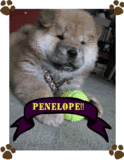 ---
Hi! When do we see a new picture of your baby?!
Coco is one of the allergic chows around here. After blood tests and an elimination diet, we know she's allergic to acarids and to classic processed food (even the most expensive brands). You know your chow is allergic because she scratches all the time, she has hotspots, she licks her paws to blood, she loses her fur,

etc... If Penelope doesn't, well, don't worry, you're fine!
The better quality food you feed, smaller you'll get the poop.
I wouldn't feed Royal Canin (that's what Coco's breeder used to feed her) because it's not good quality enough. It's good you choose a large breed formula though.
Coco was not eating well as a puppy too. You probably got a picky eater like most of us, and the fact that she has worms is not helping IMO.
I give Coco a meal for breakfast, and I leave her bowl down until it's empty. Sometimes, she has not finished her morning bowl and it's already dinner time, I take the bowl up, change bowl, add fresh food, put it down, and then she start eating again

.
I think puppies need to eat 3 times a day until they are 6 months old so I would give Penelope 3 meals a day, even if you free feed. Maybe try to give the meal after a walk, Coco is usually more hungry if she got exercice before.
About the buffalo, I don't know if they have more soul than a chicken, but if you are not comfortable feeding them to your chow, don't. My vet wanted me to feed Coco an elimination diet of horse meat and potatoes, I said no way!
Elodie
please help feed animals in shelters for free, click daily on the yellow button
http://clicanimaux.com/
---
Moderator

Posts: 7575
Joined: Tue Oct 25, 2005 3:49 am
Location: Muskegon, Michigan
Contact:
Food transporting is de rigeur around here. They like to eat in front of TV. Both girls do it, Pip with greater expertise. If you have not worried over the quality of feces, you are not a true Chow owner...hehe. We have all pondered over poops. Remember, as she grows, so will her feces, might have nothing to do with her food.
http://vimeo.com/12895512
---
Rank 1

Posts: 211
Joined: Thu Apr 02, 2009 11:03 am
I feed Yogi Large Breed Puppy Innova and he loves it no problems at all on it.
---
Any dog can have allergies, it isn't always necessarily a breed issue. There are also different types of allergy..contact allergy (which can be grass, fleas, trees, dust or anything in between), food allergies, etc. Scratching doesn't necessarily mean food allergies, so it's important to investigate to see what your dog is allergic to if they're having an issue.
On food choice, it's best to read up on what makes a healthy food, seek out brands that follow those guidelines, and choose from there. There are many good choices out there, so something for everyone

Aesop ate Solid Gold Wolfcub through his puppyhood. The WolfKing (adult version) has large kibble pieces, though, and he refused to eat them. So he's eating a much daintier food these days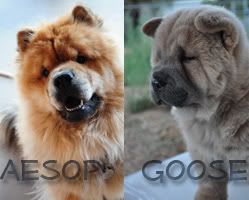 ---
I have done EXTENSIVE research on foods for my chows and, of course, I can't say I learned much. I used to feed my guys Solid Gold Hundenflocken - because Bison just didn't seem natural for them.

I have just recently moved to duck and potatoe Natural Balance. I just think that duck is something that they would have access to in nature. (Not that any of our chows have lived wild in hundreds of years or more.) But, it just seemed more logical to me. And, the meat is lean. I think that chicken and rice is also good. For hundreds of years, in China, chows were fed rice and bits of meat. That doesn't neccessarily mean it was the best choice, but chows over many generations did get used to it and thrive on it.

Again, the more I researched the more questions I had. But, I agree with you that bison just doesn't seem natural to them. And, I learned that chows never did have a lot of meat in their diets. Also, throughout chow history, they were not fed the richest protein diets. They are also not hugely active dogs like labradors and therefore, their diets do not need to be that rich in protein.

Oh well, sorry for the ramble. I agree with Elodie, if you aren't comfortable about feeding them bison, I wouldn't.
Mia
---
I feed California Natural my chows love it ...i also give them a couple scoops of the canned california natural as well !!! The Lamb and Rice !!!
thanks sweetpea
---
I also have been doing some research and find that chows have been fed mainly rice and fish in china. My chinese friend in china said that dogs would never have been given the best food as they were not considered of any importance and probably had the remains of the fish and rice when the humans were done. It seems that chows haven't had a diet rich in red meat in their past. Whether this should influence what we feed them now I don't know.
---
Rank 1

Posts: 179
Joined: Mon Mar 16, 2009 10:30 am
Location: Michigan
I feed mine Wellness dry and wet food and the same brand snack food. Sure it may not be cheap, but my Chow Chows love it and it is healthy for them.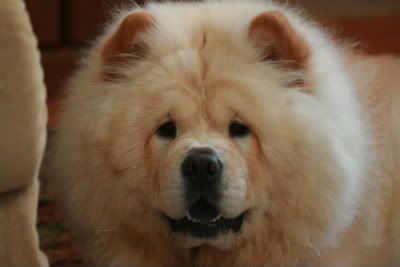 ***** Lobis Cunami *****
---
Rank 3

Posts: 1155
Joined: Sun Jun 25, 2006 2:31 pm
Location: Perkiomenville, PA
I feed Leela Eagle Pack..the anchovy protein. I figure that this formulation is good since I also read that they subsisted mainly on fish and rice and veggies in their culture. She loves it and seems to do well. I do also do a little mixing in: sardines in water, canned tuna (but not often because of mercury), canned salmon, and I also add veggies, either cooked down myself or in a baby food formula since that is easy for her to digest. My girl LOVES her veggies!
Twelve Paws UP!!
Sharon Rose
---
I think I must be a bit naughty with what I feed Khan.... He's a bit younger than your Penelope by a couple of weeks, and without researching I bought before he arrived Iams puppy dry food (Americans call it kibble? Is that right?), as he had been fed the Advance puppy food by the breeder and the pet shop guy (who didn't have any Advance) said that they were very similar. But I found out later that both have corn, and are similar to giving your dog take-away food?
Khan seems to be having no adverse affects to it, but I'll be changing it to a corn-free dry food when this one runs out.
He has absolutely no issues with eating! He'll eat whatever's in front of him, and then try to muscle the cats off their Snappy Tom! I always use the dry food, but I augment it on alternate nights with rice, sardines, cooked veggies, chicken, or a small spoon of the cats' tinned food (he loves the fish ones

). He gets more dry food just before lights out, and in the mornings it's the dry food in puppy formula milk, which again, he adores. Throughout the day he'll get bits of raw carrot, a mandarin segment or apple from my lunch, and dried kangaroo jerky (for dogs only) as a treat. He does save this and the carrots for later, but anything in his bowl is devoured, and he'll go back to check later on if anything's magically appeared in it

---
Hello!it is my first time on the forum!one week ago i took my 5years old chow from the pound!they told me from the pound that he is a very independent dog and that i have to give him time.but i had a very big surprise: he started from the first day home to show love gave him some fish with rise and kindness! .my baby changed my life.two weeks ago i was a lonely person and mostly sad.since i started to visit him i also felt the love growing for him.he is great!i have a couple of question that i begg you to reply on.1: yesterday in the morning he made poo a little soft more like diareea.when we came home i gave him a litlle fish with some rice and mixed with his own food wich is prins pro care natural fit.that is why they gave him at the pound.the thing is that if i give him his food only he wont touch it.today i also mixed his food with a litlle fiah but after i read on the internet that is not good to give him fish.i gave him like 100 grams in total.yesterday i ent with him to the vet for the diareea and the doctor said he is fine.my queation is: do you think he will get sick from to much fish?and please tell me what ahould u do with his food?i am very worried and i realy do not want ti losr him.i feed him allways at the same hours and we take walks two times a day for an hour or more. In reat he is energyc and he looks happy.ty
---
hi i just wanna ask if it's possible for my chow chow to have an allergy after he ate an expired dog food ? friggin' pet store that i trusted to buy a good stock of kibbles. but i was wrong i didn't check it.
so my chow chow is having skin allergies all over his body and ears. then we just discovered week ago around 1st week of june) that his
royal canin adult medium maxi 25
was expired. so we bought him to the vet (they got him shaved, we are now giving him antibiotics, prednisone and topical cream) and we returned the opened dog food and the new dog food we bought to the same store. i demand to refund my money.they gave it back though. and i will charge them all the expenses that i paid to the vet.
---
---
Return to "Nutrition, Diets and Food"
Who is online
Users browsing this forum: No registered users and 1 guest