Moderator: chowadmin
I have a blonde chow, named Emmy. She will be three this April. I got her while I was still in college so there was much time for socializing her. Now, three years later, she lives in a small house with me and my fiance. She has slowly grown to like him. Other than going outside (we live in the country), she never goes anywhere. She rarely sees strangers, but is pretty good when she does. There is one problem with Emmy . . . We have five labs who live outside. Sometimes we let her out and she's fine playing with them. Most often though, they have nothing to do with her. There is one black lab, named Chelsea, the weakling of the bunch. Emmy has attacked her three times. By attack I mean, has grabbed Chelsea's ear with her teeth and will not let go. Chelsea doesn't put up a fight, just lays there moaning while Emmy has her ear in her mouth. The ear is the only place Emmy goes for. It takes human strength to get it loose. Afterward, Emmy shows no remorse. And she gets a severe beating. It has gotten to where she cannot even be let outside when other dogs are around. Emmy is sweet and precious to my mother and me. She's my baby, so its disturbing when she behaves this way. I've never seen her show this aggression at a person, just this one black lab. What can I do about this behavior?
---
emmy2005 wrote: Afterward, Emmy shows no remorse. And she gets a severe beating. It has gotten to where she cannot even be let outside when other dogs are around. Emmy is sweet and precious to my mother and me. She's my baby, so its disturbing when she behaves this way. I've never seen her show this aggression at a person, just this one black lab. What can I do about this behavior?
Quit giving 'your baby' a severe beating first of all. geez.
Chloe (left) Shuggy (right)
---
I feel quite sick that you give your 'sweet & precious baby' a severe beating. Why do you expect her to behave differently to Chelsea?

Thank you Elodie!
---
Rank 3

Posts: 1580
Joined: Mon Sep 24, 2007 12:26 am
Location: Rockford, IL
Violence only begats violence. If you beat your dog all you teach is that violence is acceptable.
Jerilyn

Banner courtesy of the amazing Sweetpea.
Until there are none, adopt one!
http://www.dogster.com/dogs/631376
http://www.dogster.com/dogs/650868
---
Let me guess, the labs belong to the fiance. Yep she's your baby until the fiance moves in then what ever it takes to keep him there even beating the Chow. Good thing you don't have any kids of your own.
---
I have taken a deep breath and for the welfare of Emmy I will try to be more helpful. There are others on the site who would have better information on getting dogs who live together to get along so hopefully they look past the 'severe beating' and offer some useful advice in that area.
My advice is simple. First never ever hit your dog for any reason much less beat it. That is disgusting behavior and so harmful to your dog physically and emotionally. It is downright cruel and completely unnecessary and does you absolutely no good whatsoever in modifying her behavior. Unless of course you want her to be more aggressive, fearful, stressed out, unable to trust, and miserable. You are her person...she looks to you for her care and welfare. She is an animal and you are all she has to protect her and love her. The person she loves most in the world is not protecting her...instead that person is beating her or allowing someone else to.
You say she never goes anywhere but outside. Think of spending your life day after day year after year never going anywhere...never seeing anything new...never experiencing different places, sounds, smells. That is your dogs life. I would start taking her places...anywhere...quick errands...the park...petsmart...a friends house...etc.
Do you walk her? Actually put a leash on her and go for walks? Going outside is not the same as physically going for walks.
As far as not getting along with the other dogs...well it happens. Did you know this was an issue when you moved in with your fiance? A very basic idea is you will have to keep her separated from them. This may require building a fence so that she has a yard to go out in where they can't be. At the very least you need to take her out leashed and make sure there are no chances for confrontations. Not all dogs are accepting and friendly with others. That is just a fact. What is important here is Emmy's safety and the Labs as well.
We have a member on here with two Chows that have begun fighting. She doesn't beat them or drop one off at the pound to be put to sleep. She has found a workable way to keep them separated.
I assume you had Emmy before the fiance. Pets are a lifetime commitment. Please protect her as the member of YOUR family that she is. She is your responsibility.
Chloe (left) Shuggy (right)
---
emmy2005 wrote:There is one black lab, named Chelsea, the weakling of the bunch. Emmy has attacked her three times. By attack I mean, has grabbed Chelsea's ear with her teeth and will not let go.
If you've singled out the 'weakling' dog for any special attention, or coddled Chelsea because of her weakness, Emmy may be putting Chelsea back in her place. Chelsea is acting appropriately with submissive body postures, but Emmy is going *overboard*. The amount of stress in your household, the beatings, has *already* changed her brain chemistry. She won't be able to inhibit her behavior as long as stress predominates.
---
are you f@##$%ng kidding me????? you come on a website with people who would die for their dogs, and admit to BEATING your chow?? whoaaaaaaaa.
perhaps you are the one who needs a little beating!!
with that said, i agree with kiwani 100%. emmy has lost all trust, and respect.
anyone can own a dog, it takes someone special to own a chow.
---
Moderator

Posts: 7575
Joined: Tue Oct 25, 2005 3:49 am
Location: Muskegon, Michigan
Contact:
To all my fellow members...I think by the first few posts, she now understands that it is not appropriate to hit Emmy. Instead of chasing her away, how about we help her with Emmy? I know there are strong feelings involved, none of us want to see a Chow being hit, so let's give her owner something else to try. Beating a dog is still common practice, and she is doing it out of ignorance, not to be mean to her pet.

First, no more hitting. Chows that are hit are the ones you hear stories about suddenly turning on their masters. There was a time when hitting a dog to get it to submit was acceptable. This is no longer true. It demoralizes the animal, and does not change the behavior. Unfortunately, old ways tend to die away slowly. Chows especially are sensitive to being struck, and remember it a long time.

If you take her outside and let her run with the labs, make sure Chelsea is not available for her to abuse. If you cannot do that, you must muzzle Emmy, and when she tries going for Chelsea, tell her 'enh enh' with athority, and immediately hook a lead on and take her out of the action for a spell (a few minutes). Keep repeating this until she gets that dominating Chelsea means no more play. Do not allow the muzzle off until you know she won't try and dominate Chelsea. It will take time, but this can be overcome. As someone else said, don't baby Chelsea, it makes her a target.
http://vimeo.com/12895512
---
Rank 0

Posts: 96
Joined: Thu Jul 10, 2008 12:30 am
Location: Las Vegas, NV
I have provided you with some links that will help you. It is important that you don't beat your dog as well as scream. Dogs feed on energy of course they need help learning right from worng. They can not be taught to correct your biting if you beat them or scream at them. When your training or retraining your dog you also need to retrain yourself. Is important remain calm and assertive when they're misbehaving no matter if their biting a dog another person or even you. If they are biting you or someone or a dog they will learn to quit if you follow this important rules.
http://www.cesarmillaninc.com/tips/issues_understand_aggression.php
http://www.cesarmillaninc.com/tips/basics_glossary.php#rbal
http://www.cesarmillaninc.com/tips/basics_dogsinnature.php
Understanding how dogs behave in nature can help us to better fulfill their needs when we bring them into our homes
.
-
When a puppy enters the world, his first pack leader is his mother. Canine moms teach rules, boundaries, and limitations from day one!
-
Newborn puppies don't get a name like we do. The closest thing to a personality is a dog's status within the pack. In the animal world, there are two positions: the leader and the follower.
-
As newborns, first the puppy's nose starts to work, then the eyes, and finally the ears. As they grow older, dogs still experience the world in this order: nose, eyes, and then ears. This is entirely opposite of how we do: ears, eyes, and then nose. Keep this in mind when meeting a dog for the first time. Let the dog explore your scent fully before attempting any other interaction. This is how she gets to know you.
-
In their natural habitat, dogs earn food and water and experience the world around them by walking. This activity is ingrained deep within a dog's DNA. Walking exercises your dog's body and stimulates her mind.
-
There can only be so many pack leaders, so most dogs are born submissive. This creates a balance in the pack that fosters healthy and happy dogs.
-
As adults, dogs look to their pack leader to create that stability. They don't question the pack leader's position, and the pack leader doesn't look to the dogs to affirm his position. This is the natural balance of the pack.
Your goal should be to provide your dogs with the same calm-assertive leadership that they would experience in a pack.
I copied over the article so you can understand why it is important stay calm. I don't like that you given your Emmy servere beatings. However, from your posts it doesn't seem like you understand or understood of how to deal with it. So I really do think you can teach Emmy to stop.
---
Rank 3

Posts: 2091
Joined: Sun Oct 28, 2007 2:36 pm
I agree that Emmy is targeting Chelsea because as you said, she is the weakling of the bunch. You need to put in a lot of time and a lot of effort to teach Emmy what behavior is acceptable and what behavior is not. Don't have too high of expectations of Emmy at first because it will take time to change her behavior and you don't want to be discouraged. Reward her with treats when she acts calmly around Chelsea or even if she is calm within any size vicinity as Chelsea.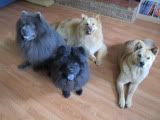 ---
Rank 3

Posts: 1962
Joined: Fri Mar 23, 2007 5:01 pm
Location: Nor Cal - LOL, or Wine Country as the natives call it.
Contact:
WOW, I haven't really posted any thing in a long while but this one actually got me thinking about my own situation. I take Sid to the dog park EVERY single day. He is actually starting to "puppy" play with other dogs, chasing them around, play growls at them and nips at their butts and tails. One little Jack Russel, even let's Sid do this little tug with his ears. If a dog gives Sid the slightest hint of a warning, Sid will back off and run to me all scared. LOL.. ANYWAYS.. there is this cute little 6 month old yellow Lab that Sid, for some reason, doesn't like. TWICE so far, Sid has MEANLY growled at this puppy, and snapped at the puppy's butt!!! The first time it happened I put Sid on his leash, sat on the bench, wrapped my legs around his body (like a bear hug) and stroked his head and said "calm" "calm" in a soothing voice until I felt his body relax. I let him go and he was fine. The second time I was ready to go and Molly was coming in. While I had my hand on Sid collar, he did it AGAIN to Molly! I did my EH to him, put him on his leash and said "nope, time to go"..
Now.. Molly is a VERY submissive puppy. I'm wondering if this has something to do with how your Chow and Sid are behaving. There's definitely something going on in their Chow brains, that's for sure, I wish I could figure it out.
Because I don't know what Sid's thinking, I'm trying a different approach. I'm working on his "recall" word and working on his focusing skills. LOL (in a Chow?).. Anyways, the idea is to break Sid's concentration and have him focus on me instead of the object of his desire or frustration.
The time outs are my last resort and Sid likes being in a bear hug, it makes him feel safe.

---
---
Who is online
Users browsing this forum: No registered users and 1 guest