Moderator: chowadmin
Rank 0

Posts: 3
Joined: Mon Mar 18, 2013 9:32 am
I need help!!!
10/2011
Mocha was a 6 mo old Chow mix at our local shelter that I fell in love with just by seeing her picture on their website. I was living about 3 hours away from my husband for work at the time, but he agreed to go get her for me because her status was urgent and her final day was approaching. We also have a black lab that was about 2.5 yrs old at the time. I drove the 3 hours after work to come meet her right away. My husband was at work so he put our lab in our bedroom and let Mocha roam around the house. I was shocked when I got there and opened the door and there wasn't a happy dog waiting to see me, like our black lab Kali is known for. Instead I saw little eyes peering at me from under the dining room table followed by a growl/grumble of sorts and a whine. When I took a step closer she scurried away. I went to put my purse down and she was about 8 feet away from me staring at me....put her ears back, let out a strange noise, peed on the floor, curled her tail up between her legs and ran away again. I grabbed some paper towels and went to clean the pee as she slowly started coming over to me while I was bent over. She wouldn't let me touch her....she was so skinny you could see her hip bones. I got her on a leash somehow and took her outside for a walk...where she ferociously barked and snarled at a jogger. I was petrified, but that same jogger stopped and crouched down as I told her it was a dog I just met that my husband got for me from the shelter. (originally I convinced him we would foster her, but when he filled out the paperwork he checked adopt instead) The female jogger said she was just scared and that she would be okay...she spoke to mocha softly and mocha eventually went over to her, all while being very skeptical. I felt a little better. Inside I realized she was covered in fleas...COVERED. I was disgusted. My husband walked in and we immediately put her in the bath and tried to get all the fleas off with dawn. She was okay in the bath just nervous. I stayed up with her for hours...she was so scared to even lay down...she found a spot on our hard wood floor and finally plopped down like a bag of bones. I was petting her, crying, telling her I that I wouldn't let anything bad happen to her again and that she was safe. I fell in love with her.
I got a message online from a girl I didnt know asking me if I adopted Mocha. I said yes. She told me her original owners left her in a cage because she growled sometimes and she wasnt socialized at all. I felt awful for my poor baby! The owners told the shelter she was a stray they couldnt keep. They lied.
a few months later she started getting protective over her crate and snarling at my husband...showing her teeth and barking....but it appeared to be fearful aggression. We took the crate away. She seemed better.
1/12 Mocha was fixed and we started fostering Rocky a 5-6 yr old terrier mix, about 30-35 lbs, calm, heart worm positive, scared, fixed male. They have no issues.
All through out 2012 Mocha has gotten progressively worse with my husband...she started biting him, and attacking the other dogs if they go near food or a treat she wants. She and my black lab have engaged in MANY altercations and some have ended with blood shed. They still play together in the back yard, but it does get escalated at times, rather severely. Mocha started "protecting me" from the other dogs...she gets in between them and me and growls and shows her teeth. My husband gets VERY upset when Mocha becomes aggressive with our black lab, Kali is his baby, and she is a truly sweet and gentle dog. When my husband walks in from work she doesn't get excited like she does when I come in. Her tail doesn't wag and she backs away from him. This may sound awful but she got the nick name "peepee" or "peepins" because the boy dog peed on her outside one day and she came in and I was petting her and I said, "Why does my little Mokey smell like peepee?" And somehow it stuck and fit her because she looked like a baby chick, so "peepins" became her nickname. When my husband asks, "Can I pet peepee?" her ears go back and she gives him the whale eye...if he goes to touch her she will snap at him. She has now drawn blood twice and once he was just walking by her and the second time she was in a good mood and he went to put her...that time she held on and scraped his skin after the initial puncture. He wants her gone. He said she needs to go because he cant live like this. I went to visit family out of state for a week and came home to find she was an outside dog which is making her weirder....I snuck her in the house last night and stayed up with her petting her.
Now, I love my husband. But I also love Mocha....and she loves me. She is such a cuddle bug with me! The vet said she is fine and not aggressive (she was so good at the vet!) but she does growl at me sometimes if I walk towards her while she was asleep or something. Mocha gets walked, even goes out with all the dogs and my husband on rollerblades on occasion. She goes to the lake with my husband on day trips, she gets a lot of attention and she is well taken care of. WHY can't I just get her to stop reacting that way to my husband! He WANTS to love her! But, he is also stubborn and won't change for a dog. I am so torn and I need help!

---
Rank 0

Posts: 3
Joined: Mon Mar 18, 2013 9:32 am
Oh, some pictures! These are from the other day.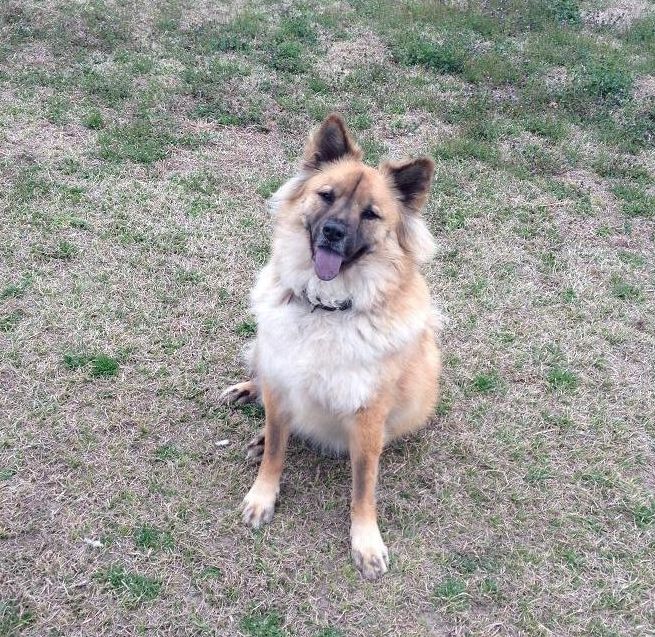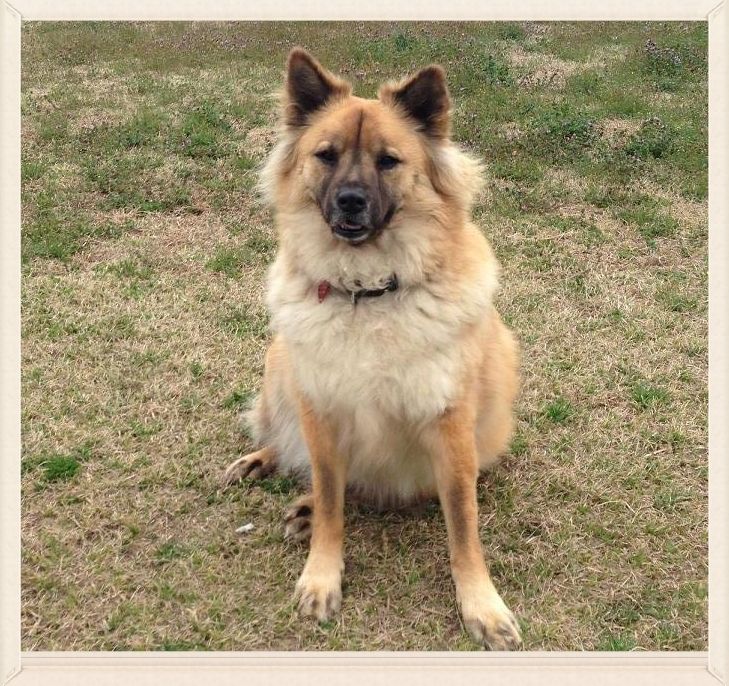 Mocha's first few days out of the shelter!
On her way to safety!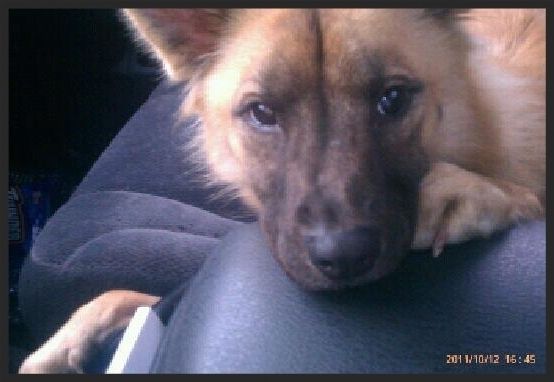 How sad

Her first bed!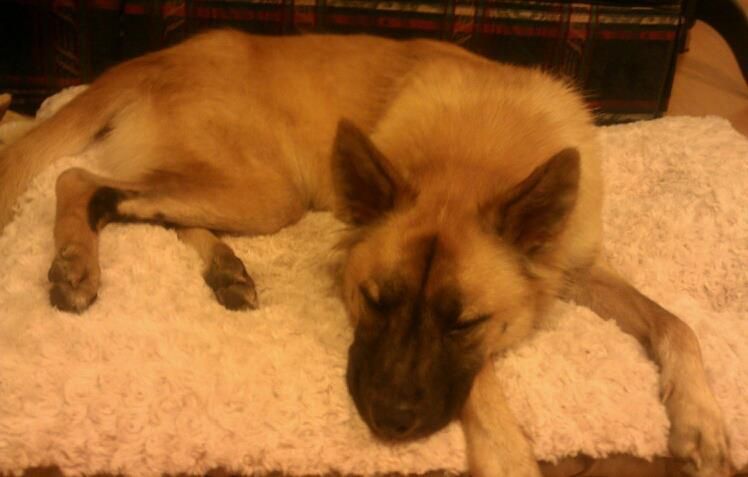 They don't share a crate, this was just for the photo

Aw!
Mocha and Kali BFF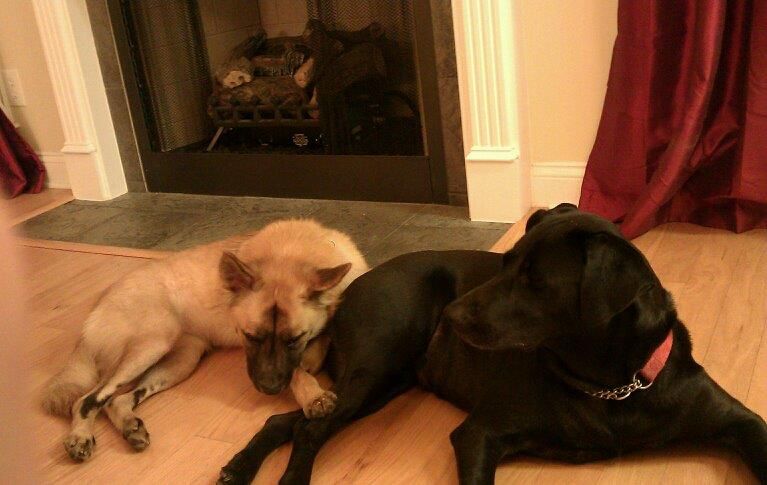 ---
I can't stress enough to get a professional behaviourist involved.
Don't count on hit or miss suggestions. This is a very serious issue that has very serious consequences.
It IS very fixable, but you need to work together with a professional.
Thanks!
NEVER Support Back Yard Breeders & Puppy Mills
Contact Your local Chow Chow Association to find your Breeder of Merit!
Better Yet ! Adopt!
---
Rank 0

Posts: 5
Joined: Wed Mar 20, 2013 2:19 am
Location: Tampa Bay,FL
Neutering will merely reduce the level of testosterone running through him. Could it reduce aggression? Sure, i suppose if the aggression is related to the testosterone. But it won't do a thing if the aggression is due to lack of socialization or poor training.
---
Most abuse that animals experience usually comes from men. That is just a sad fact that results in so many abused dogs having issues with men. It took years for my Chow rescue to stop being scared of men. Whatever harm came to beautiful Mocha, it is pretty safe to say that it was done by men. You can tell by the way that she was okay with the female jogger on her very first outing. Women aren't that threatening to those poor dogs, and if they are also sensitive and intuitively know what these poor creatures need, they are ready to open up to them. My guess is your husband isn't as sensitive and intuitive about Mocha as you are and he probably did something really small what got him on Mocha's sh*t list, like scream at her or handle her a little to roughly while out of patience with her. And since Mocha has you as her person and dogs don't really need a second person, she distanced herself from your husband, because he's a man and therefore scary anyway and he doesn't treat poor Mocha

right! After that episode where your husband banned her from the pack (a horrible thing for a dog to experience, I should think) and put her outside, she probably actively dislikes him. And then there's the the jealousy issue, probably, since you say she doesn't want to share you. Sounds like a difficult situation, with Mocha being convinced your husband is mean and your husband being convinced Mocha is mean.

If you can, I would keep Mocha and husband apart for a while and re-introduce them in a positive way. But of course that depends on your ability to convince your husband that Mocha is worth the effort. If his heart isn't in it, Mocha will know. Maybe you can explain about how a fear of men is not unusual in a traumatized rescue and that it's not at all personal and has nothing to do with him. How is Mocha obedience-wise? I would venture a guess that she still has to learn that it is not all about her and that your other dogs and of course your husband

have rights and needs too. Like Merlin says, find somebody who knows dogs and can help you teach her all the lessons she missed at the shelter and her horrid former home.
Speaking of Merlin, since you ARE a professional, how about some advice for Tiffany? Somebody who knows how to fix this dire situation surely shouldn't hold back with advice! After all, Mocha's life is on the line!
---
Speaking of Merlin, since you ARE a professional, how about some advice for Tiffany? Somebody who knows how to fix this dire situation surely shouldn't hold back with advice! After all, Mocha's life is on the line!
I did give Tiffany advise. I asked her to consult a professional. and YES , this dog's life is on the line.
No one can give proper advise to someone regarding aggression issues without properly assessing the dog, the family and the environment.
I've said this countless times.
The internet is NO place to solve dog aggression issues.
It is often too serious and complex an issue to deal with casually. Tiffany, get off the internet and on the phone with a behaviourlist who can help you by going to see you and fully assessing your home situation.
Last edited by
Merlin
on Sat Mar 30, 2013 4:43 pm, edited 1 time in total.
NEVER Support Back Yard Breeders & Puppy Mills
Contact Your local Chow Chow Association to find your Breeder of Merit!
Better Yet ! Adopt!
---
It sounds like the aggression towards your husband is an ongoing thing that wasn't corrected immediately in the first incident so she thinks it is acceptable behavior. I agree with Merlin on this, the behavior needs to be observed by a professional in order to get the correct training advice.
---