Moderator: chowadmin
Hello, Buddha is about 16 months old, and we have had hard floors since we got him as a puppy. He slips around alot, but recently he acts fearful of walking on the floors. I had to actually go get his leash and treats to try to teach him it's okay to walk on the floors. He gets jumpy sometimes, and that leads to more slipping. I'm concerned that he's not going to get over this fear, and even worse get hurt. Any suggestions? My floors are scarred from his nails, but I'm more concerned about him being comfortable in the house and not getting hurt. Our kitchen is tile floor, and he slips on that sometimes too. Are his nails to long/short, what about the fur between their pads, is there a recommendation about that? I just want him to get the best traction he can so he doesn't get hurt, or scared.
Bouncing Buddha Bear
---
Try putting some throw rugs down or an area rug, i have hardwood floors also and my Chow slides all over the place she is use to it now but sometimes her feet slide out from under her i don't want to chance a broken hip or ankle so I put down some rugs for her trouble is now she walks around the rugs and won't walk on them. How often do you walk your Chow on rough surfaces like dirt and concrete, get those paws rought up a bit for better traction.

Martha stewart says hardwood floors are ment to have rugs on them and shouldn't be left bare. Now tell me that dosn't sound like I should be out supporting or against Prop 8 which ever way its written.
---
Rank 3

Posts: 2091
Joined: Sun Oct 28, 2007 2:36 pm
Yep, rugs. When Holden was about 2 we removed all of our carpet and put down laminate. 3 years later, he is still afraid to jump up on the bed or couch because he slips. Hannah has only known the laminate and she runs around like a jumping bean. I think it just depends on the individual. When we had a large area rug under our bed Holden would jump up but now that it's gone, I have to lift him up and down if he wants on the bed.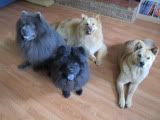 ---
Alf slips if I don't keep the fur between his pads nice and short. I can tell when it's time for a trim as he starts sliding into 'base' for his dinner! I tend to keep nails short as well, never noticed any scratches....
---
Butters was really bad when we put our kitchen floor in. There was one corner that he would loose control on. He would stand and whine afraid to move. I put a rug (with a non-slip back) in the one area. Now he can run into the kitchen. Stop on the rug and take off again without slipping. You may not need to cover the whole floor just an area to get him over the fear.

SweetPea Rocks!!
---
Thanks for all the input. Buddha gets walked on concrete/black top several times a week. But now that it's getting dark early I don't know if we can go to the park after work, they close the gates at dusk, and there is no one around; doesn't feel safe. We may have to find a neighborhood to walk in; we live in the country and it's not safe to walk on the road. We have one large area rug and he tends to like to stay there. I'll try finding a throw rug for by the doors. My husband is SO particular, he knows way to much about how the backing of some rugs can damage hardwood and other flooring it they get wet, drives me insane! I'll work on his nails and furry paws this weekend if not sooner. last night when I came home he wanted to come see me, but insisted he keep one foot on the area rug. So, he couldn't reach me, I refused to go to him, trying to make him learn it's okay to walk on the floor, but typical stubborn little guy, just cried at me. I went and put my coat up without petting him, and he finally came to me, like he forgot he was afraid 2 minutes earlier, silly boy!
Bouncing Buddha Bear
---
Rank 0

Posts: 1
Joined: Mon Sep 30, 2013 9:51 pm
Location: Houston, TX
First get to the root what is causing him to walk on floor and then try to change that. and make him understand to walk on it slowly again.
---
---
Who is online
Users browsing this forum: No registered users and 1 guest