Moderator: chowadmin

new chow mum to a beautiful furgirl.. hooked 4eva
---
Rank 3

Posts: 1580
Joined: Mon Sep 24, 2007 12:26 am
Location: Rockford, IL
She is a beautiful little girl. Love the toy.
Jerilyn

Banner courtesy of the amazing Sweetpea.
Until there are none, adopt one!
http://www.dogster.com/dogs/631376
http://www.dogster.com/dogs/650868
---
---
Rank 0

Posts: 66
Joined: Wed Nov 28, 2007 5:31 pm
Location: Tampa, FL
She has turned out to be a beautiful young lady.
---
Rank 3

Posts: 2091
Joined: Sun Oct 28, 2007 2:36 pm
Gorgeous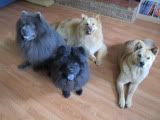 ---
---
What a beautiful chow!
Are you sure she's a purebreed, she looks more like a lion mix to me!!!

Elodie
please help feed animals in shelters for free, click daily on the yellow button
http://clicanimaux.com/
---
Rank 2

Posts: 696
Joined: Mon Oct 08, 2007 7:26 pm
Location: Rossville, Georgia
I agree there must be lion in her blood somewhere. She is beautiful.
Thank you so much sweetpea you are wonderful!!!
---
---
---
thank you for your compliments. i know u r all as proud of ur babies as i am

new chow mum to a beautiful furgirl.. hooked 4eva
---