Moderator: chowadmin
Rank 3

Posts: 1106
Joined: Sun Mar 13, 2005 6:20 am
Location: Cape Town South Africa
Contact:
---
Rank 3

Posts: 2091
Joined: Sun Oct 28, 2007 2:36 pm
Why are most of the Chows you see in dog shows blonde or red? I rarely see black or cream and I don't think I've ever seen a blue. (This would be like the Eukanuba shows on Animal Planet. I haven't seen a live show)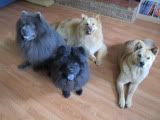 ---
creams are hard to find show "quality" as they put it, as there nose has to be black or else its a fault, and creams generally have those gorgeous lil pink noses!
BLACKS? i dunno... maybe its the so called "scaryness" of them that hasnt flushed out of the ring yet?
reds and cinnamons have been quite well mastered so breeders so maybe this is why we see more of them?
im looking forward to hearing others opinions as thats a good query


new chow mum to a beautiful furgirl.. hooked 4eva
---
Rank 3

Posts: 3030
Joined: Tue Oct 31, 2006 8:20 am
Location: Toronto, Canada
Personal preference. I took my first chow Luna, a dilute??? reddish with blonde and cream. Pink nose and toes. I loved her. I saw a few black chows and they didn't appear like chows to me. Now that I own a black chow, I love having one, I don't care, same breed, same type, colour don't matter to me. If I were a doggie judge, the blacks and blues would get preferential treatment from me,
Karin
---
Rank 3

Posts: 2091
Joined: Sun Oct 28, 2007 2:36 pm
I've always preferred the blues. Maybe because you just don't see them around like the others. I like unique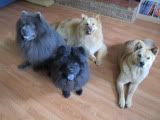 ---
Rank 3

Posts: 1106
Joined: Sun Mar 13, 2005 6:20 am
Location: Cape Town South Africa
Contact:
I have owned quite a few blues, one cream and many reds, and yes I agree with you all there are many more reds in the show ring, Blacks do not show up well and have to be positioned to show away from the sunlight, as this tends to make the judging more difficult, and as said the creams with their pink noses, My little White sinjon won best puppy on show, but did not do well as he grew older and lost his dark pigmentation, My blacks, did well and got champion points, My Black Sinjon only had one more point to get when he passed away from Bloat, but yes my reds have done very well, the judge can see their eye better, and their blue tongues, he can judge their walk, better then a black, as they are definately easier to see. My one wish is to see a really nice smooth in the ring and to see it become a champion, there have only bee a couple of smooths in S.A. that have become champions, one black and one red.
Judging is not that easey, there are somany different things to look for in chows, and of course their temperment my be extreemely good, Sezer showed well as a puppy but as he Grew he would not let a judge near me, no man for that matter, I was his and thats the way it was going to stay,my guardian angel. My first Monique would walk squew if a man judged her and would walk well if it was a woman judge, she had something about men judges and even tried to bite one, but with women she won all her points and became a champion, I guess it's just all up to the chow and how they feel about the judge that is judging them.
Carolyn
---
Rank 3

Posts: 1106
Joined: Sun Mar 13, 2005 6:20 am
Location: Cape Town South Africa
Contact:
I have owned quite a few blues, one cream and many reds, and yes I agree with you all there are many more reds in the show ring, Blacks do not show up well and have to be positioned to show away from the sunlight, as this tends to make the judging more difficult, and as said the creams with their pink noses, My little White sinjon won best puppy on show, but did not do well as he grew older and lost his dark pigmentation, My blacks, did well and got champion points, My Black Sinjon only had one more point to get when he passed away from Bloat, but yes my reds have done very well, the judge can see their eye better, and their blue tongues, he can judge their walk, better then a black, as they are definately easier to see. My one wish is to see a really nice smooth in the ring and to see it become a champion, there have only bee a couple of smooths in S.A. that have become champions, one black and one red.
Judging is not that easey, there are somany different things to look for in chows, and of course their temperment my be extreemely good, Sezer showed well as a puppy but as he Grew he would not let a judge near me, no man for that matter, I was his and thats the way it was going to stay,my guardian angel. My first Monique would walk squew if a man judged her and would walk well if it was a woman judge, she had something about men judges and even tried to bite one, but with women she won all her points and became a champion, I guess it's just all up to the chow and how they feel about the judge that is judging them.
Carolyn
---