Moderator: chowadmin
Look what I did everyone!!! Mom wasn't happy, but I had fun!!! Those Stilletos do taste good!!!

(Sorry about the date, my camera keeps dying and i'm too lazy to fix it everytime)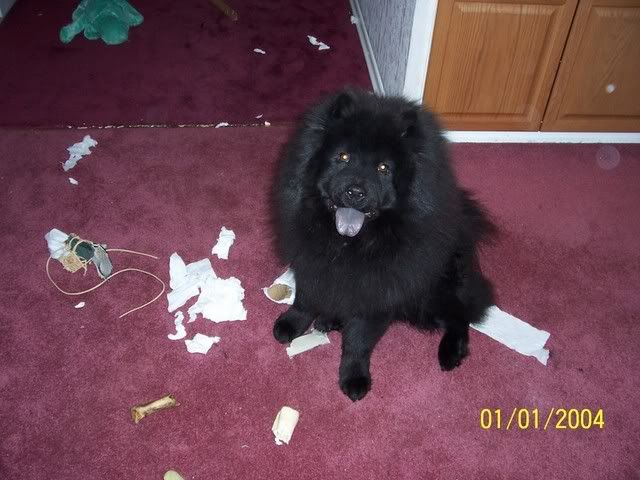 Snow pictures:
Before the Snow storm:
During the snow storm, WEEEEEEE: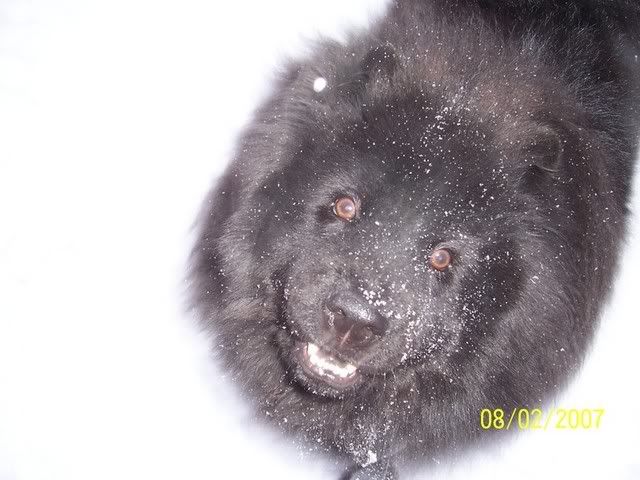 After the snow storm.. ice age:
Chows and little dogs... this is Dolce, Gabbana's little friend the pomeranian...
Have a good day everyone...
---
oh gosh how cute
i really want a black chow too
will have to wait a while though
they are so beautiful
ronni
---
Rank 3

Posts: 3658
Joined: Thu Mar 03, 2005 7:03 am
Location: North Chesterfield, (Right outside Richmond) Virginia
Contact:
It's amazing how they have the patience to reduce something to it's component parts...She's adorable and naughty as a girl chow should be.
Victory, Darkwind, (our angel), Firesong, and Dreamdancer

Thank you SweetPea!
---
---
Thank you.. I try to be cute so mom can't be mad at me... and it works.. hehehehe

---
Rank 3

Posts: 4327
Joined: Tue Mar 21, 2006 7:47 am
Location: Maryland
She is gorgeous and jus look how proud she is in that first pic!

I love that expression, they just want to show you so badly what great feat they've accomplished.
---
Moderator

Posts: 4594
Joined: Fri May 19, 2006 10:01 am
Location: Ingleside, Illinois
Contact:
That totaly looks like Steel and his little sister Roxi (pom)


---
Rank 3

Posts: 2386
Joined: Thu Mar 10, 2005 3:36 pm
Location: Keesler AFB, MS
Contact:
OHHHH, Your in Trouble...

It looks like you had the time of your life. I can imagine how much fun that would be. too bad your mom had to come home and ruin it. Moms are such a thorn in the side sometimes.
Have a Chowfastic Day!!

---
Rank 3

Posts: 2044
Joined: Sat Dec 24, 2005 12:34 pm
Location: cleveland ohio
all I can say is................

That FACE.......only a Chow can be that gorgeous!

Sharon
---
On the after picture, she looks kinda pooped. [:
---
Rank 0

Posts: 87
Joined: Tue Jan 09, 2007 5:51 am
Location: New Orleans, La.
What a BEAUTY!!! Who could possibly be mad


LOVE THE SNOW PICS.
The Black ones do do it best

Tired of ALL THAT JAZZ ABOUT THE CHOW CHOW BREED!!!!
---
ok so i am partial to black chows. what a FACE. us italians would say, bellissima!! its funny, when luna goes into attack and destroy mode on one of mommy's socks or gloves, she has the same look like "who me?" too cute. i never get mad.
anyone can own a dog, it takes someone special to own a chow.
---
---
Rank 3

Posts: 1155
Joined: Sun Jun 25, 2006 2:31 pm
Location: Perkiomenville, PA
Another chow with a Pom for best-bud!! My Leela has Godzilla!
Twelve Paws UP!!
Sharon Rose
---
---
Return to "Chow Chow Photo Gallery"
Who is online
Users browsing this forum: No registered users and 4 guests