Moderator: chowadmin
Hey everyone, been lurking for awhile but figured I would finally post. Wanted to share a few pics of my new chow (had for for almost 2 months now) Leah. Such a sweetheart!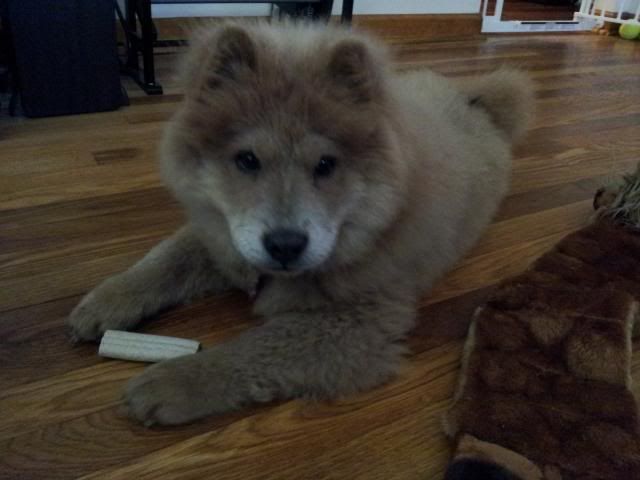 ---
Rank 1

Posts: 112
Joined: Sat Feb 23, 2013 9:31 pm
She's definitely a cutie, and looks a teeny bit shy about having her picture taken. My chows won't let me take their pics; I have to sneak and do it. Even without a flash, they turn their heads right as I click the shutter.

---
Rank 3

Posts: 1708
Joined: Sat Nov 05, 2011 6:48 am
Location: Mansfield, MA USA
Ahah, i recognize the Kongo treat...great for getting them to relax in the crate for a bit while keeping them busy chewing.

Very pretty girl.
---
Rank 1

Posts: 141
Joined: Mon Dec 05, 2011 12:28 pm
Location: Melrose, Massachusetts, USA
Awh.... Super sweet... Love that age... Love her, thx for sharing!
---
Rank 0

Posts: 2
Joined: Tue Sep 03, 2013 3:22 pm
Lovely!!!
---
So cute, thanks for sharing
---
---
Return to "Chow Chow Photo Gallery"
Who is online
Users browsing this forum: No registered users and 1 guest