Moderator: chowadmin
Rank 2

Posts: 552
Joined: Sun Feb 13, 2011 4:05 pm
Im using the tapatalk app for the first time, so I hope this works

Attachments

ImageUploadedByTapatalk1334313724.151702.jpg (73.24 KiB) Viewed 1058 times

ImageUploadedByTapatalk1334313705.982049.jpg (45.42 KiB) Viewed 1058 times

ImageUploadedByTapatalk1334313678.071723.jpg (49.4 KiB) Viewed 1058 times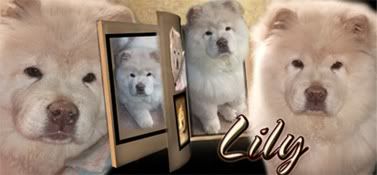 Pretty little lily

. Thank you sweetpea for the wonderful banner
---
Rank 3

Posts: 3123
Joined: Tue Oct 03, 2006 7:28 am
Location: McDonough, GA
Contact:
Awww! Lily is so stunning!

I just wanna give her a hug.

Jess
R.I.P. Cinder~1992-1994, Tippsy~9/00-4/11, Jasper~10/08-10/14, Todd~2/11-7/15
Dixie: mix Rebel: mix
---
Lily's looking beautiful. She has such a soulful expression, makes you wonder what she is thinking.

---
Rank 3

Posts: 1708
Joined: Sat Nov 05, 2011 6:48 am
Location: Mansfield, MA USA
Great pics, Lily looks great. Reminds me so much of my cream Teddee. I agree with Cocoa, her eyes really show a deep thoughtful look.
---