Moderator: chowadmin
Hello all. I've been here for a while, but always lurking, reading, and looking at photos. I'd like to share with you all my bundle of joy from when she was a baby at the breeders home to our home today. Thanks!
Breeder photo of Nadia
Day 1 of our life with Nadia, on the long 4 hour journey home.
Skipping a little to when she is older (we moved a few months ago and still haven't found our memory cards with a lot of her photos). Nadia going to bed with her mom.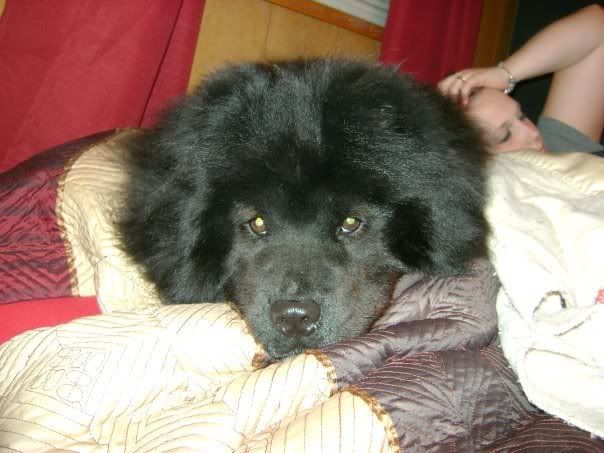 Dad, get this outta my hair, please

Day 1 at the NEW house. We spent a lot of time easing her into the new home with a lot of love and her favorite... WHIP CREAM!
I'm ready for the Trick R' Treaters dad!
---
Welcome, Nadia is so adorable love her Halloween outfit. Its really interesting to me to see the puppy photos and then as they get older how they change in looks..Hope you find your other photos ...

Nancy

---
Rank 3

Posts: 3123
Joined: Tue Oct 03, 2006 7:28 am
Location: McDonough, GA
Contact:
Welcome!

Nadia is so cute!

I love her facial expressions!

Jess
R.I.P. Cinder~1992-1994, Tippsy~9/00-4/11, Jasper~10/08-10/14, Todd~2/11-7/15
Dixie: mix Rebel: mix
---
I think she is even cuter now than when she was as a puppy!
---
What a beautiful girl. I love the pic in matching coat and bow

Her puppy pics remind me a lot of Izzie at that age.
---
Rank 2

Posts: 647
Joined: Thu Jun 09, 2011 12:59 pm
Location: Johannesburg, MI
Contact:
Awwwww ... what a lovely girl!!! ((PS ... love the name! I named my Romanian AK-47 after Nadia Comaneci ... does yours do any gymnastics??)) She has such lovely, soulful eyes. Welcome!!!
Joe and Marti Martin ... Chow Chow lovers for Life
(RIP Kimba 06/03/2011)
---
Thank you all very much. All of you have very beautiful Chows as well from all the photos I've seen over the year or so being here.
---
Rank 3

Posts: 1708
Joined: Sat Nov 05, 2011 6:48 am
Location: Mansfield, MA USA
Very beautiful little girl. I can sympathize with the dress up games that our ladies put these regal dogs through. i insisted on no halloween costume, but wound up with an NFL bandana. i guess i can tolerate that. Not so sure about our Rory, he has turned it into a chew toy. Not sure why they think he is a chihauha, but at least they havent stuffed the 22 lb puppy into a purse.
---
That is so funny Rory's dad (trying to picture a chow head sticking out of purse

). Nadia is a beautiful girl, before Cocoa I always had blacks and I love them although before digital cameras they were always a challenge to get pictures that didn't look like black blobs. I have to side with Rory's dad on the clothing issue though. Besides chows are too pretty to hide under clothes.
---
Oh She is a cutie!! I like her pumpkin outfit!

SweetPea Rocks!!
---