Moderator: chowadmin
Just to tell you a little about them. Kiki is my little angel. A total mama's girl. My husband got her for me as a x-mas present. She was in a litter of 6 puppies and only 4 months old. We just both fell in love with her. She was just so different looking with the cinnamon and white coat. She was so fluffy and looks like a little lion. Bringing her home she was the typical chow. Alouf, wasn't interested in us or treats. I took her out on walks with me and socialized her like crazy. Taking her to the park and meeting new people. But she seemed a bit lonely and she was such a great dog that for Valentine's Day my husband decided to adopt her a friend. Even better her brother from the same litter. She seemed much happier and blossomed into an amazing dog. Now she is really bonded to me and is all about 'em treats. She knows so many tricks, crawl, shake, sit stay, lay stay, sit pretty, wait, back up, come, leave it... the list goes on. She listens and we have never had any problems with her. Her brother Goober is a whole other story. Thats how he got his name. He was just a mess. He looks like a bad a**. He has such a boyish face and being all black. Yet, He is much more timid then his sister even though she is more protective. He loves his sister more then anything in this world. He is always getting into trouble, chewing my house, breaking things, getting into stuff he shouldn't be getting into. But he just loves to run and play in our yard. He had all sorts of tummy problems and worms. But he is all better. He hates going to training unlike his sister. He is very curious and and hyper.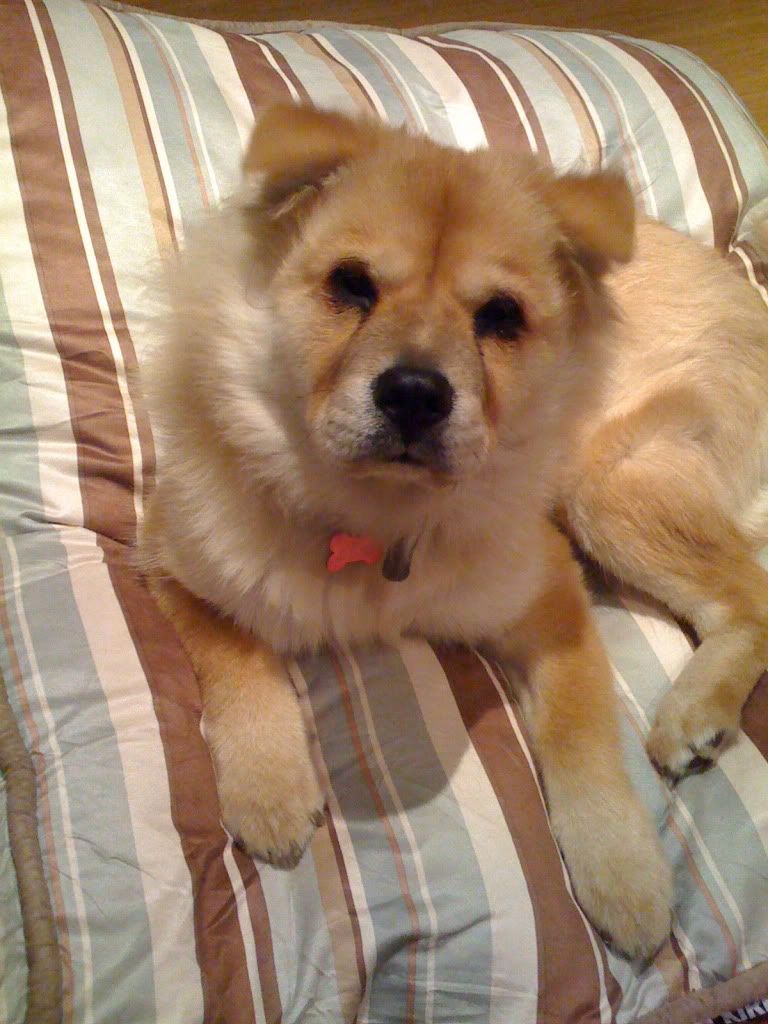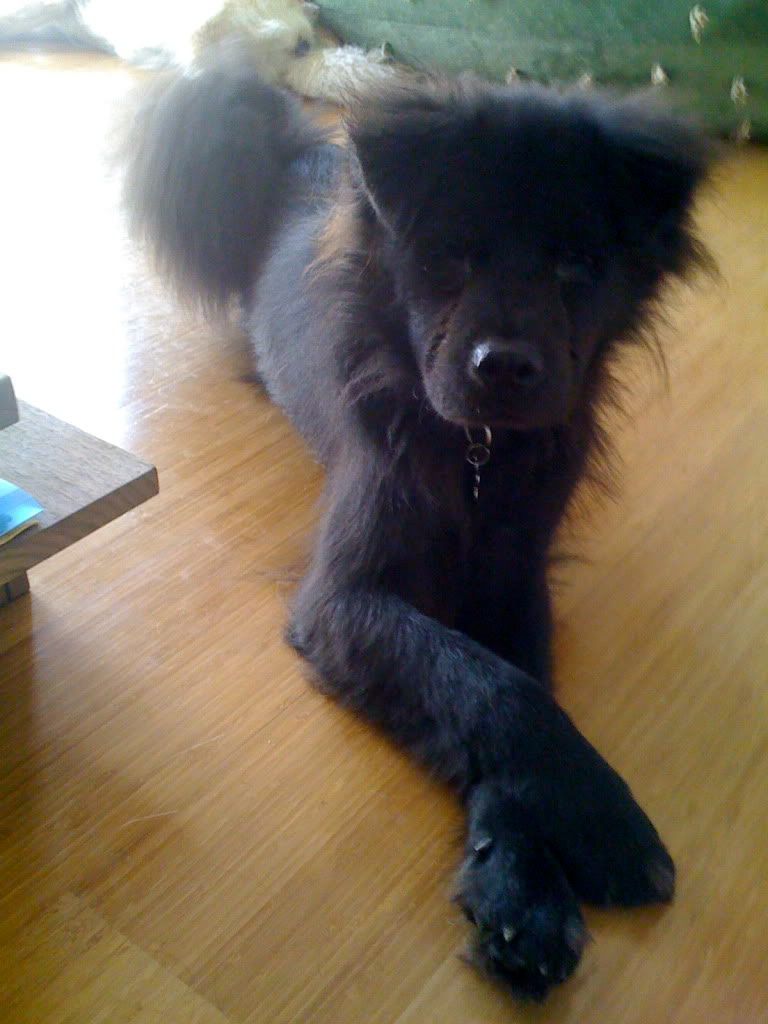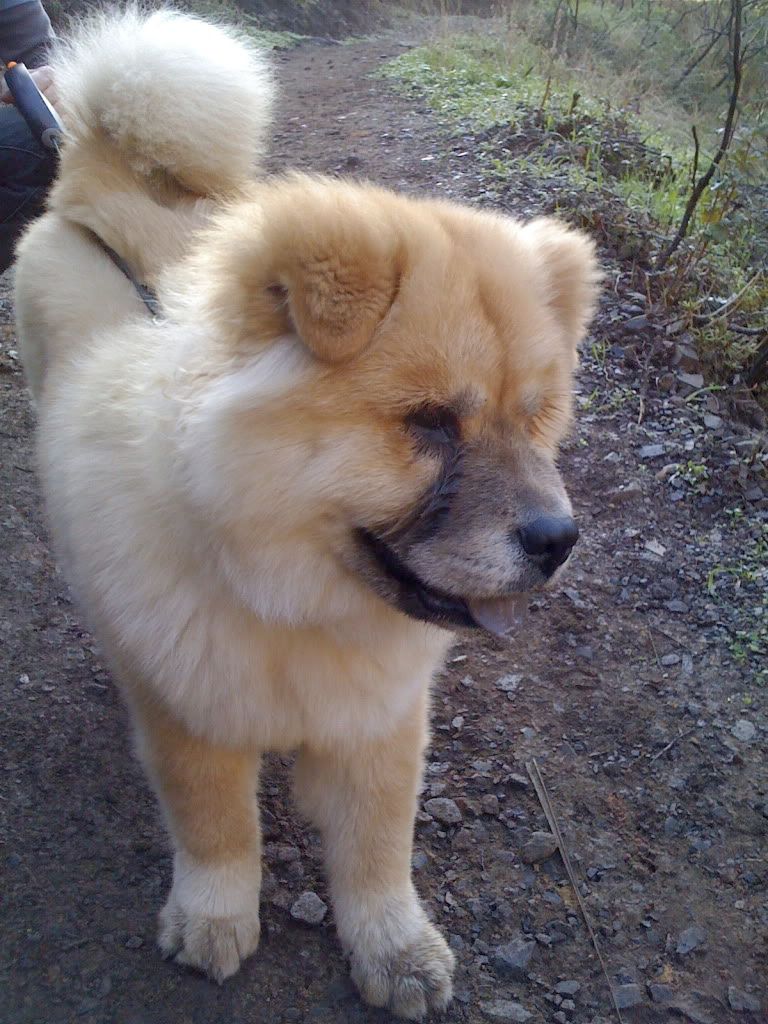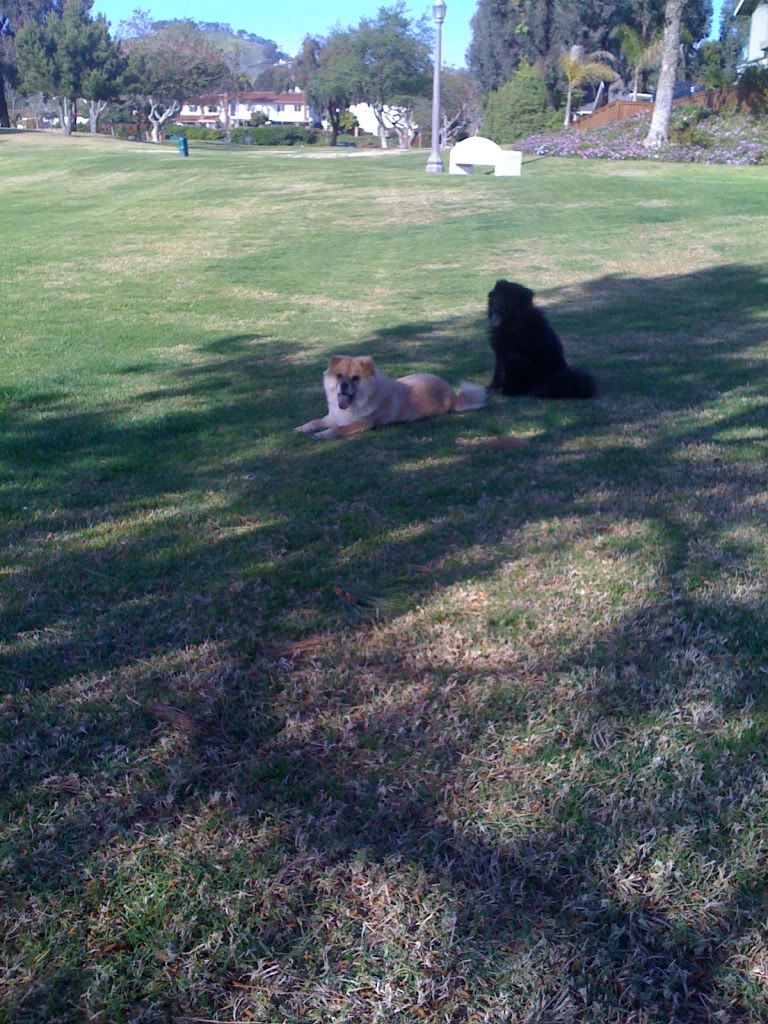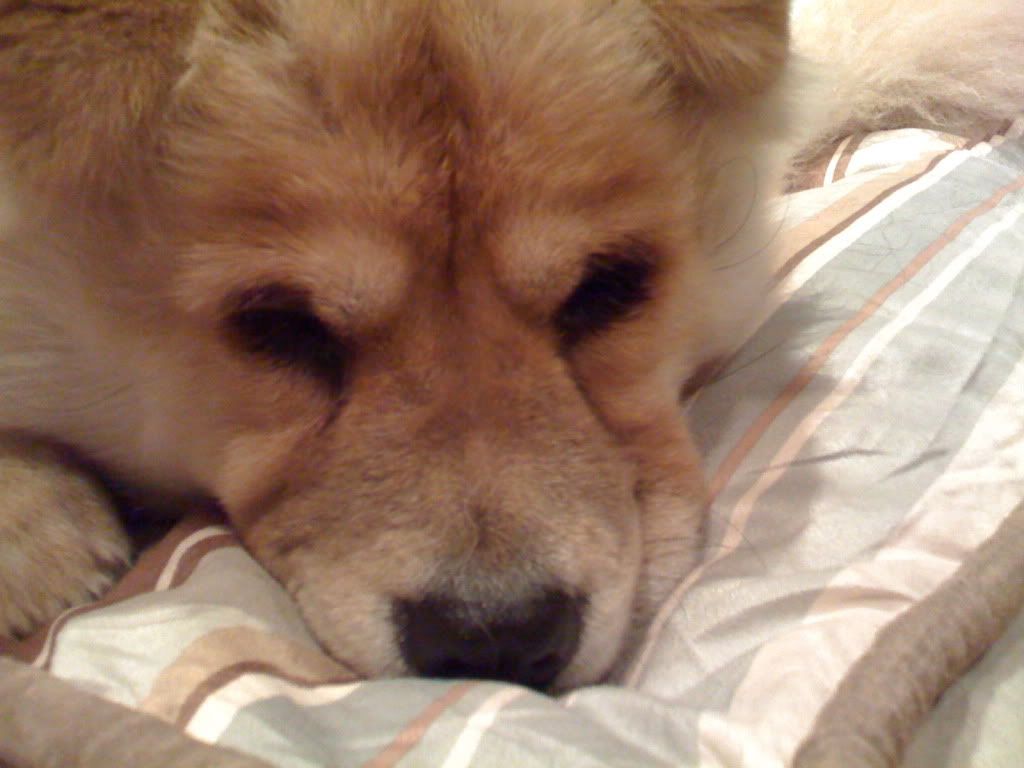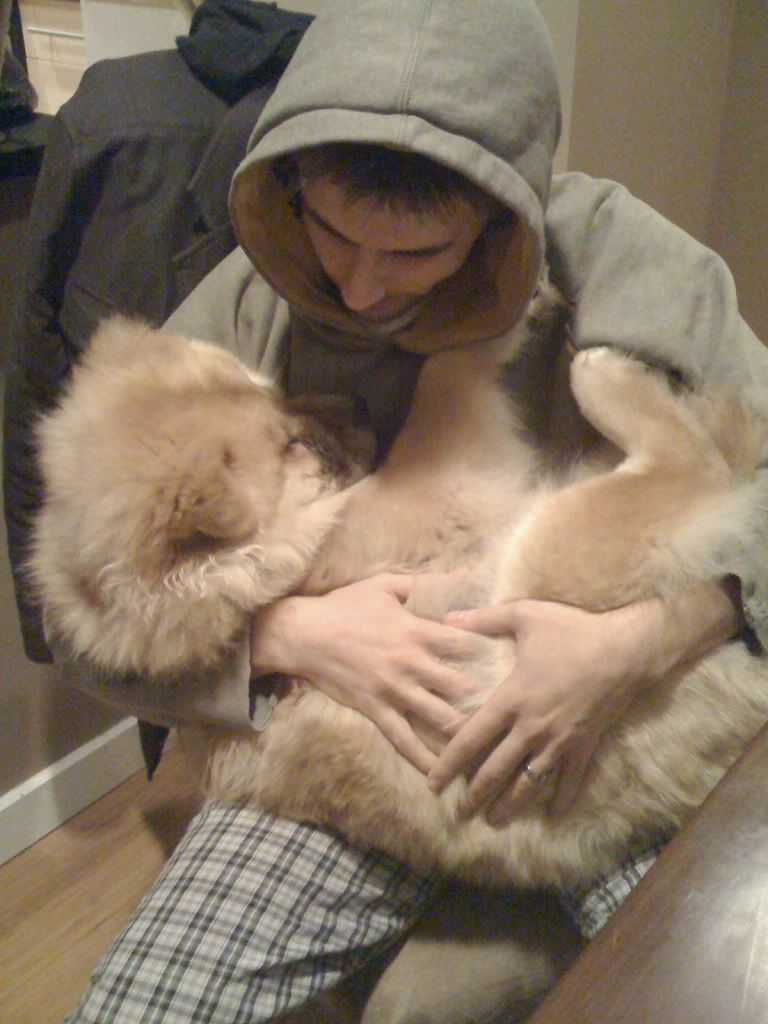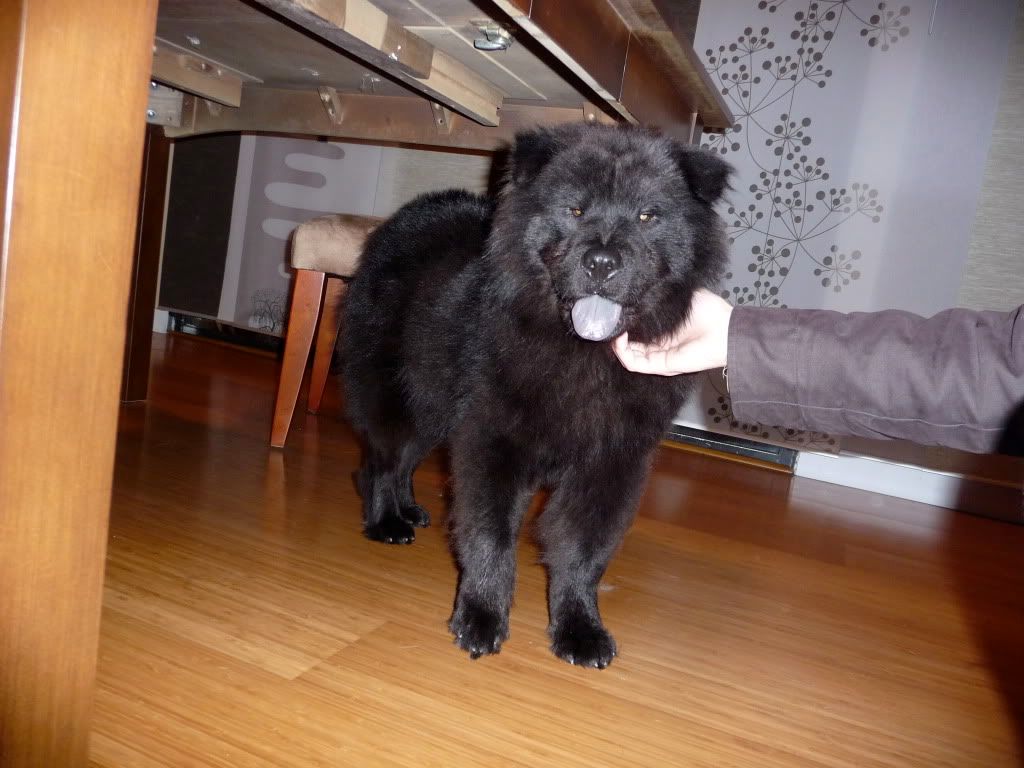 Last edited by
Zilla
on Mon Jul 20, 2009 6:53 pm, edited 1 time in total.
Zilla
---
Rank 1

Posts: 211
Joined: Thu Apr 02, 2009 11:03 am
ROFL at the humping picture.

Awsome dogs you got there!
---
CoraP.
Remember this, and also be persuaded of its truth - the future is not in the hands of fate, but in ourselves.
Jules Jusserand
---
Both very cute

I love the picture with the kitty.
Kito Feb 4, 2006 - July 1,2007
Kai Mar.15 2007 - Aug. 26,2010
And when my time comes I will not go alone for my Chows will be there to say "Welcome Home".
---
What a lovely pair and they sound so well suited to help each other out with their fears. It was great that you managed to rescue her brother and he has settled so well with you. I read your other posts and I know you went through a lot with him. Has Kiki had her eyes checked as a lot of chows can suffer from entropian which is when the eye lashes irritates the eye surface and can cause ulcers and they water a lot? I hope you don't mind me asking, she just looks as though she might have sore eyes.
---
Sirchow wrote:Has Kiki had her eyes checked as a lot of chows can suffer from entropian which is when the eye lashes irritates the eye surface and can cause ulcers and they water a lot? I hope you don't mind me asking, she just looks as though she might have sore eyes.
I was gonna ask the same thing ! I have had to have surgery for entropia on 2 of my chows ( they have since gone to the rainbow bridge) but i would get it looked at could be a plugged tear duct !!
Your chows are sweet......chows are very specail...once a chow owner always a chow owner.
thanks sweetpea
---
Thanks everyone.
jacqui - that was at my friends house- she finally got to meet a kitty...kiki was not sure what to think.
Sirchow - I had Kiki's eyes check all the vets I have gone to think its entropian. But I heard not to do the surgery until she is a little older and has grown into her face. She just turned 1 this month so I'm going to wait 5 more months and then we will do the surgery. Honestly, I'm so scared to do surgery on her...It just looks so painful

I've been cleaning out her eyes and face. Her eyes are always clear after a nice long nap. They start to run after she's been up for a while. Goober also has it but Kiki's eyes definitely look worse. My new vet told me about tacking but said they are too big for that at this point and probably there is no point....makes me so mad that none of the other vets even mentioned tacking to me. I wish there I knew of something that could make her eyes better in the meantime...before the surgery... if anyone has suggestions I'd love to hear them

leisa75-I used to have a chow/lab mix (with my ex) I just loved her sooo much. When I rescued her I had no idea what a chow was all about but ever since then.... I'm hooked. When my husband and I decided to adopt a puppy I told him how cool chows were and he was convinced but when he saw them in person he was in love! I can't imagine having any other dog- except maybe a Newfoundland! Those are so cool too!

Zilla
---
Its good that you have had Kiki's eyes looked at by a vet. Just make sure that she doesn't develop uncers as it can affect her sight. Sorry not meaning to be a doom munger but my daughter works in a vets and I know what a problem if untreated it can be. I'm like you totally hooked on chows. Bramble is only 9 months and already I am getting broody!
---
Rank 3

Posts: 4304
Joined: Sat Feb 03, 2007 10:20 pm
Location: New Orleans,La.
Beautiful Chows. Sounds like the perfect combo. and they compliment each others personality.
My blue girl Kyra had her eyes done at 20 weeks old and never had another problem with them...shes 2 1/2 yrs now. Hope they gave you some ointment to put in her eyes....it does hurt them and can damage their eye sight. The ointment does help. Mind if I ask why are you waiting another 5 mos???

Thanks Sweetpea!
---
cute and devilish little boy.. chowdren.

---
hi just to let you know lola was 7 months when she had her surgery and shes fine now the aid i could wait but decided to have it done sooner rather than later hope this might help xxxx
---
Rank 1

Posts: 300
Joined: Fri Sep 05, 2008 5:58 am
Location: Parrish, FL
Your chows are beauties.

I just wanted to chime in about the entropian. I adopted my girl at 2 and got her the entropian surgery a few weeks later. I noticed that her eyes were running a lot and she kept trying to clean them and paw at them. I took her to the vet again (2 weeks after getting her and doing a routine exam) and told him that I thought she had entropian. He couldn't see anything and was about to send me on my way when she turned and I got a good glimpse. She had two lashes that kept scratching at her eye (the black part inside the brown colored part - I had a brain fart and can't remember what it's called). We scheduled surgery for the next week. In the meantime, we washed her eyes with saline and then put in drops a few times a day. She hated it at first but then once she realized it helped, she got this look of relief after I got the drops in there. After her surgery, I damn near lost it when I went to pick her up even though I saw pics of what another chow on here looked like right after. McKenzie looked like a basset hound. Her eyes look totally normal now though, and she even ripped her stitches (she's quicker than I am, I just took her e-collar off so she could eat easier and bam, she whacked her eye). We continued to wipe her eyes with gauze and saline after the surgery and put ointment on them. Her eyes still water but I can tell they don't aggravate her like they used to. You should take a look to see if you can see if her eye is being scratched. If you can, I would do the surgery asap. I can only imagine how painful it is, I know I can't stand an eyelash being in my eye, nevermind scratching at it every time I blink!
---
Rank 0

Posts: 3
Joined: Sun Jul 24, 2011 8:47 am
Our 1 1/2 year old chow, Kodi, had the eye surgery today. He also got neutered, 2 surgeries at once, poor thing. He is home now and doing fine. His eye already looks better. We were dreading it but are relieved it is over for him. I would love to post some pictures of him but can't figure out how to do it on this site. Kodi is our 4th chow, we also have Teddie who is 14 y/o. Both are cream colored. Teddie's parents have passed away, they were our first 2 chows. Thankfully, our other chows never had the entropic eye problem. As someone else said, once a chow owner, always a chow owner. They are amazing dogs!
---
---
Return to "Chow Chow Photo Gallery"
Who is online
Users browsing this forum: No registered users and 1 guest